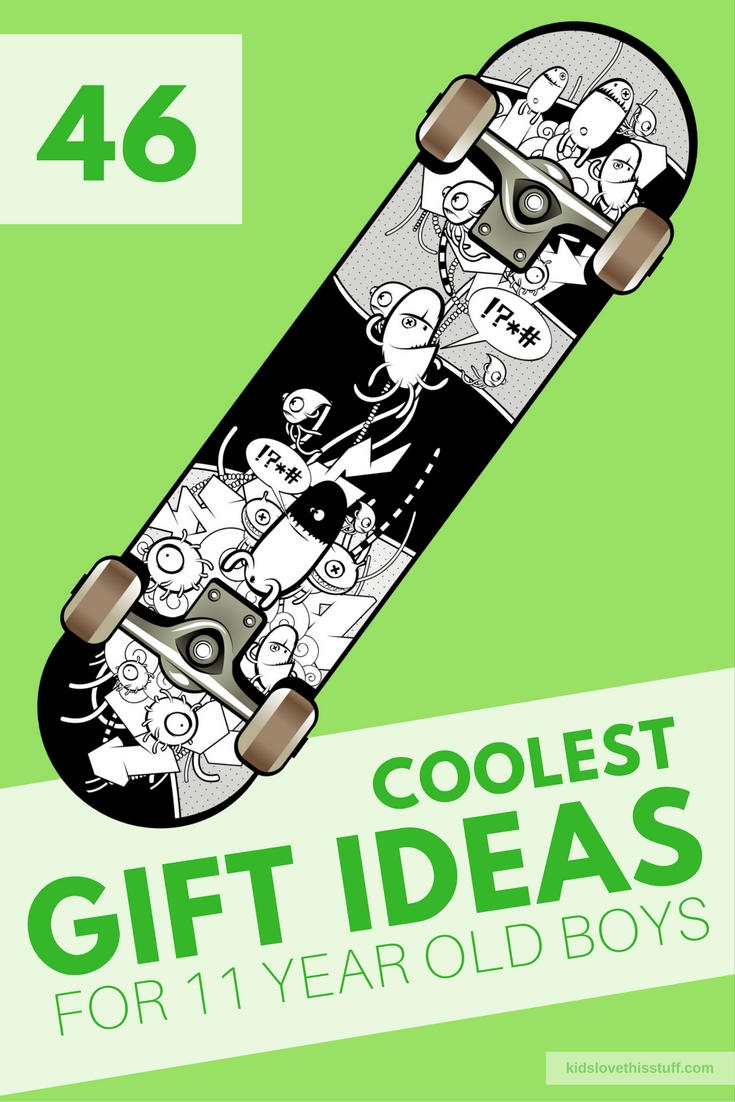 What sort of a present do you buy an 11 year old boy these days? As an auntie, godmother or family friend who perhaps doesn't get to spend that much time with your nephew, trying to find a cool preteen Christmas gift idea or birthday toy for an 11 year old boy takes some thinking.
Do you get video games, clothes, books? While I can't promise to come up with all the answers, this gift guide will help you find something that appeals to most 11 year old interests. Ready to get going? On to the 2020 gift ideas…
Best Christmas Gift Ideas for 11 Year Old Boys
Short on time? Click to jump straight to specific gift sections
Best RC Toys for 11 Year Old Boys
Our pick of the best RC toys for 11 year old boys. Just don't expect them to pass the remote.
If your 11 year old car enthusiast is into cool tech, this is going to be one racing set he'll be itching to get his hands on this Christmas. Don't even think of Anki cars as remote control toys. They are so much more than that. These high performance supercars are controlled by smartphone, and come pre-programmed for battle with an impressive kit of armory under the hood.
A rocket launcher is just one of the tools you can whip out when the competition gets too close for comfort. And check this out, these cars are so intuitive they will race against a solo player. Pretty handy for those times your nephew wants to play, but doesn't have anyone to play with.
There's a lot to keep the kiddos entertained. There are different tracks to build and compete on, so racing adventures never feel the same. There are also downloadable apps to level up with, and a bunch of cool add-ons too.
If it sounds like this would make an awesome Christmas gift for your 11 year old nephew, you wouldn't be too far off.
Remote control toys like this Syma S107G 3.5 Channel Helicopter are just way cool and are some of the best toys for 11 year old boys.
Besides looking good and flying great, they'll have any kid bursting to get out into the fresh air so they can play 'copters' with their buddies. A fine 2020 Christmas or birthday present for an 11 year old boy.
When they say off-road, they mean it. This bad boy RC truck will conquer sand, mud, and grass to get to its destination.
All at the touch of a controller. One of the best gifts to by an eleven year old boy who's fixated on monster trucks.
Wondering what to get an 11 year old for Christmas?
The BB-8 Droid by Shpero is one popular gift for 11 year old boys. Star Wars fans will love this! In fact anyone who enjoys playing with robotic toys will get a kick out of this gizmo.
Under the control of a smartphone or tablet app, BB-8 roams around, responds to voice commands and even shoots holographic messages. Sounds like a fun 11 year old xmas gift to us.
See more gift ideas for Star Wars fans.
Be forever remembered as the aunt who got him his first Ferrari. Not as rugged as a monster truck, but then who needs rugged when you're driving a supercar? A great gift for an 11 year old boy who has everything.
Best STEM Toys for 11 Year Old Boys
Best Science, Technology, Engineering and Math for curious for 11 year olds
There's a new droid in town and he comes courtesy of littleBits. You build, you program, you control with the smartphone app, and then you build some more.
The building isn't restricted to just what's in the box, or even the instruction manual – which, by the way, is brought to life with an animated app.
There are so many ways to explore and create different versions of the droid, including using components from other littleBits kits, or cast off materials and junk from around the home. All of which instantly elevates the creative, and educational value of this toy.
I love how straightforward this is to assemble, yet it's challenging enough to keep the kids busy for a while. This kit is also, a great way to get the whole family fighting learning about programming and electronics, in a fun way. I mean, who's going to be able to resist playing with this?
A friend of mine's kid actually built his own computer from scratch. But then, he's quite a  bit older than an 11 year old. Still, the satisfaction on his face , when he finally got to power up said it all.
This Kano kit is designed for 6-14 year olds who are showing signs of an interest in computing and programming. And it makes building a computer as easy as pie. Think of Kano as a puzzle that your nephew can snap together, with the added twist of being able to learn code. That's got to make a kid feel pretty good about themselves.
Personally not a fan of many of the kids chemistry sets out there. Non-chemical chemistry sets, although safe, lack the excitement of the kits we used to play with as kids. That said, this is a chemistry set I can totally get behind.
Physically building, then scanning molecules with smartphone technology to understand how they work is just the coolest way to learn. If you're looking for a fun way to help an 11 year old understand core chemistry, this is it.
For the smart 11 year old who's fascinated with the nature world. This kit contains real geodes and provides oodles of rock smashing educational fun.
Did you grow up playing with Meccano or Erector sets? Then you'll remember spending hours, locked in your room with your construction kit, challenging yourself to building complex structures.
Although trends in toys have changed over the years, Erector sets continue to hold their their own. And what better way to develop their interest in basic engineering concepts?
If the 11 year old boy in your life loves creating things from scratch, this Erector Super Construction Set will make the perfect Christmas present. It will totally occupy his time and engage his brain.
Here's an 11 year old boy gift idea for electronics fanatics everywhere. Now I wouldn't exactly categorize this as a toy, as…  well it contains a real solder iron which gets very hot. ​
Depending on the level of maturity and dexterity of your nephew, this Learn to Solder Kit would make a great gift for an 11 year old because of it's high educational value. Just bear in mind there may be a need for adult supervision with this one.
The kit is inexpensively priced, perfect if you're shopping for something really unique but have a tight budget to work with. It comes with a set of instructions, a circuit board, a variety of circuit components, a wire cutter and of course a soldering iron.
If you're a little hesitant about letting your 11 year old loose with a soldiering iron, then you may want to check out the newest release from SnapCircuits.What's different about this version is that instead of just building on a singular circuit board, you can add in side panels. Or even a roof. Basically taking your  average one dimensional circuit board and upgrading it to a better, cooler 3D SnapCircuits creation station.There are instructions for 150 projects, things like making a burglar alarm and a neat little projector. But really, if you're buying for an 11 year year old who loves inventing stuff, then there are no limits as to what they can build with a set like this.
A powerful microscope makes a great gift for an 11 year old boy interested in investigative science toys.
Learning about physics is way more fun if you can 'see' the science behind the theories. With this marble run, you'll be building a neat skate park with winding tracks and sharp bends. The fact it's made out of real wood, makes it look more expensive than it actually is. Plus, toys made out of wood tend to be pretty hard wearing. You can imagine this being in the family for quite a few years.
The manufacturer's recommended age is 12 for this marble run. that said, if you're buying for an 11 year old who loves the challenge of constructing stuff, they're likely to get on just fine (with a little adult supervision).
SnapCircuits 3D Illumination Kit: If you're a little hesitant about letting your 11 year old loose with a soldiering iron, then you may want to check out the newest release from SnapCircuits.What's different about this version is that instead of just building on a singular circuit board, you can add in side panels. Or even a roof. Basically taking your  average one dimensional circuit board and upgrading it to a better, cooler 3D SnapCircuits creation station.There are instructions for 150 projects, things like making a burglar alarm and a neat little projector. But really, if you're buying for an 11 year year old who loves inventing stuff, then there are no limits as to what they can build with a set like this.
Best Books and Movies for 11 Year Old Boys
For 11 year old bookworms and movie buffs
Putting myself out on a limb here, but here's what I think you'll love about this book. 1) It's silly as hell. 2) It's full of funny nuggets of knowledge. From why birds poop on your head (not something I've personally experienced, but still), to veggie facts, and how to walk like a weirdo. There are pop quizzes and jokes along the way too. 3) Did I mention the silliness?
Try it out. Have your nephew howling with laughter, then sit back and bask in the glory of being the cool, yet slightly mischievous grow-up with a wicked sense of humor.
A fantasy story about a young teen called Will who becomes an apprentice to a Ranger. The thing is, Will has lived his whole life fearing Rangers; believing they where shady and evil, and now he has to train with them, as they prepare for an epic battle.
This is the book (or rather book series – this is the first saga) I have my eye on for when my Harry Potter loving nephew comes of age. It's got thrills, adventure, a story line that will suck a young reader in, and larger than life characters that make this the sort of book that's hard to put down.
I haven't met a tween-ager yet who doesn't appreciate a good prank. And there are some crazy pranks in this little book that will keep your eleven year old nephew amused (mostly at the expense of others… usually at the expense of the parents).
But that said, this Pranklopedia book does offer a pretty good guide to the art of considering pranking; like how to know who to prank, when to prank them and what to do if a prank goes bad.
It's basically a gag book with an ethical code to ensure things don't get out of hand.
This would make a great birthday gift (or even a cheap Christmas stocking stuffer idea) for an 11 year old prankster who likes jokes, gags and generally clowning around.
This manual is not only a unique gift idea for a boy of eleven, it's a great way of encouraging your nephew to develop pro-active survival skills.
This brilliant guide is written with a lick of humor and is jam packed with all sorts of highly useful (and potentially life saving) information; from how to build an outdoor bunker to protect yourself from the elements to how to survive a tsunami PLUS tons more stuff.
If fact, you'd probably do well to buy this manual as a little gift for yourself too.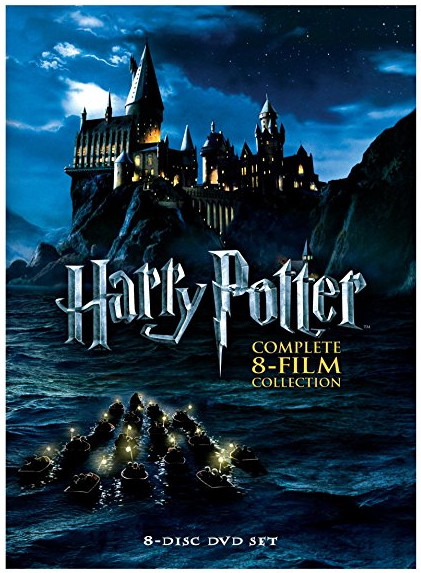 The Harry Potter box set… say no more. Oh, other than they make a great gift for 11 year old boys who are fans of the series.
Best Electronic Gifts for 11 Year old Boys
For 11 year old boys who like tech and gadgets
If you're looking for the ultimate gift for an 11 year old gamer, then this year, it's all about the Nintendo Switch. It's great games console for 2020, with a ton of cool features that will elevate your pre-teen's gaming experience, as well as make them the envy of all their gaming buddies. It does come with quite a price tag (like most of the gifts in this section), but if you have the dollars and want to make your 11 year old nephew do back flips this Christmas, this is the best gift to get.
These Boogie Board tablets have been proving pretty popular with buyers.  It's like having a mini whiteboard that your child can carry around with them.
Draw, write, doodle and sketch, these boards are pretty versatile and made with sound technology, so you know you're getting a quality product.
The one feature I'd wish for these boards to have is the ability to save whatever you've written or drawn. Still, it doesn't take away from the fact that Boogie Boards make cool presents for an 11 year old boy; whether it's an xmas gift or birthday treat.
He'll love how easy it is to watch movies, play games and take all favorite books with him wherever he (and his iPad) goes. Do we really need to say anymore?
Quick tip: Consider buying a refurbished iPad. It may not be the lastest bit of kit, but it will save you some serious dollars. Works just as well too. I bought a refurb iPad 2 a few years ago for my younger brother, and it's still going strong to this day.
Best Board Games for 11 Year Old Boys
Something to do on those wet and miserable days
You turn a corner, hit a dead end. Turn another, only to be confronted with another maze. You know you'll eventually get out of the maze, but until you do, it's a not stop brain twister. Pretty much like this medieval themed board game involving a forever changing maze, and a lot of treasure hunting.
Come on now, it's a game about Farts. How is this not going to be a blast (ha) with an 11 year old who catches a giggle from toilet humor?
Fart is a card game with a sound track: disgustingly gross, yet hilarious farting sounds (fart CD included, you'll just need something to play it on). The farts act like wildcards, and can cost you the game if you're not careful.
If you had to name 3 different types of cake, or 3 famous inventors, you'd probably be able to reel them off, right? But what if you only had 5 seconds to splurt out what you know?
Expect a lot of laughter, random bursts of silliness (you can bet someone is going to say something completely off base), and some good family bonding time.
Now I do love word games, but some of them do drag on a bit. Not Quiddler though. It's sort of like Scrabble, only it's quicker to play. Which means there is less chance of an eleven year old getting bored half way though the game.
Quiddler is a highly social learning game that can be enjoyed with the whole family, whether at home or whilst traveling.
Best Nerf Toys for 11 Year Old Boys
Indoor and outdoor target practice
If you're not a fan of toy guns, but know your nephew would relish the chance to get his hands on a NERF toy this Christmas, this is the option for you.
He'll get to build his own obstacle course, then use the launcher to shoot cars at great speed through rings of fire, crashing into obstacles and performing stunts along the way.
What I like about NERF toys like these is they are safe, suitable for kids over the age 5 and up, and entertaining. If your nephew has younger (or even older) siblings, they can form teams, and play challenges against each other.
You can't really go wrong with one of these bad boys when considering 11 year old boy gifts. They're totally safe (foam darts and all), can be used both in the home as well as outside and are heaps of fun to boot.
If your eleven year old already has a Nerf gun stash, then they'll love this as a new addition to their collection. This Elite Rapidstrike fires darts super fast so they'll be able to get the upper hand in Nerf battles; making them feel well cool among their friends.
More on Nerf Toys.
What do you do if your 11 year old giftee is already getting a new Nerf gun for Christmas? You get him some cool accessories set to go with it. 
And, if you're partial to a little Nerf foolery yourself, you can get this for you too. Don't worry, it fits all kids. Even big (adult) kids.
If they're going to go into NERF battle, they'll need the right body kit. Something that's comfortable to wear, and gives them easy access to their NERF firepower. Like this vest.
It's even adjustable, means your tween NERF fan should be able to get some good wear out of this… until it's time to hand it down to a younger sibling.
Best LEGO Sets for 11 Year Old Boys
Challenging LEGO sets 11 year olds
If your Minecraft fan is always looking for ways to defeat the creepers, and enjoys building impressive tree houses in game, then it stands to reason, they'd enjoy doing the same thing in the real world. This set comes with over 700 pieces, so it will keep your kiddo busy for a while. It even has a secret trap door to fool the creepers. A fun Christmas gift for an 11 year old boy who likes building cool things.
Perhaps they've already got a ton of LEGO (not unusual for 11 year old boys). If that's the case your next best option is to get them something which takes their brick further. LEGO Klutz craft kits are great for this, and hugely popular. The kiddos can use their existing LEGO pieces, mash them up with the add-ons found in the kits above, and voilà. A fresh building set to play with.
LEGO sets always make great Christmas presents for 11 year old boys.
This right here has to be one of the best gifts for tween boys who love their LEGO toys and all things Lord of the Rings. It's challenging enough to keep any eleven year old boy occupied, yet not too taxing to piece together.
And come on… it's a LEGO Lord of the Rings Pirate ship! What kid doesn't have a fixation with Pirates?
Looking for a LEGO kit that's more advanced than regular building kits for 11 year olds? Check out the LEGO Technics line. Having a nephew who's into bikes and engines, and who owns a lot of the Technics stuff already, this is on his Christmas wishlist this year.
This is more than just a cool replica of the BMW R1200GS, it's an engineering marvel. The 2-cylinder engine has pistons that actually move, and you can steer the bike by it's handlebars, or just let it rest on its kickstand. The only thing that could make this any better would be if it came with a sleek display case.
Best Music Gifts for 11 Year Old Boys
Ideas for 11 year old wannabe rockstars
For the musically minded 11 year old boy, definitely consider this acoustic guitar bundle. It comes fully kitted out with strings, strap, tuner, ChromaCast guitar bag and picks.
Now this certainly is a step up from a toy guitar and if you want to encourage your boy to start taking his guitar lessons seriously, you'll want to think about buying him this starter kit.
Definitely worth a look, especially as at the time of writing Amazon.com were offering a massive discount.
There's nothing more exciting for a musical youngster, than getting a brand new keyboard to practice on… that is, unless he'd prefer a drum set (see below).
You can't really go wrong with a Yamaha. They're a well established brand known for quality both in terms of design and sound. The PSRE253 model is a good entry level keyboard with an affordable price tag.
As you'll expect, it has the usual features like backing tracks, accompanying instruments and vocals, headphones and a stand. But it's the pre-recorded lessons that help accelerate your learning. And there are nine of them. Overall, a great beginners keyboard for an 11 year old.
Easy to understand, easy to follow, even for the noobiest keyboard beginners.
For the visual 11 year old learner, he'll appreciate the diagrams and pictures, as well as the overall way the lessons are laid out, and explained in the book.
A drummer's gotta drum. But if there isn't a lot of room to fit a fully kitted out drum set, your next best option is to go for something compact.
Don't be fooled by the size of this digital drum kit though. Although it's not high-end (if it where you'd be paying a lot more than what this costs), it performs just how you would expect it to do. There are 7 touch sensitive drum pads, pre-recorded tracks, and various presets. The LCD panel makes it super easy to record and edit your beats.
Two things that really make this cool: 1) your 11 year old can easily transport it when he's off to a jam session with friends, and 2) there's a headphone jack! He can bang on this at 6am in the morning, if he wants, and not disturb a fly.
Stylish, and a funky brand that will make him look cool to his peers. Oh, and wait the sound quality isn't too bad either.
Being Bluetooth, they do need to be charged. Once full charged expect to get around 10 hours of usage out of them. Which is pretty decent as far as Bluetooth kit goes. Guess it beats having to wrestle with wired headphones. They always seem to get into a tangle, no matter how neatly you pack them up.
Decent speakers can be pretty expensive, but somehow Anker manage to create quality sound, in a wireless portable speaker, without breaking your wallet.
SoundCore 2 portable speakers are an upgrade on the original and highly rated SoundCore speakers. You still get 24 hours of playtime, which translates to about 500 songs, and an improved audio experience, but they've made this latest version water resistant. So no more worrying about water killing the tunes when the kids take these speakers to the beach or the pool.
Best Outdoor Gifts for 11 Year Old Boys
Ideas for active 11 year olds
Whether it's soccer, basketball, softball or whatever type of ball game your giftee is into, the one thing that will make them excel is practice. Lots and lots of practice!
He'll need a sturdy piece of equipment that won't fall over when he's kicking/throwing those balls at it.  And that's exactly what you get with this rotatable, multi-use pitch back screen.
A neat soccer gift for 11 year old boys who live for sport.
SKLZ Pro Mini Micro Hoop
For those times when you want to shoot hoops, from the comfort of your bedroom.
Yes, you'll want your 11 year old to get out as much as possible, but when they can't get to a court, and feel that itch play ball, this is the next best thing.
Skateboards are cool gifts for 11 year old boys – whether you're buying as a birthday gift or a Christmas present.
What's even cooler is that kids who skateboard on a regular reap the benefits of outdoor exercise. Want to get your eleven year old nephew off the couch and away from the video console? Get him a skateboard.
Start out with this POSITIV Team board. It's a top quality sturdy board created by a reputable skate brand at a great price point.
The fact that it's a lightweight, complete board (ready to go out of the box) makes this the perfect gift for any 11 year old boy wanting to take up skateboarding.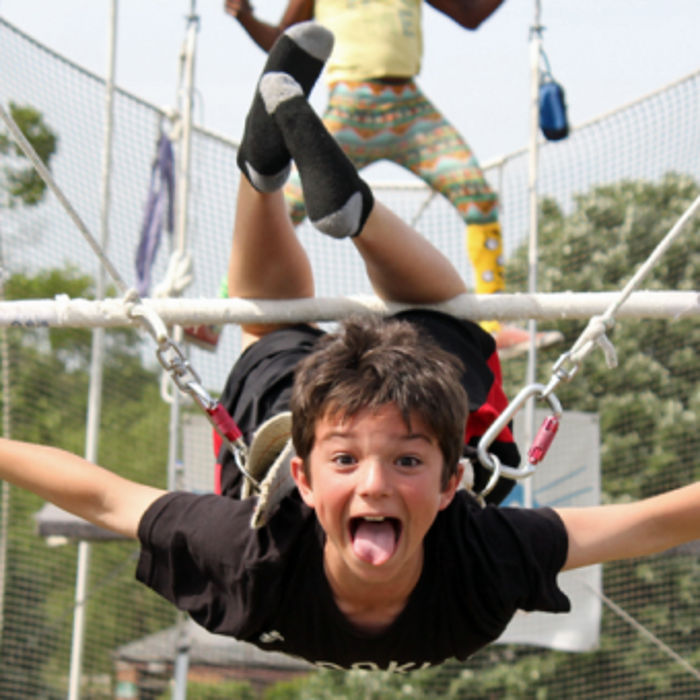 Because swinging by your knees, mid air is a little different. And quite possibly one of the coolest circus skills an 11 year old boy could learn.
Just know, availability of lessons is weather dependent, and may be restricted based on where you live.
You could always buy an experience gift certificate and let your nephew choose his own adventure. If you're looking for a gift for an 11 year old boy who has everything, this could win you a few brownie points.
Archery is a fun outdoor activity that we've all wanted to 'have a go at' during some point in our lives. Your nephew may not be ready for a real bow and arrow just yet. So why not get him this cool Zing Air Hunterz Bow Set instead?
No need to worry about a stray arrow taking someone eye out as these arrows are made with foam. Definitely a cool gift to get an 11 year old boy.
Funny T-SHIRTS and Accessories
Because if it's cool or funny your 11 year old will want to wear it
If you ride, board, dirt bike or do anything that involves wind and grit flying in your face, you'll appreciate the extra protection of this outdoor face mask.
It's made from cotton, so it's comfortable to wear and breathe through. And besides all that it just looks the business. I challenge you to find an 11 year old boy who will take one look at this and NOT think it's cool. It's certainly a unique 11 year old boy Christmas gift idea.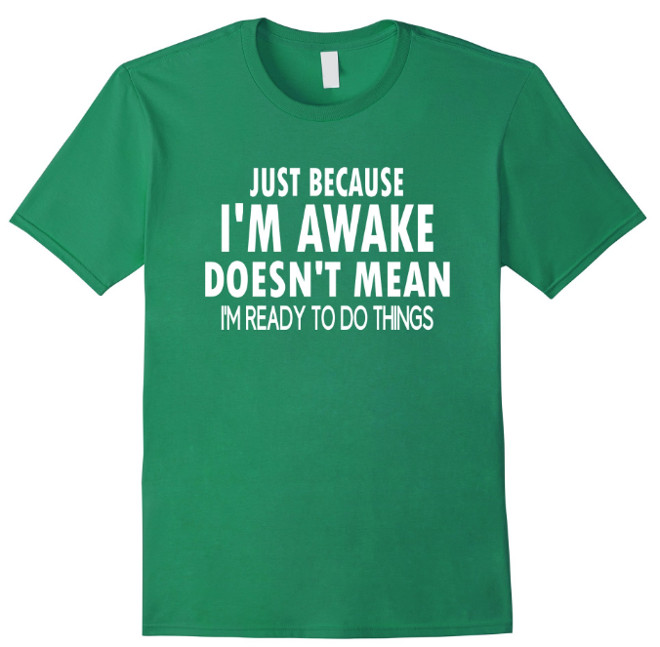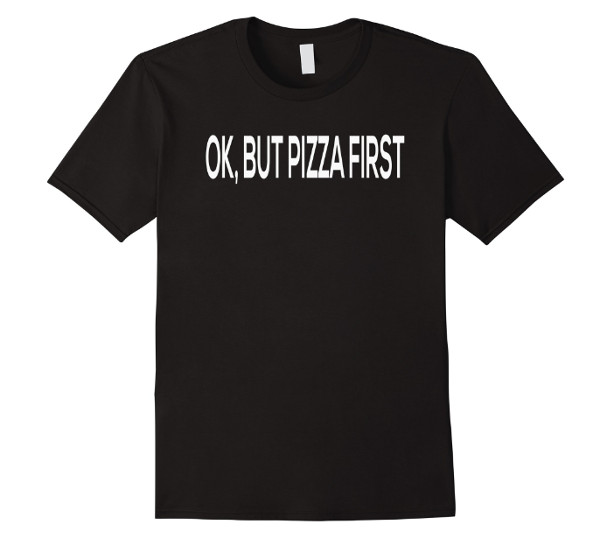 Available in different colors
You can never have enough t-shirts. Especially the variety that spout a funny saying or are a touch on the sarcastic side.
Birthday gift ideas for an 11 year old boy don't always have to be toys or games.
A tween boy will appreciate some clothing once in a while, especially if you get them something geek chic like this Zombie t-shirt. It's 100% cotton, with a commercial grade print and is comfortable to wear; a quality gift that he'll get a lot of wear out of.
Loving these birthday and 2020 Christmas gift ideas for 11 year old boys? Then tweet, like and pin, because chances are your friends will love them too.
Looking for gift ideas for kids of different ages? Check out these gift guides for:
 10 year olds | 12 year old boys | 13 year olds | kids who like soccer – all ages