Learning about electronic circuitry just got a whole lot more interesting for kids.
With the littleBits (yep, it's actually spelt with a lowercase 'l', capital B) Base Kit, your child doesn't have to fuss with hot soldering irons, wiring or even programming.
Your child can spend more time prototyping and creating all manner of electronic inventions in a hassle free way.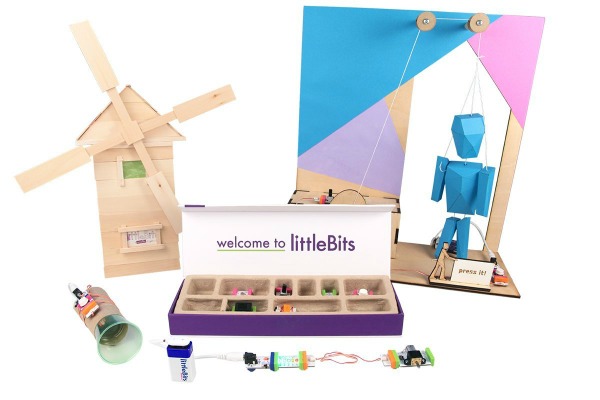 Each electronic component in this kit simply snaps together in seconds and is held in place with powerful magnets.
Don't let the simplicity of these snap together electronics modules throw you off guard. littleBits are sophisticated learning tools that have won no less than 20 top toy awards in recognition of the work done to encourage the next generation of inventors.
Want to introduce your kid to the complex world of electronics? This electronic building kit offers a very good point at which to start from. Lets check it out.
What's in the littleBits Box?
Accessories:
9v alkaline battery and cable
Small screwdriver
Easy to follow 20 page activity booklet with instructions for building 8 cool projects
motorMate (makes it easy to attach wheels and various add on materials to the DC motor)
Module Bits:
1 DC Motor
1 Buzzer
1 Dimmer Switch
2 Wires
1 Bright LED
1 Light Sensor
1 Button
1 Power Module
1 Bargraph (contains 5 different colored LEDs that light up as an indicator of signal strength)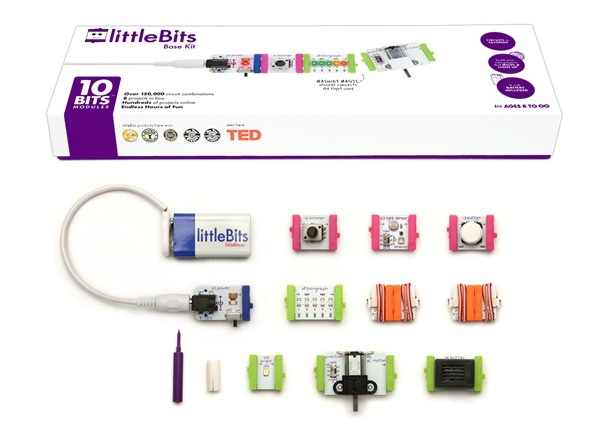 What's Cool About the littleBits Electronic Base Kit?
The littleBits kit just makes learning electronics easier.  There's no steep engineering learning curve to tackle, so kids as young as 8 years old can get straight into developing their own electronic projects.
There are a ton of projects to stimulate your child's mind such as building a tickle machine, a three wheeled vehicle or even creating a prank gadget that 'shocks' their friends when they shake hands.
And those are just a few of the projects detailed in the activity booklet.
There are so many other inventions that can be created. In fact there are over 150,000 circuit combinations just from this base kit alone that will keep any child engaged and eager to learn more.
Projects are not just limited to the contents contained in the box either. This kit can be combined with a variety of everyday household items such as paper, plastic, crayons, cardboard e.t.c., to really bring the creations to life.
Here's a video example of one such invention:
Pretty neat right?
Things to Consider Before You Buy
Seriously, the only gripe I've come across with this toy is to do with pricing. While some buyers feel that the kit offers value for money, others feel it's a little bit pricey.
But that's a personal thing. Your best bet is to check the littleBits Base kit out for yourself.