Hey there cool aunt! What do you get that nephew or niece who loves soccer… besides a brand new shiny soccer ball? Don't get me wrong, balls make great soccer gifts for kids and all, but there are way more options than that to be had. As you'll see from the handpicked selection I'm just about to share with you.
And, because I'm all for making things easier for you, I've sorted them by age for your convenience. In this here guide you'll find soccer related gift ideas for toddlers, little kids (4-9 year olds) and tween aged sports fans (10-11 year olds).

Soccer Gift Ideas for Toddlers (2-3)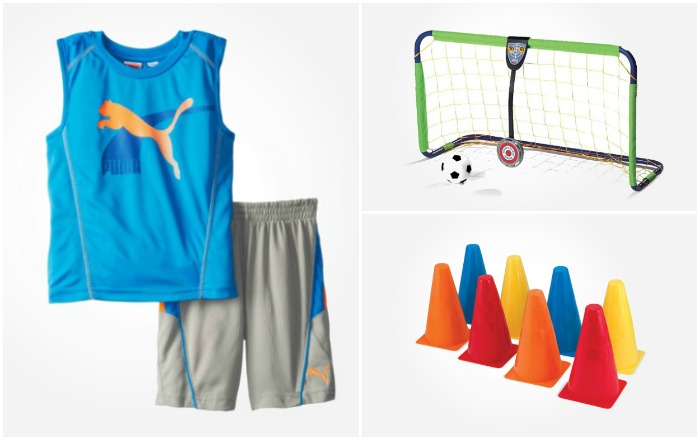 Other Sporty Gift Ideas: Girls Basketball Gifts 
1. PUMA Little Boys' Boy Swift Perf Set: Because it's always a good idea for the kiddos to wear breathable kit when they're out kicking a ball around. And besides, this looks way too cute not to be on this list.
2. Fisher-Price Super Sounds Soccer Net: Goooaaaal! Even a two year wants to feel the buzz of getting a ball in the back of the net. Especially when each goal that hits this net is rewarded with a fun sound.
3. Melissa & Doug 8 Activity Cones: Just the thing to get sporty youngsters to practice their soccer drills. And if drill practice doesn't quite go as planned, at least they'll be able to keep themselves amused by stacking these colorful cones.
4. KixFriction Soccer Training Ball: Having a kick about with your little one is fun. Constantly stopping game play to chase down the road after the ball, not so fun. Whoever came up with the idea to add 'fins' to a soccer ball to slow down the roll is pretty smart. This is not just for little kids either, it's the sort of soccer gift that would benefit anyone wanting to up their ball skills.
Best Soccer Gifts for Kids (4-9)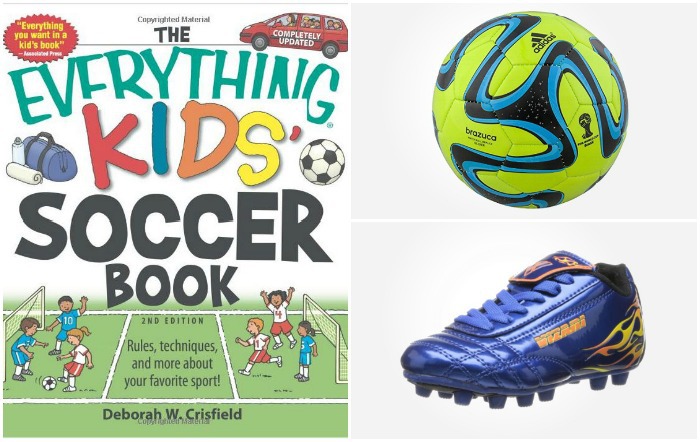 5. The Everything Kids' Soccer Book: Learning the offside rule is going to be easier with this illustrated soccer book in hand. It's got tips, tricks, strategies and a ton of other good stuff they'll love, in simple to understand language.
6. Adidas Brazuca Glider Soccer Ball: And of course I couldn't leave out the soccer ball now. This, however, isn't just any ball. This one was specially designed for the FIFA world cup 2014 in Brazil, which adds a nice touch of nostalgia.
7. Vizari Blaze FG Soccer Shoe: The coolness of the blue combined with the fiery flame motif make this one striking soccer shoe for kids.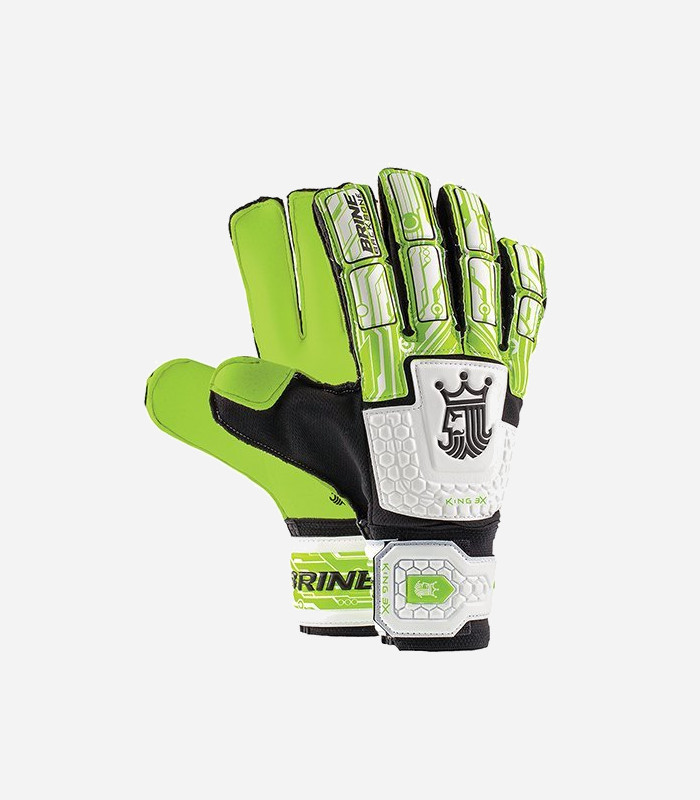 8. Goal Keeper Gloves: Next up, a good pair of goalie gloves. If their hands are protected they'll feel more confident. If they feel more confident, they'll stop more goals. Or so we're hoping…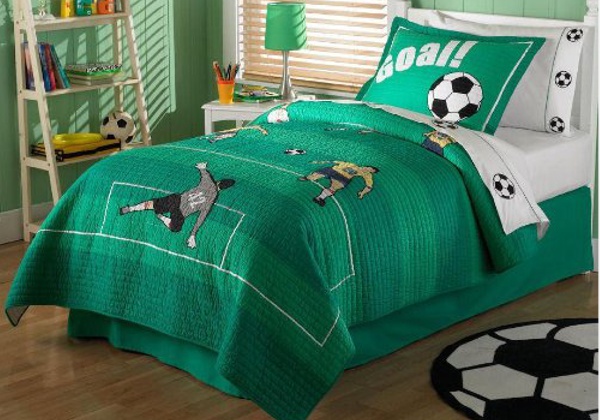 9. Soccer Quilt with Sham: Well they're probably dreaming about soccer anyway. Why not?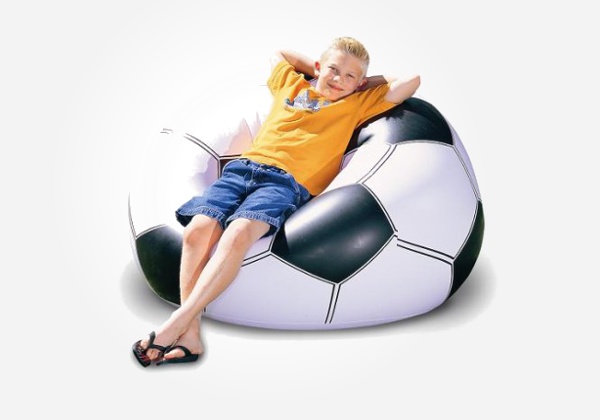 10. "Beanless" Inflatable Soccer Ball Chair: The ideal chair for the soccer mad kid to relax in after a ball game. Looks all nice and cozy, doesn't it? Plus it's ergonomically designed to provide support in all the right places.
Cool Soccer Gift Ideas for Tweens (10-12)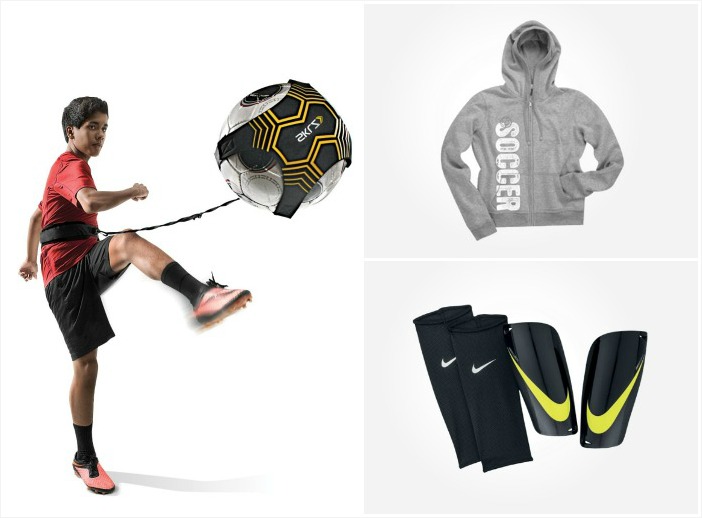 11. SKLZ Star Kick Solo Soccer Trainer: Just strap in a ball, belt up at the waist and there you have it. A sturdy soccer training aid for solo practice. The perfect way for boys and girls to learn ball control and enhance their overall playing skills.
13. NIKE Mercurial Lite Shin Pad: Your niece or nephew's got to protect those shins from the kicks and scrapes they'll encounter on the pitch. So they might as well protect their pins in NIKE style.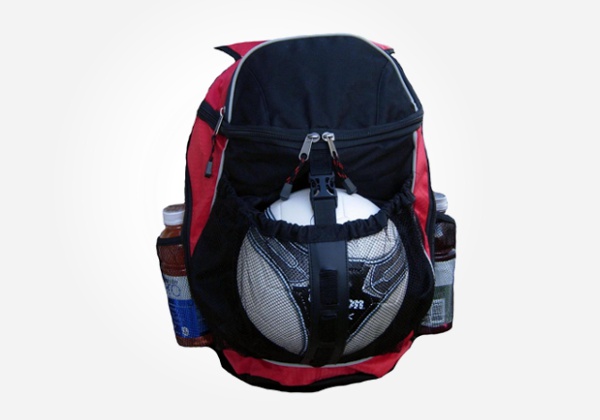 14. Sport Backpack: Kids who love soccer are rarely seen without a ball, field shoes, shin pads… Which means, they'll appreciate having something to carry their equipment around in. This cool looking sports bag would make a great soccer gift for boys or girls.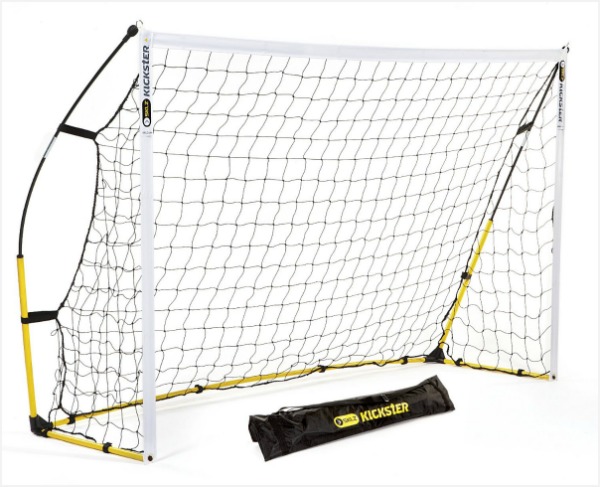 15. SKLZ Quickster Soccer Net (Kickster): Easy to set up, easy to pack away. Just the way we like it. The perfect portable goal and gift for kid soccer players.
So those are my top soccer gifts for kids. Think you'll be scoring some major cool aunt points with one of these? I certainly think so. In fact, why don't you leave me a comment to tell me all about it in the section below.