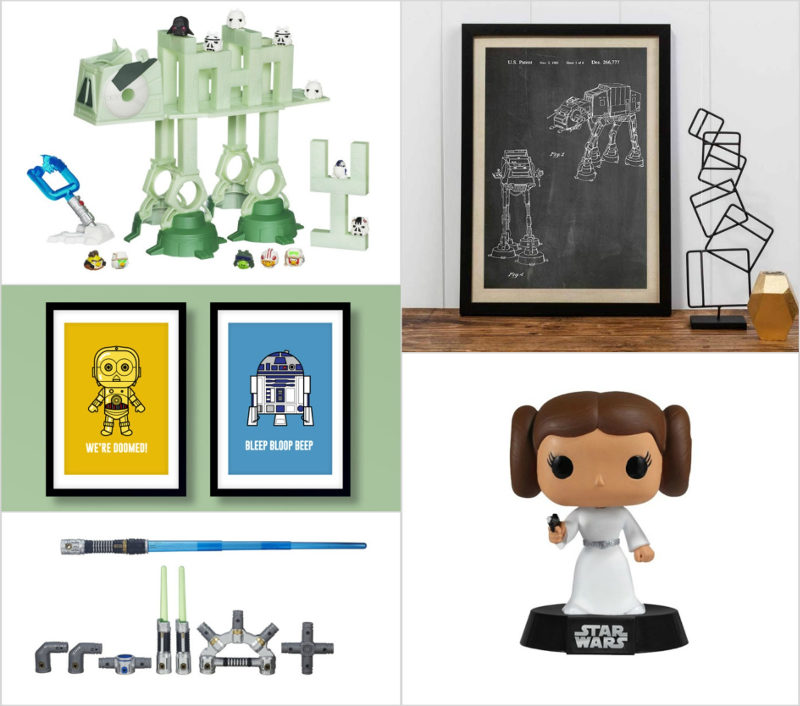 We do love a good Star Wars themed gift. The thing is, there's just so much stuff around. From Star Wars toys, games, apparel to other random pieces of memorabilia. It's easy to get overwhelmed by all that geeky goodness.
So, if you find it difficult picking Star Wars gifts for the kiddos, we've got just the thing. Our cut-through-the-clutter round up of the best Star Wars gifts for kids.
We're calling these the best gifts, but really they're our favorite Star Wars gifts. We're kind of hoping you'll feel the same way too.
Related: Star Wars themed clothing and accessories
Best Star Wars Gifts for Kids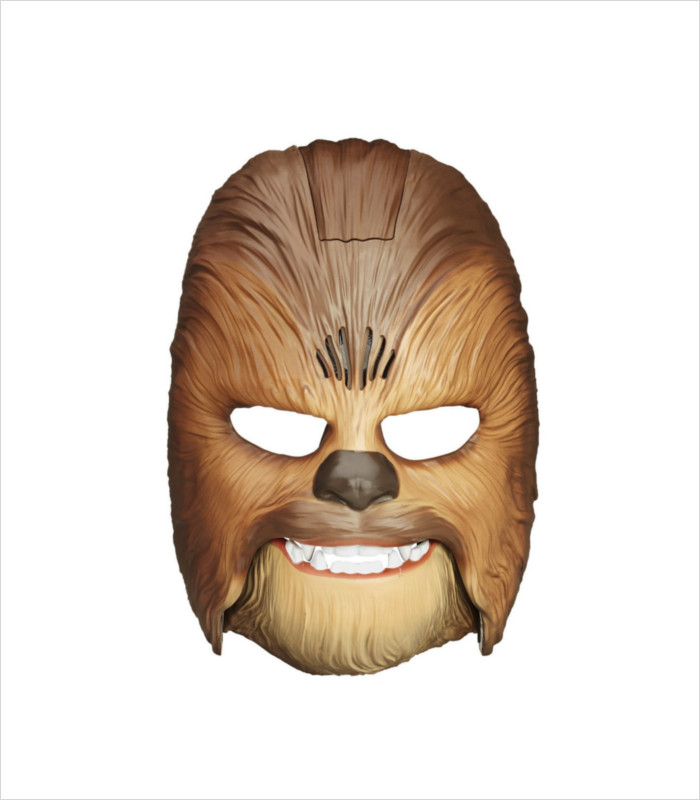 1. Chewbacca Electronic Mask: Have you seen the video where a mom transforms into a growling, 'happy Chewbacca'? No? You need to fix that right now (hint: google the video). It's Hilarious!
Chewbacca mom loved this mask so much, she vowed to keep it as a gift to herself.
We're still a while away from Christmas, yet there are reports of chewy masks selling out all over the place. All we can say is this. If you're lucky enough to get your hands on one of these, you won't want to give it to the kids either.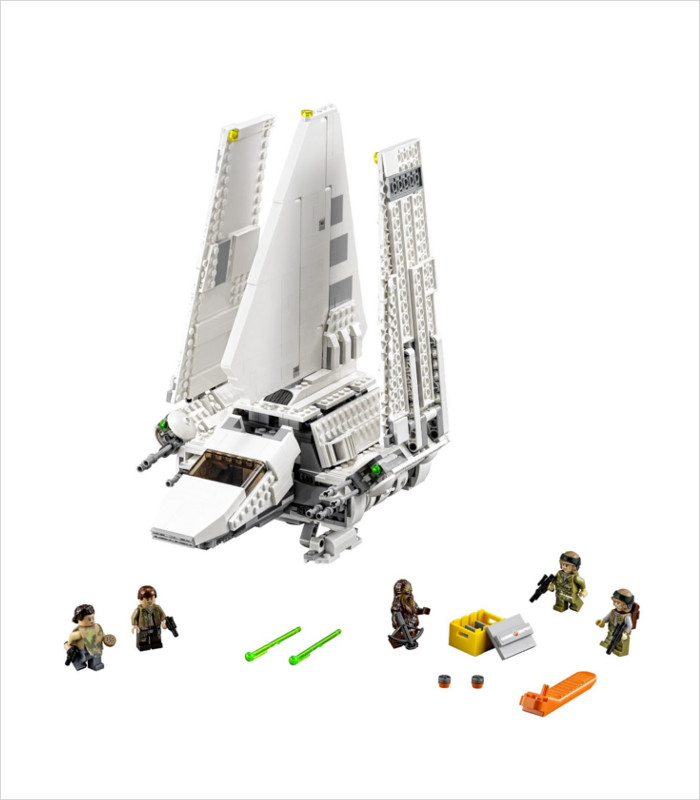 2. LEGO Star Wars Imperial Shuttle Tydirium: Now here's a Star Wars gift that presents a major conundrum. It's fun to play with AND looks remarkable on display. Oh what to do? Hmm, we vote that you play with it. If the kiddos enjoy tinkering with a good LEGO toy, they'll get plenty of enjoyment out of this. There's over 930 pieces worth of pure LEGO building fun.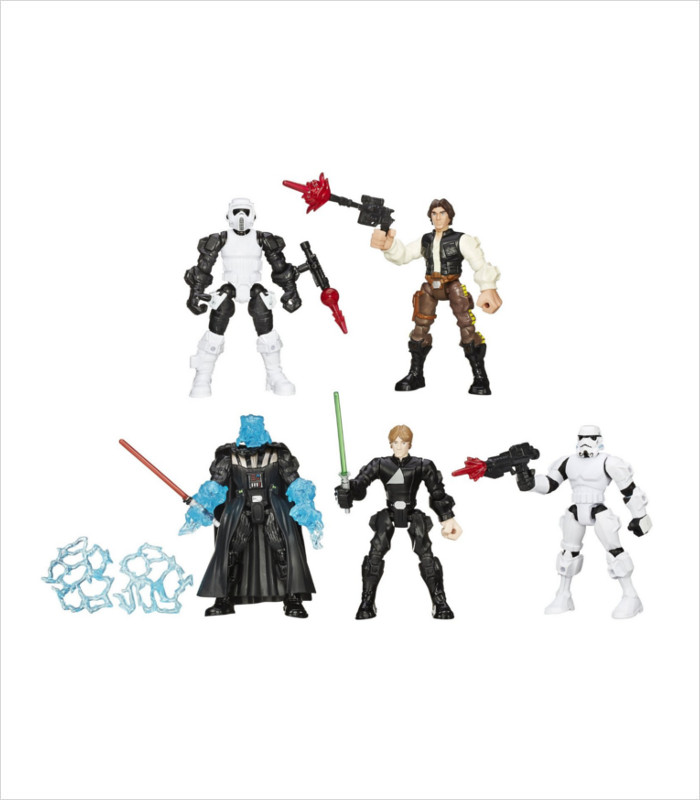 3. Return of the Jedi – Star Wars Hero Mashers: We like this multi-pack of action figures. A lot. Not because it comes with five of the most popular characters from the Return of the Jedi movie.  Or because there are 17 accessories to play around with. We like this because the action figures have detachable appendages. Oh yeah. Plus the parts are fully compatible with other Star Wars Hero Mashers. You know what that means right? Value for money and customizable toys that never get old or boring.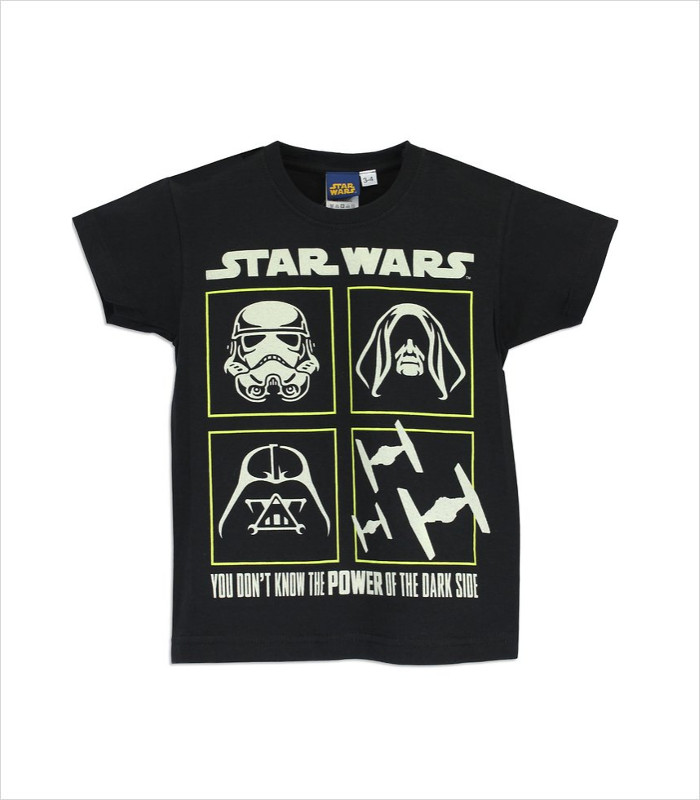 4. Star Wars Tee: A 100% cotton t-shirt that glows in the dark. Which is pretty convenient because we hear, it's somewhat gloomy in the vast regions of space. A shirt like this has just got to make any kid the envy of the Galactic Empire. Well, at least we think so. What about you?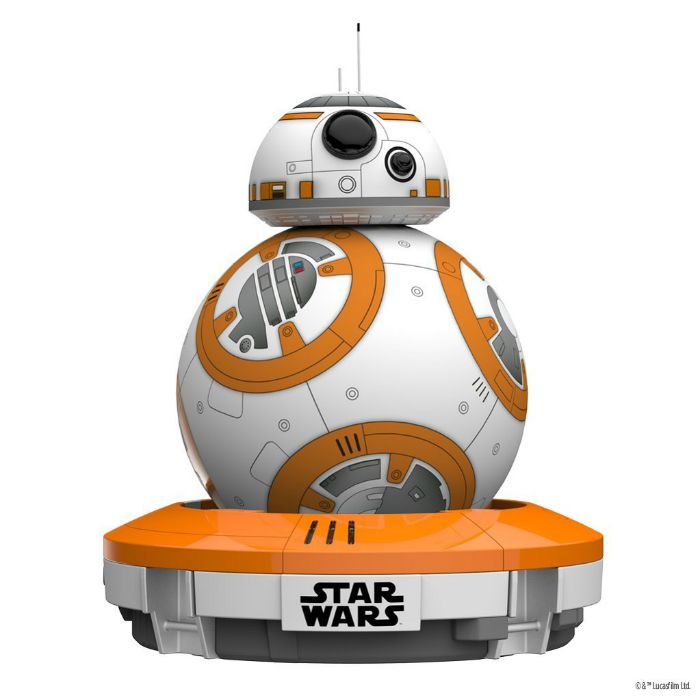 5. Star Wars BB-8 Droid: You've heard about the BB-8 right? It was only one of the most sort after Star Wars toys of Christmas 2015. People were going crazy for this interactive little bot and it's still considered a hot toy by fans. BB-8 is controlled by smartphone/tablet and will do its utmost to keep the kids amused.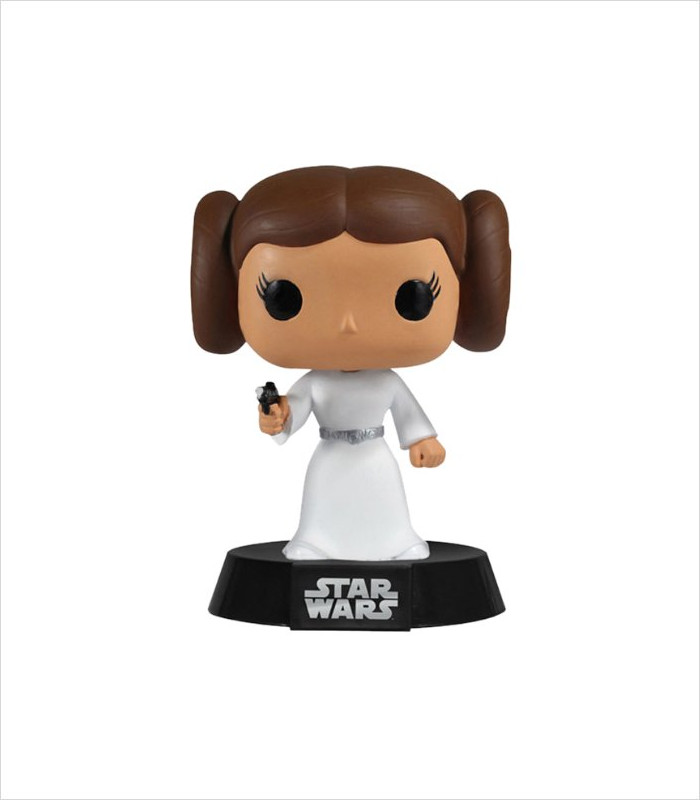 6. Princess Leia Bobble Head Figure: This stylized bobble headed interpretation of Princess Leia is the coolest. It's bound to be an intergalactic hit with fans of the movie. And if Princess Leia is not your gift recipient's fave (although we don't know why she shouldn't be – she's awesome!), you'll find bobble heads of pretty much every Star Wars character in the collection.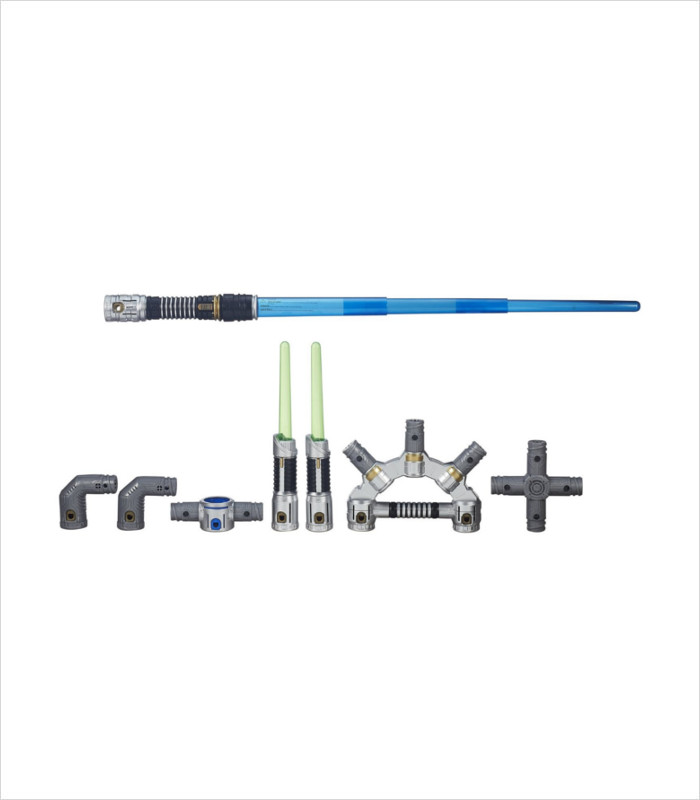 7. Jedi Master Lightsaber: Because every Star Wars fan wants to experience the 'swoosh' of a swinging lightsaber. In fact, this set has two lightsabers and two lightdaggers. Plus a few other essential Jedi accessories. Just know they'll be lots of pretend play action going down with this gift pick.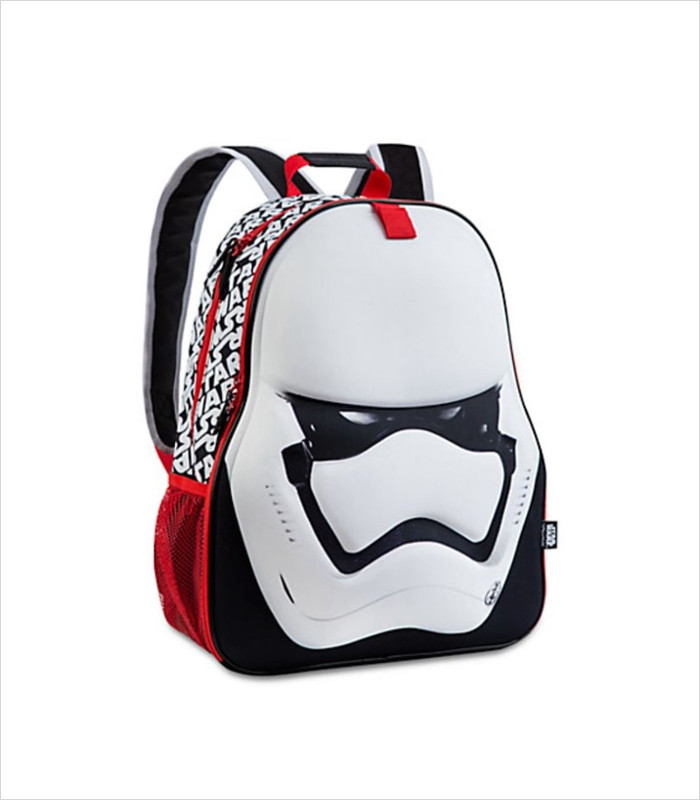 8. First Order Stormtrooper Backpack: If there was ever a reason to buy a new backpack, this has to be it. Inspired by Star Wars: The Force Awakens, this bag is rugged enough to withstand the bustle of school life. And cool enough to take on weekend trips.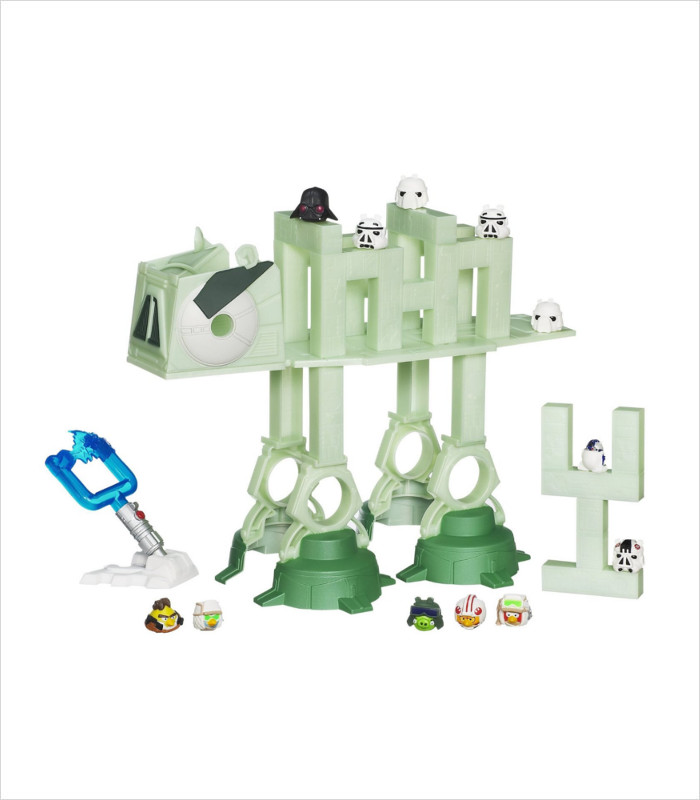 9. Angry Birds AT-AT Attack Battle Game – Star Wars Edition: A comical and addictive game. It's based on the Angry Birds Star Wars app and angry birds or fiendish pigs represent the characters. Probably the only game where you can launch Luke Skywalker (in the form of an Angry Bird) as an attack missile. Hey, if it gets your munchkins off the iPad and doing something in the physical world, why not?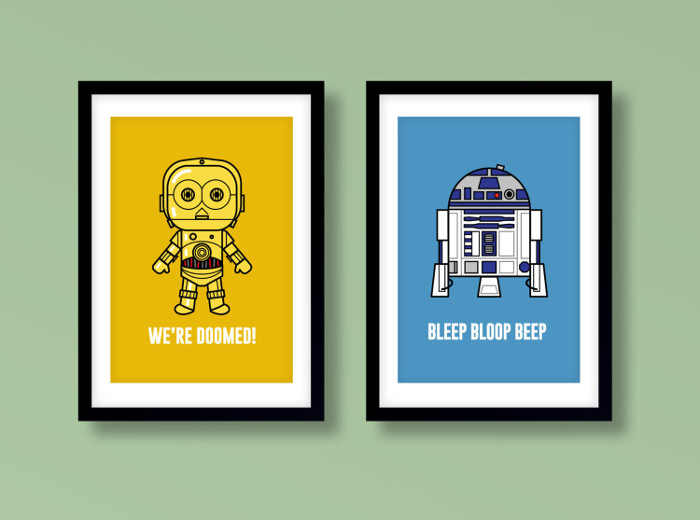 10. Star Wars Inspired Wall Art (R2-D2 and C-3PO): When you think about Star Wars, it's impossible not to think about R2-D2 and C-3PO. They aren't just sidekicks with hilarious personalities, they're Star Wars royalty. They also look pretty sweet as artwork on a young fans bedroom wall.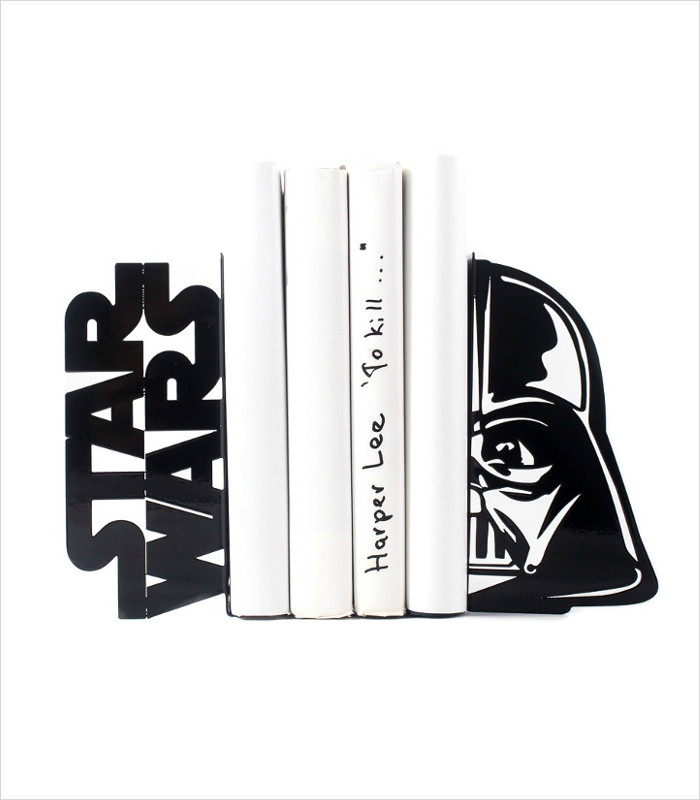 11. Star Wars Inspired Metal Bookends: Looking for a present for the bookish Star Wars fan? Perhaps the villainous Darth Vader is a little too menacing as a decorative piece for little kids. Older fans will think this is cool though.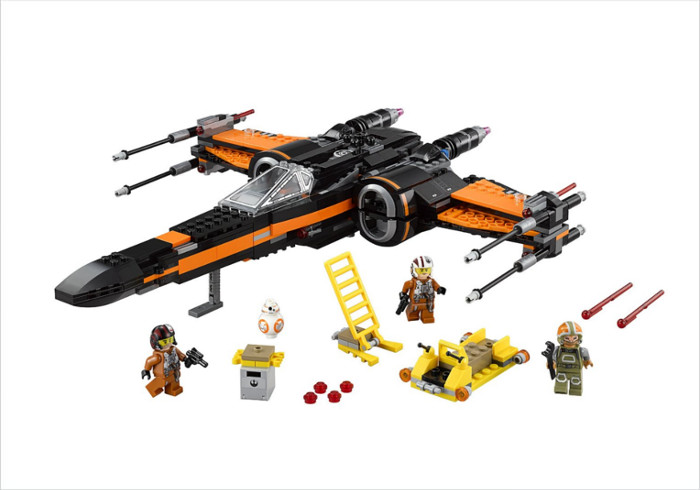 12. Star Wars LEGO – Poe's X-Wing Fighter Kit: You can never have too much Star Wars LEGO. Can you? With this set kids can build Poe's X-Wing Fighter and recreate scenes from The Force Awakens. The kit even comes with spring-loaded shooters that can shoot 10 to 15 feet.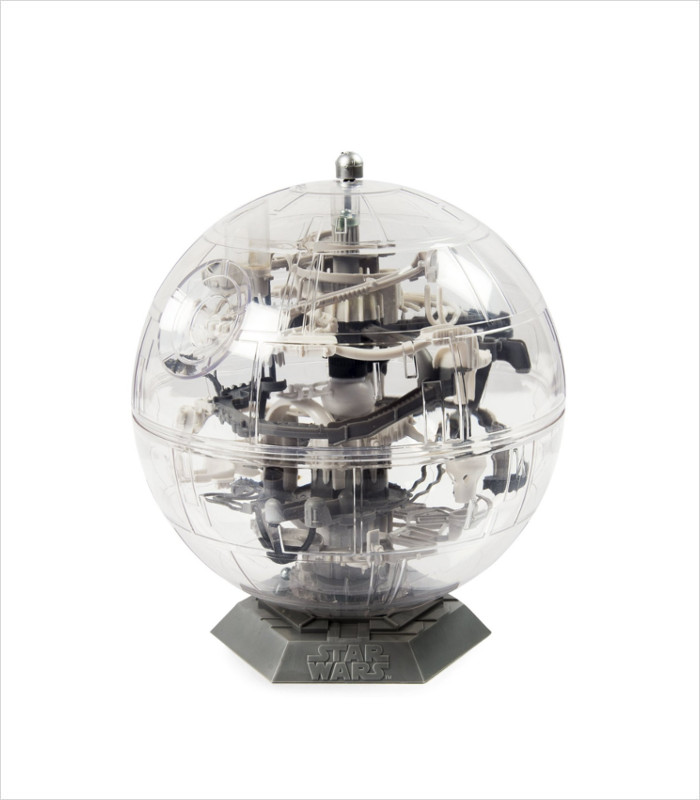 13. Death Star Perplexus Puzzle: The Perplexus 3-D maze game is already massively popular. Add a Star Wars version to the mix and you've got a toy that's no longer just a puzzle. It's now about navigating the X-wing Starfighter through the perilous pathways of the Death Star. If they can master the maze and defeat the Death Star, then the Force is well and truly with them.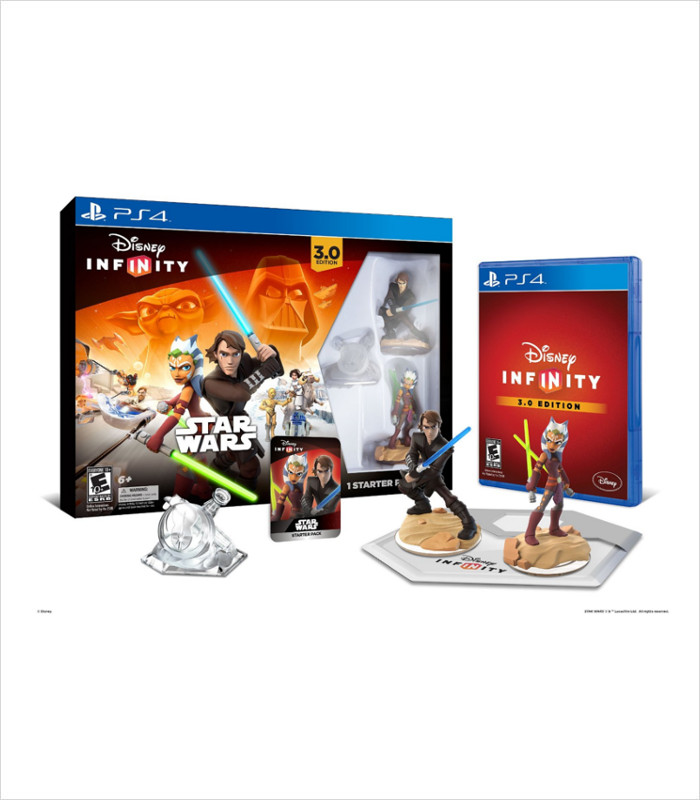 14. Disney Infinity 3.0 Star Wars Edition: Something for the gamer, who also happens to really dig Star Wars toys. Disney Infinity mashes up video game play with real world physical play. In the pack you'll find a video game (obviously). Plus accessories, including two characters from the movie. We've linked to the PS4 version here, but the starter pack is also available for PS3, Wii U, Xbox One and 360.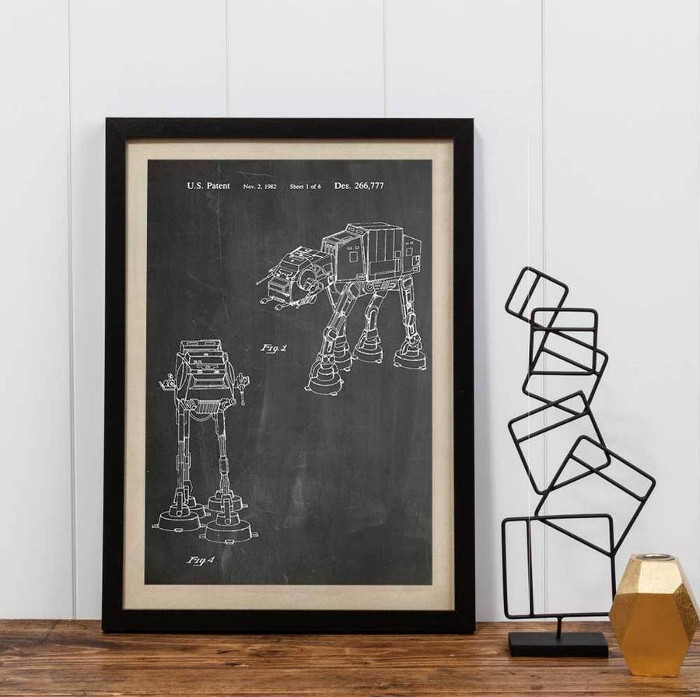 15. Star Wars 'Empire Strikes Back' Vehicle Print: If there's one gift all Star Wars fans should have, it's a quality print they can hang on their bedroom wall. We think this blueprint rendition of the Imperial AT-AT Walker fits the bill.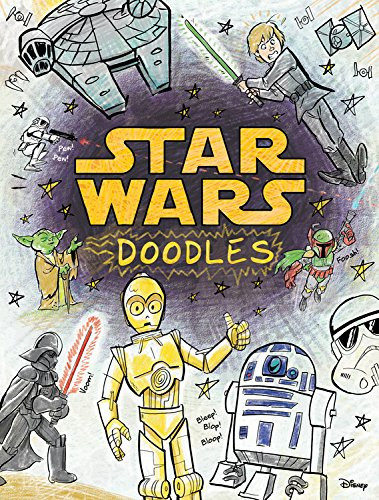 16. Star Wars Doodling Book: This is not just an ordinary Star Wars themed coloring book. This book is designed to further enhance the artistry and creativity of kids aged 6 and up. It's packed with pages upon pages of half-drawn Star Wars characters. Which equates to many hours of, um, doodling.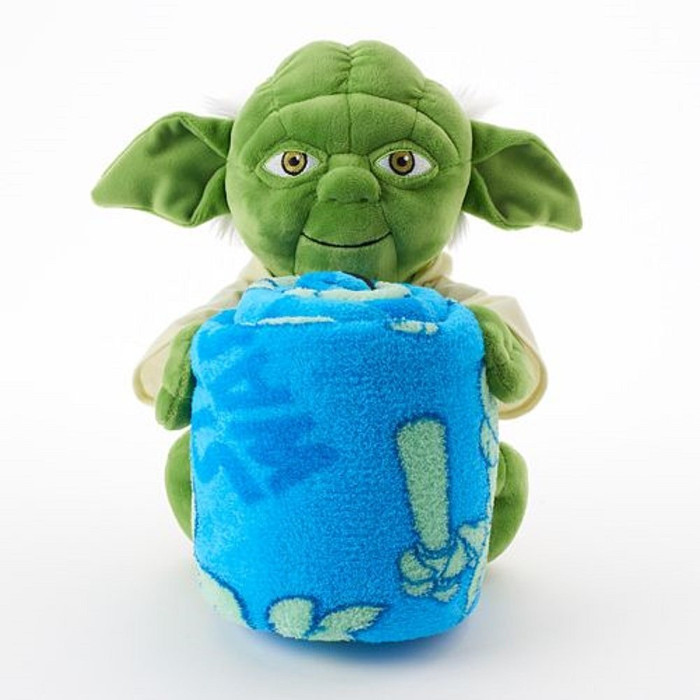 17. Yoda Hugger and Blanket Set: Yoda is known as the Grand Master of the Jedi Order. He's a tough cookie. After all, he did train Luke Skywalker to fight the Galactic Empire. But looking at this adorable bundle of plush, it seems Yoda is the master of cuteness as well.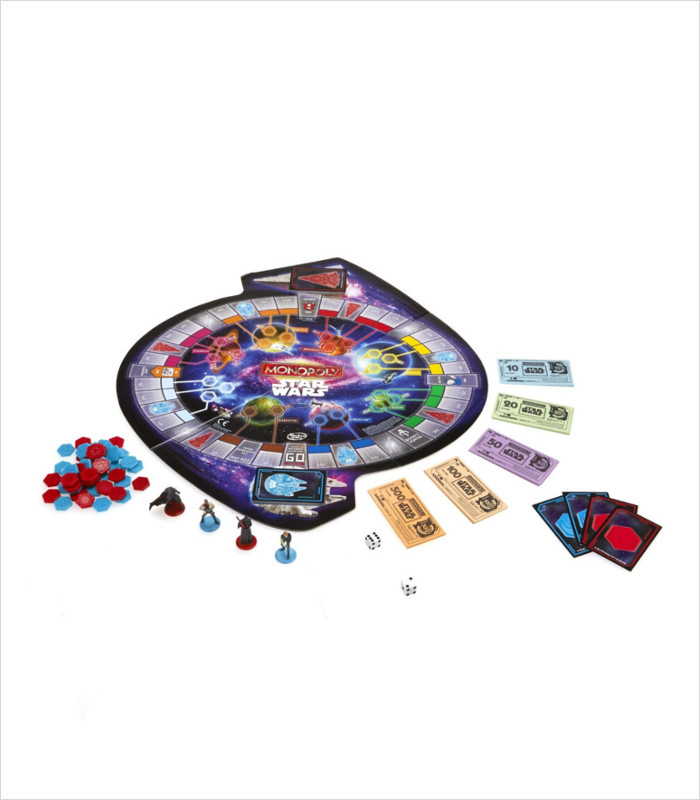 18. Star Wars Edition Monopoly Game: It's Monopoly, but not how we know it. Instead of buying swaths of real estate, you're out to conquer the entire universe with Legacy tokens. An ambitious challenge and fresh twist to a rather conventional game.
And there are our picks of the best Star Wars Gifts for kids. Did you find something you like? Good. Now go forth and share with all your people.