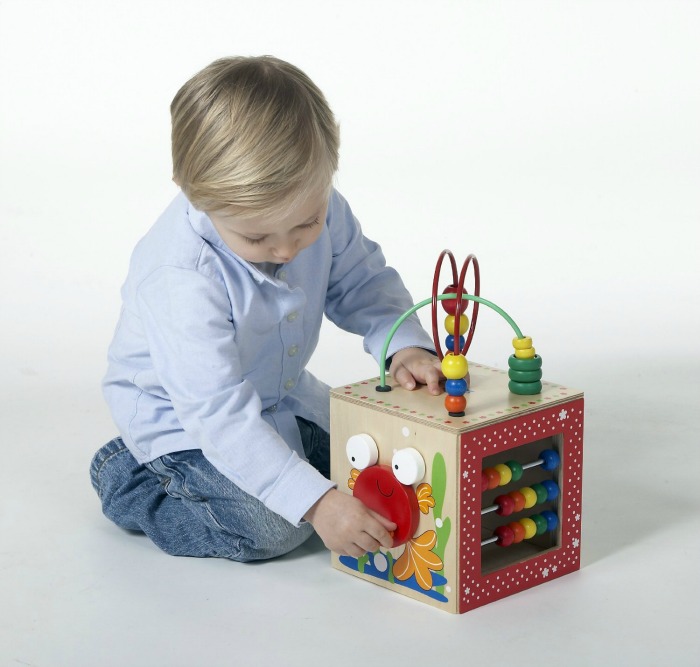 Don't you just love wooden puzzles for kids? They're so much fun and children learn all sorts of things from recognizing different colors and shapes to developing fine motor skills, social development and overall confidence. If you're looking to buy a good puzzle then take your pick from this selection of top rated wooden puzzles for children aged 24 months old and up.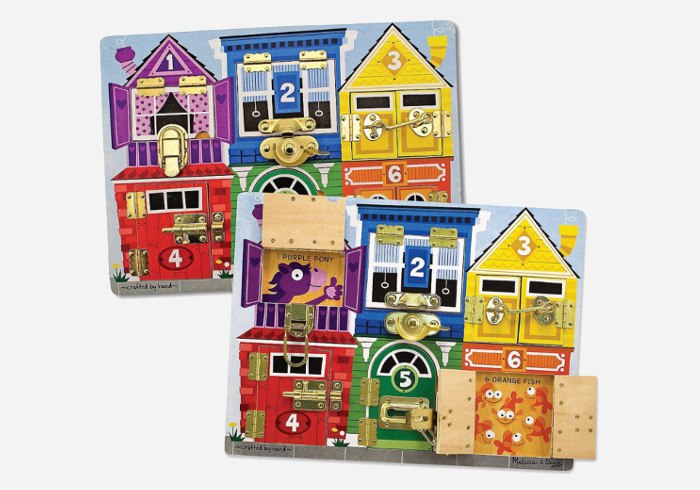 1. Melissa and Doug Deluxe Latches Board: This is a great toy for developing manual dexterity in children. Like all Melissa & Doug toys, this puzzle is extremely well made and highly durable so it will last a long time. You can expect to pass this toy down to other members of the family as the years go by.
The board has 6 brightly colored doors, featuring different types of latches. The doors open to reveal pictures underneath which can be used in counting games, color and animal recognition.
All parts come attached to the board which means you won't have to hunt around looking for missing pieces at the end of playtime. The recommended age says three years and up, but you could buy this for a younger child with supervision- they'll love opening and closing the doors and playing a fun game of peekaboo with the animal pictures.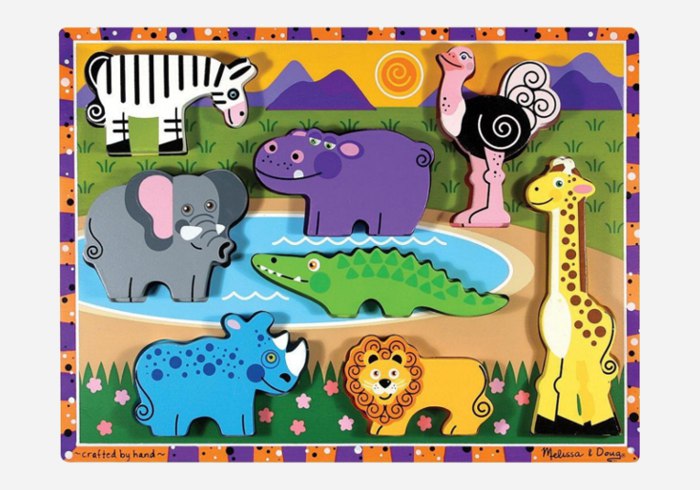 2. Melissa & Doug Deluxe Wooden Safari Chunky Puzzle: Most children develop an interest or fascination with animals from an early age. This puzzle allows them to explore the animals of the jungle. And, as the pieces of this puzzle are designed to stand alone, your child will be able to play with them as toys in a creative and imaginative way.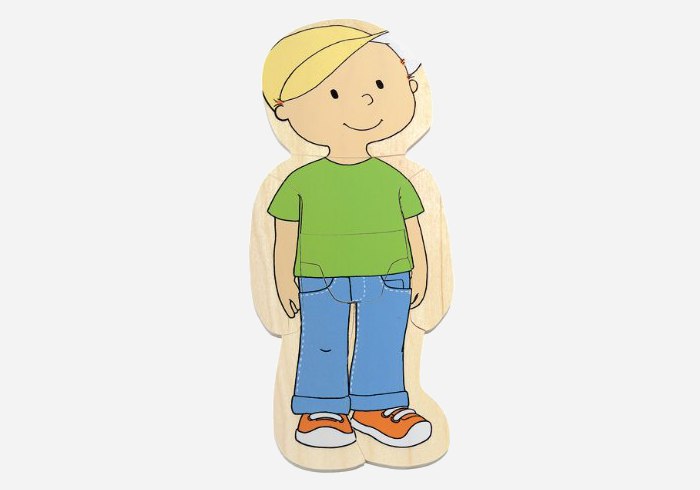 3.Beleduc Your Body – Boy 5-Layer Wooden Puzzle: Oh I do love this puzzle. It's unique in that it helps children from as young as three years old learn all about the human body – inside out. There are five stackable wooden layers, each representing a different part of the internal body system, so you have the integumentary (skin) layer, the muscular system, respiratory and digestive tract and the skeletal system.
Your child will develop an understanding of what their bodies look like on the inside as well as figure out the correct order of each of the pieces. There's also a version featuring a little girl which you can find by clicking here.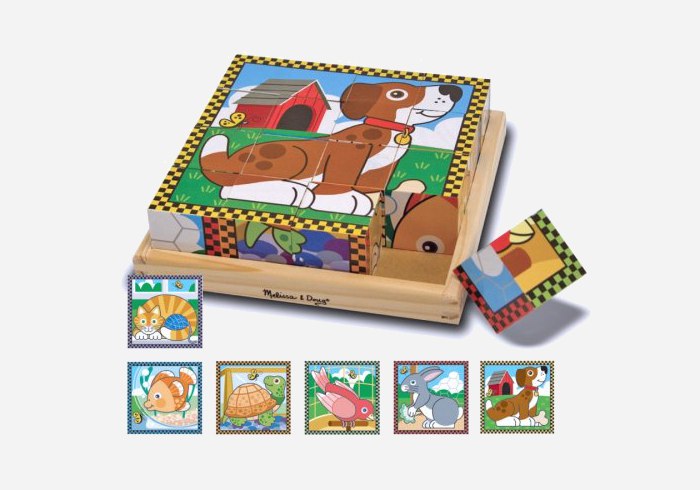 4. Melissa & Doug Pets Cube Puzzle: Yes, yet another Melissa & Doug toy makes the list; they make the highest quality toys for children and really dominate the wooden puzzles market. This puzzle boosts an animal theme once again, but this time the animals are what I like to refer to as neighborhood creatures – you know, cats, dogs, that sort of thing.
The puzzle features 6 different types of animals and offers your child the challenge of piecing the the correct images together. From there they can talk about what they see in the puzzle – describing the different parts of each animal, the colors or what they see in the background. This puzzle also doubles as set of neat building blocks. Great for two or three year olds and up.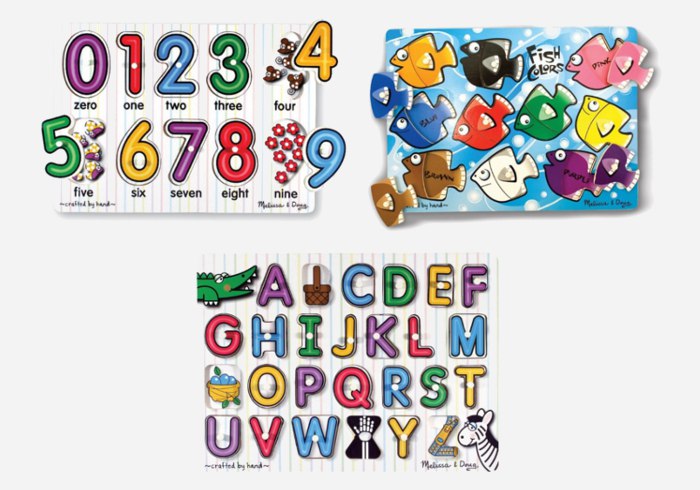 5. Melissa & Doug Deluxe Classic Peg Puzzle Bundle:
I believe in value where ever you can get it and with this super trio of Melissa & Doug puzzles, that's exactly what you're getting. I really like that for each removable piece there's an image or words underneath that relates to the part that is taken away.
So, remove the letter 'A' and you'll see an alligator, remove the green fish and you'll see the corresponding color written down in words. It's such a cute set which is simply perfect for helping toddlers with their numbers, letters and color recognition.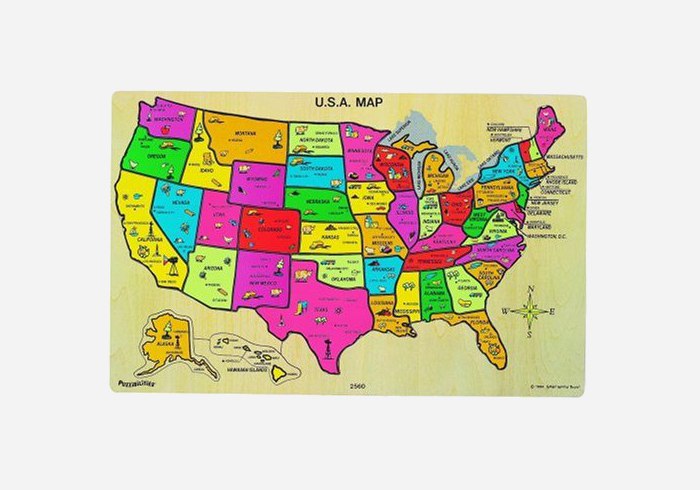 6. Ryan's Room (U.S.A. Map Puzzle): I was terrible at geography as a child. In fact I still am, but shhh, don't tell anyone. A few Christmases ago I bought 2 of my nephews geographical map puzzles. At first they booed me. In fact one cheeky little monkey said ' Uh, is that it… I wanted a game for my Xbox?' LOL.
Anyway, it turns out that it wasn't such a lame gift after all as they, still to this day, happily play with the them. And they totally kick my butt when it comes to their knowledge of geography. A great puzzle for a child 4 or 5 and up.
You may also be interested in something a bit more global such as this puzzle here.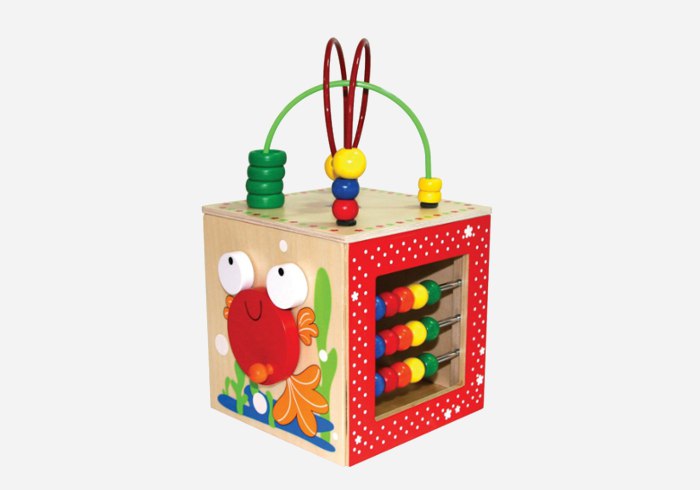 7. Educo Discovery Box: This is a popular style of toy that incorporates different activities into one durable little package. Your child can use the abacus to count, add up and subtract, the clock to tell the time and learn color recognition and the fun maze to learn how to solve problems and further develop their eye-hand coordination. There's also a fish with movable googly eyes and a fun little doggie mirror.
The bright colors of this puzzle make this very attractive to children who crave visual stimulation, but do remember to keep an eye on kids who are very young because of the sticky outtie bits at the top and the pointy corners. Recommended for children three and over or younger kids with supervision.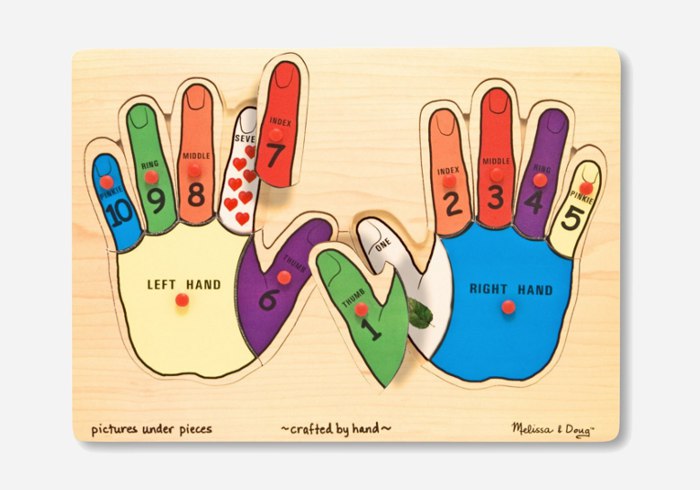 8. Wooden Hands Counting Peg Puzzle, 12-Piece: What a fun way to learn how to count?  There's just so much you and your child can do with a puzzle like this. As well as learning the different parts of the hand, they get to learn about color, left and right, shapes and objects and of course how to count. Lift up the pegs to reveal the corresponding number beneath it. A great activity puzzle for children aged two and up.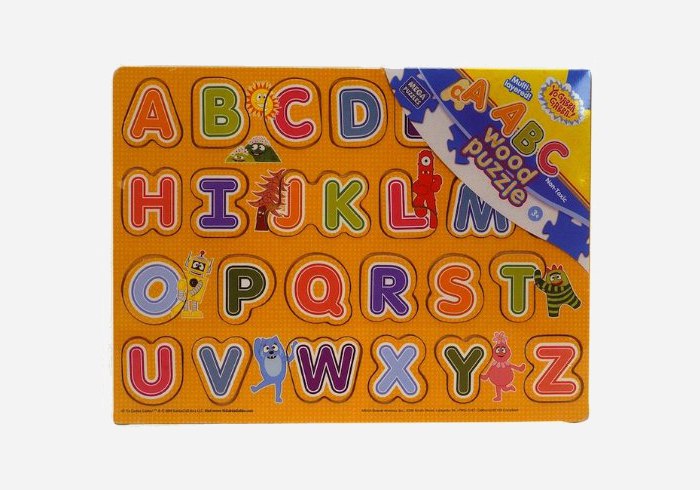 9. Yo Gabba Gabba ABC Letters Wood Puzzle: This themed wooden puzzle has 25 alphabet pieces that you slot into a  board. Yes there are 26 letters in the alphabet  but for some reason the 'J' and the 'K' are joined. Who knows why and to be honest it's kinda cute, so who cares?
This is a top educational puzzle that's designed to get your child learning the alphabet from an early age while they enjoy their favorite Yo Gabba Gabba characters of course! Pick up a lettered piece and you'll reveal it's lower case buddy beneath, which is great as your child gets to learn about both cases at the same time.
I find that lots of these alphabet type toys only usually have one or the other letter case, so this puzzle gets a big thumbs up for offering both.  A truly great toy for kids aged three and up.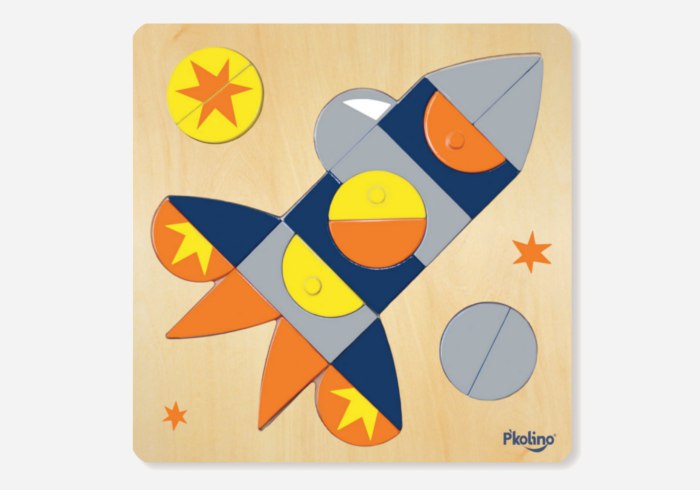 10. P'kolino Multi-Solution Shape Puzzle: Now this is a neat toy for helping your child adopt creative solutions to problem solving.  Unlike regular puzzles, there is more than one outcome with the P'kolino Multi-solution puzzle as each shape is designed to fit in more than one slot. This is a diverse puzzle which comes with a simple design – in fact there are four different puzzles in this range to choose from.
A highly challenging wooden puzzle that will hold and maintain your child's attention for hours. Perfect for kids aged two years and over.
Wooden puzzles for kids make really good gifts. They're colorful, engaging and practically indestructible. Buy a wooden puzzle for a child and they'll pretty much have it for life. Also, anything that can positively encourage a child to grow by learning on so many different levels and in such a fun, yet challenging way, gets a massive YES from me.