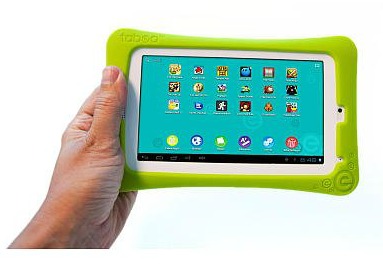 There are some great PC tablets for kids on the market today!
The Tabeo 7 inch Kids Tablet just happens to be one of them.
The market is currently a flood with tablets for adults and older children, finally we have something that has been specifically designed for little ones in mind.
Now if you've ever look on nervously as your tiny niece or nephew awkwardly grips hold of your iPad or Kindle device, you're probably wondering whether a tablet for a little kid is going to stand the test of time.
Well worry not. You see the Tabeo 7 inch Kids Tablet is made to be durable. This thing will bounce back from any knocks and falls. It also features a number of apps that are all together perfect for your young child.
There is a soft case that surrounds the tablet, protecting it from any rough and tumble that your darling little cherubs decide to bestow upon it. It also has a 7 inch screen capable of producing millions of different colors.  It operates on the same Android operating system that you may well be familiar to you through the use of iPhones and other tablets.
This tablet comes pre-loaded with around 50 apps, so right away your kidlet is going to have hours of built in fun to dive into. But even better, there are more than 7,000 apps that are available for download through the Tabeo store.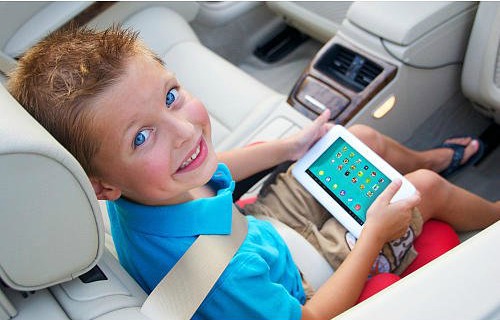 Like many regular PC tablets for kids, the Tabeo 7 inch Tablet has a touch screen system. Your child can simply use a finger for most operations, but there is also the option of using a stylus for more precise work such as drawing.
The tablet has G sensor functionality, which means that as you turn it the screen will automatically orient the way you want it to, which is a great feature that will make games more interactive. Your niece/nephew will also enjoy the built in speaker system, microphone and front camera that allows him or her to operate the tablet as a multimedia tool.
The Internet browser supports almost all websites – including sites that require Flash Media Player.  That means more access to online games and educational sites that need Flash in order to operate properly.
As an aunt, naturally you're going to worry about your child's safety online. Fortunately the Tabeo comes with adult controls to help make your child's wireless Internet experience a safe one.  You can choose the level of control you want to have as your child uses it online.
Better still, you can have up to eight different settings so that children of different ages and abilities can get maximum enjoyment out of it. Perfect if  you have kidlets at different developmental stages who are likely to share the device.
One final thing. The Tabeo tablet is brand new to 2012. It's released on 21 October, 2012 but is on pre-order at the time of writing this. In fact, if this is something you want to buy as a gift for your child this Christmas, then it is highly advisable that you snap this up real soon.