Summer is in the air and you know what that means… it's time to enjoy the great outdoors with a kids grill set.
Little Tikes have a very attractive looking Get Out and Grill Kitchen Set that offers a child a whole bundle of fun as they grill up a pretend feast.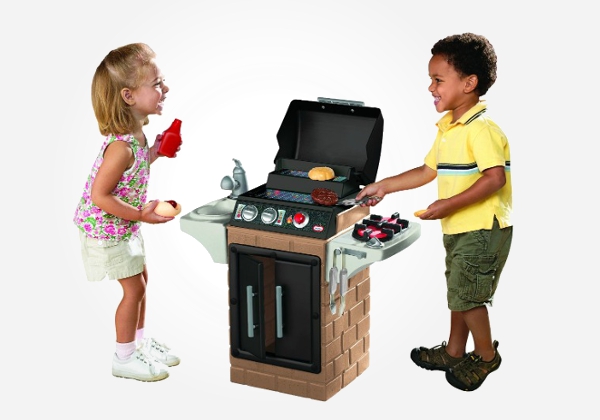 This kids play grill comes with a side burner for extra grilling room and side sink – a nice little touch that emphasises the importance of food hygiene.
The grill can be 'fired up' by pressing the buttons and turning the knobs, which make a realistic clicking noise (yes they actually turn and are not just stickers).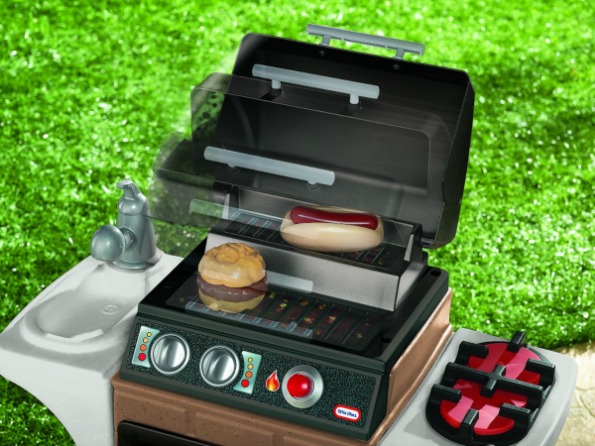 But, as this is not a battery operated kiddies barbecue, you won't get to hear any sizzling sounds or anything fancy like that.
Not a bad thing though as it means kids will just have to be that bit more imaginative and make their own sizzling sound effects.
And of course it means spending less money on maintaining the grill set.
Kids Grill Set Accessories
There are 8 basic food accessories as part of this kids grill set:
2 cooking utensils (a pair of tongs and a spatula)
1 ketchup bottle
1 hot dog
1 hamburger patty
3 buns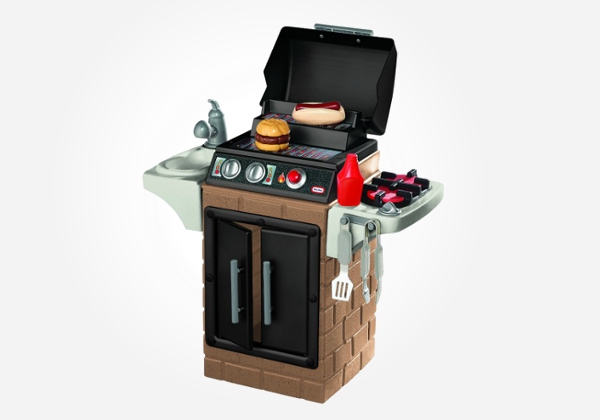 Kids can play with their toy barbecue grill either indoors or outdoors – but on a hot summers day this is just the thing to encourage them to get out into the backyard.
As it's made from toughened plastic it won't break easily. It also means that keeping the grill set clean is no big chore either.
Storage is good with grill cabinets that actually open and close so your kids can put their food accessories away neatly after play.
The Get Out and Grill Kitchen set is a well made little play grill for kids that's suitable for little ones aged 2 to 5 years old.