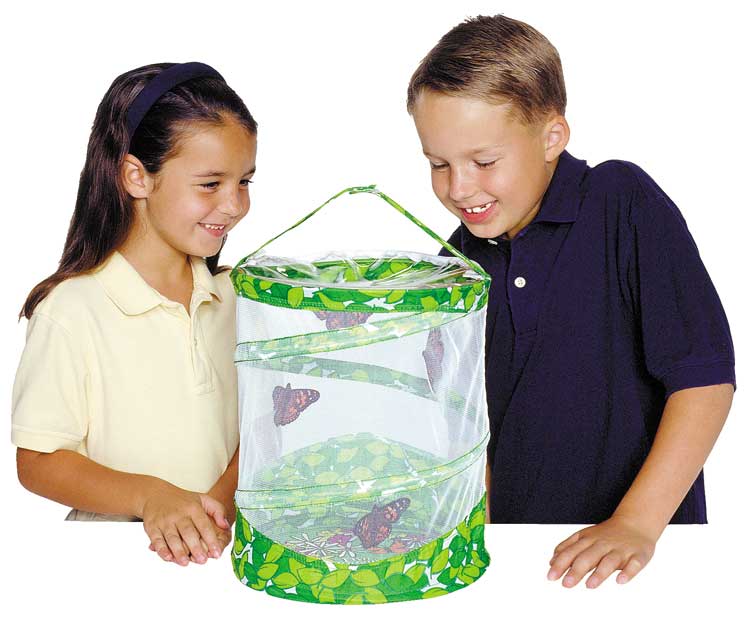 The Insect Lore Butterfly Garden is real world nature watching at its finest.
Kids get a birds eye view of the metamorphic process that transforms creepy caterpillars into beautiful butterflies.
They don't even need to leave the house to do it.
When you buy the butterfly kit, you get all the tools and materials your kids need to grow their own butterflies, including:
an instruction manual
1 waterproof 12ft PVC mesh shell (it's collapsible and reusable)
1 plastic dropper to use for feeding
1 voucher which can be used to buy 5 butterfly larvae and insect food ($5 processing fee applies)
Over the course of seven to ten days,  you and your child will eagerly watch as the caterpillars eat, (poop) and grow to approximately 10 times their original size, turning into Chrysalis and eventually emerging as beautiful butterflies.
Now these butterflies aren't designed to be kept as pets.
The whole point is to nurture them (for about a day or two after birth) before releasing them into their natural environment where they can then mingle with their butterfly buddies.
What's Cool About the Insect Lore Butterfly Garden?
The butterfly larvae arrives in it's own container with just the right amount of food, so there isn't any need to schedule feeding times or anything like that.
All you have to do is keep the larvae sheltered from direct sunlight.
The kit is reusable meaning that your kids can restart the butterfly rearing process all over again, and as many times as they like. You'll need to buy Butterfly Garden of course.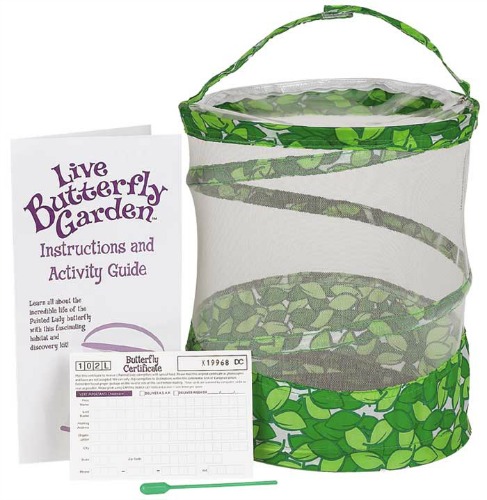 The mesh habitat is easy to store away when not in use (it just collapses down) and because it's waterproof, it can be cleaned easily in-between butterfly rearing sessions.
The kit is easy to set up, safe to use and highly educational for the whole family to enjoy.
Things to Consider Before You Buy
You get everything thing you need in the kit apart from the caterpillars – you have to send off for those and delivery can take between 1 to 2 weeks.
You might find that some of the larvae doesn't travel well (as in, they die in transit), but the good people at Lore promise to ship out replacements (for free) if at least 3 of the larvae don't make it to adulthood.
One more thing, I wouldn't recommend buying this during the cold season.
The butterflies need to be released into a warm weather environment otherwise the poor things won't survive.
The Insect Lore Butterfly Garden is suitable for children 4 years old and up.