Shopping for kids toys is a really fun activity, but uncovering cheap educational toys and games that capture your child's attention while saving a few dollars… well that's even sweeter.
Let's face it children's toys are so expensive these days, and unless you're made of mega bucks you'll be thankful to save money wherever you can.
So, I've been out hunting to find the best and cheap educational toys for under $20. Here's what I found lurking amongst the hot toys on the best sellers list at Amazon.
Cheap Educational Toys and Games
#1 Spot It Game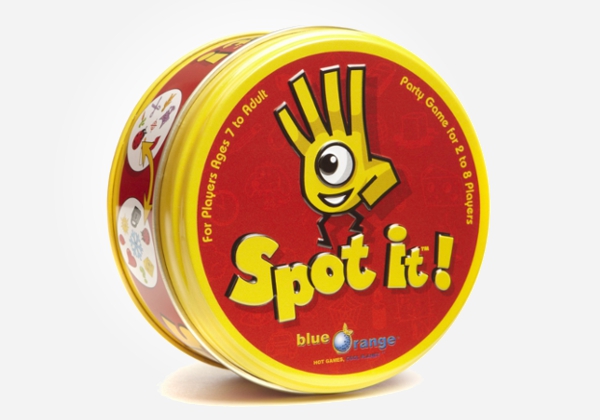 This is a game all about visual perception, memory and top notch matching skills.  It's fast paced, it's fun, it's mentally challenging and you'll find that it's not just the kids who want to play with this game ever.
Adults have been known to be secretly drawn to the wonders of Spot It game, so be prepared for a slice of the action too.
The game comes in a small metal tin which makes it perfect for travelling.
Don't let the size of this game fool you, as within that tiny you'll find the wonders of four mini games to be played; there is The Well, The Hot Potato, The Poisoned Gift and The Tower– all designed to get your kids thinking quickly and acting fast in order to win the game.
#2 Rory's Story Cubes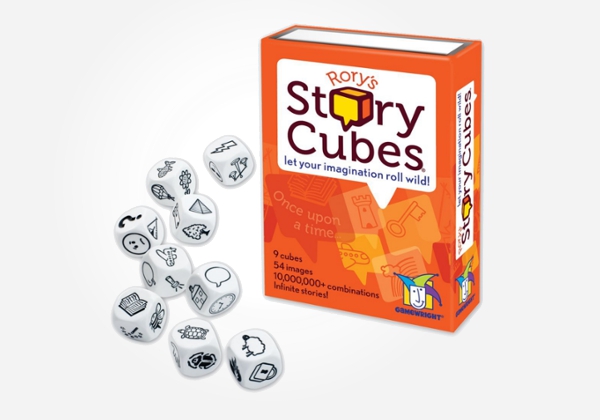 Have you ever played that game where a group of friends take it in turns to create a story? Each person has to continue the story from where the last one left off and think creatively to make the story interesting.
Well Rory Story Cubes are just like that, except you get the cues for the storyline from the pictures presented on the cubes.
There are 9 cubes with a combination 54 pictures so technically if you were playing this game with a large group of people you'd get a massive combination of over 10m images to chose from. It's not a game that your child will tire from.
The instructions are really simple to follow, but the manufactures state that it's suitable for 8 year olds and up. Your child can either play this solo or with a group of their friends.
A really fun and creative game to encourage imaginative play and artistic expression in kids.
#3 LeapFrog Shapes and Sharing Picnic Basket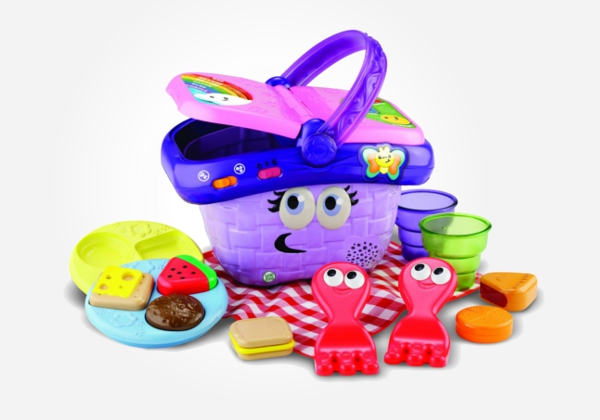 I really like this set.  Not only does it teach your child all about the different shapes, colors, and types of foods it actively teaches children the value of sharing.
There's so much a young child can get out of this set; they can play counting games of all the pieces, they can sort the food items, stack them and categorise similar objects by type or color as well as engross themselves in pretend play.
All the pieces are made out of hard plastic so it's exceptionally durable and easy to clean. The picnic basket is a handy storage unit, which you can bring to life by clicking on the butterfly.
The LeapFrog Shapes and Sharing Picnic Basket will play fun songs and rhymes – it has something in the region of 30 different audio responses to help keep your child entertained. A great toy for little children aged 6 to 36 months old.
#4 Manhattan Toy Winkel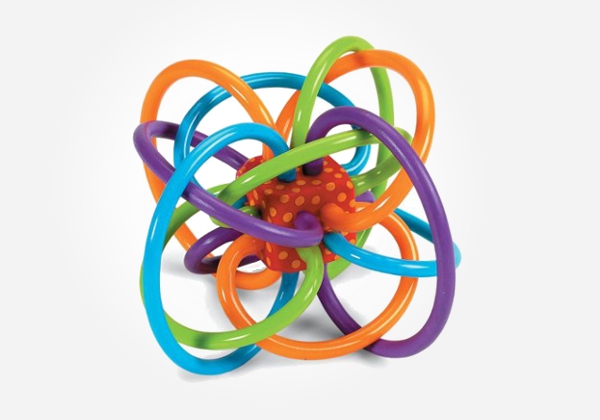 Is it a cheap educational toy? Is it a teether?  Well actually it gets a bit of both.
The Manhattan Toy Winkel is a brightly colored fun maze type toy that's made out of a durable plastic which totally safe, easy to clean and extremely flexible to play with. It features a rattle too, so you're baby will love shaking it to hear the funny sounds.
Pop it in the refrigerator for a few minutes and this toy transforms into a cooling baby teether to sooth those aching gums.
These really are great learning toys for babies from the ages of birth to one years old.
#5 LeapFrog Letter Factory Phonics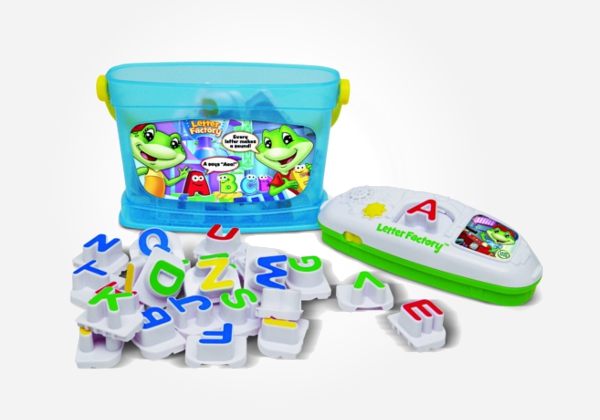 Children get to phonetically learn the alphabet with this interactive Letter Factory Phonic Set from LeapFrog.
There are 26 letters contained in the set, which, when connected to an electronic slot on the lid will play a sound or song related to that letter.
The carry case is sturdy and is a great little unit for storing all the letter pieces carefully. If you're looking for fun, cheap educational toys that help children learn the alphabet, you may want to consider this letter factory.
#6 Melissa & Doug 20 Animal Magnets in a Box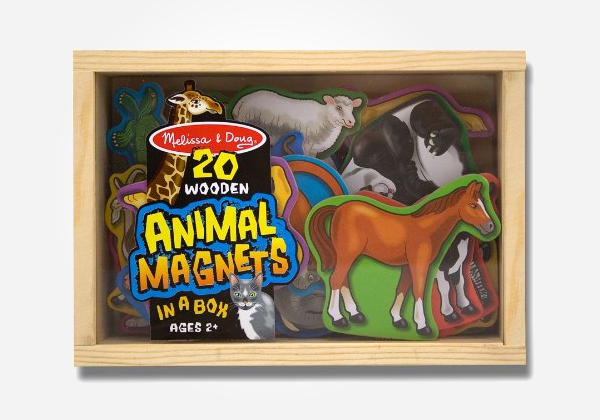 Melissa & Doug 20 Animal Magnets in a Box is a great toy set for teaching young children about animals.  There are 20 wouldn't magnets in the box each one featuring a different animal.
These magnetic pieces are bright and cheerful and generously sized making it really easy for young children to grasp and carry them around the house.
They'll really enjoy not only learning about animals, but also walking around the house and figuring out which pieces of furniture they can stick the magnets to.
If you don't mind finding little animal pieces stuck to every metallic object in your home, then you'll love that your kids will get a buzz out of these. Great for kids aged 2 and up.
#7 Fisher Price Laugh & Click and Learn Remote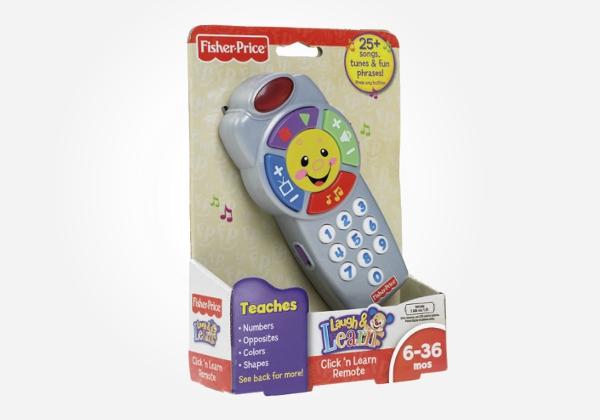 The Fisher Price Laugh & Click Remote is a world of fun and a great way for little babies to learn their first words, colors, numbers and common greetings all via a cleverly designed, child-proof remote control.
There's a lot to keep a baby occupied with this toy, from the large brightly colored buttons to the many funny sounds and catchy songs.
Just like a real remote your child can turn the volume up or down and change channels at the click of a switch, really helping your child develop their fine motor skills. One cheap educational toy that all babies will absolutely love.
#8 Kidoozie Peek n Peep Eggs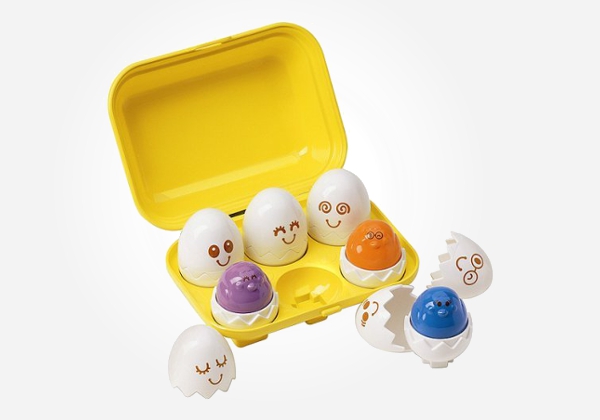 Cute, cute and cute is how I'd describe these Peek n Peep Eggs. It's a neat sorting and matching toy which features half a dozen brightly colored eggs each one with an adorable facial expression.
The egg shells can be removed to reveal the eggs underneath. Press down on any of the eggs and you'll hear a little tweeting sound. How cute!
This would make a great present for a toddler at any time of year, but with spring just around corner it seems like a really appropriate gift choice for Easter.
So that's my list of cheap educational toys that totally rock. What do you think? Leave a comment below to share your views with me.