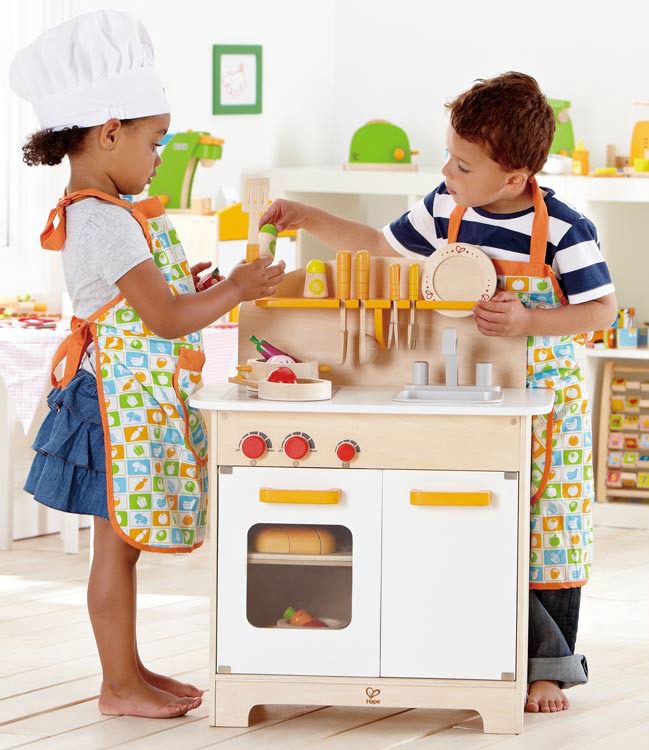 Back in the day (I won't say which day but it was a looong time ago), the only kids kitchen play sets you saw were the kind that were stereotypically pink and overly 'girlie'. No little boy in his right mind would admit to wanting to play with a toy kitchen. What? And risk the ridicule of his buddies? Heck no!  It wasn't a cool thing to do back then.
But things are different now. I'm not sure when that all changed, but I'm thankful that it has. I'm thankfully that my nephews can freely admit they want a play kitchen for Christmas and that, one day, they'd love to be a chef in a fancy restaurant.
And I think that's ace. I also think this little selection of wooden play kitchens for boys and girls is just as ace.
Wooden Play Kitchens Boys and Girls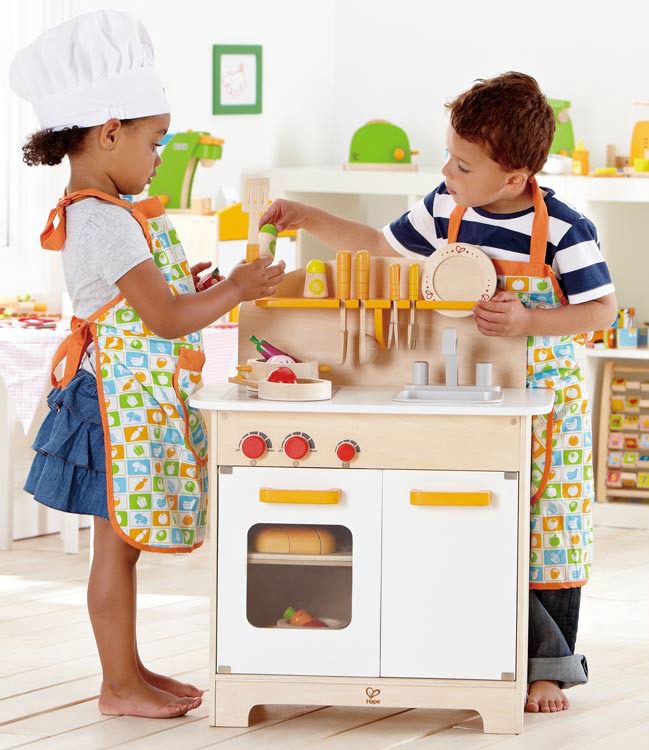 1. Gourmet Play Kitchen: Totally in love with the simplicity of this Hape play kitchen. The big red knobs are not only eye catching, but they 'work' too and are easy for small hands to turn on and off. It's made from plywood and MDF, is non-toxic and is easy to put together. It's also the perfect size for a toddler wannabe chef.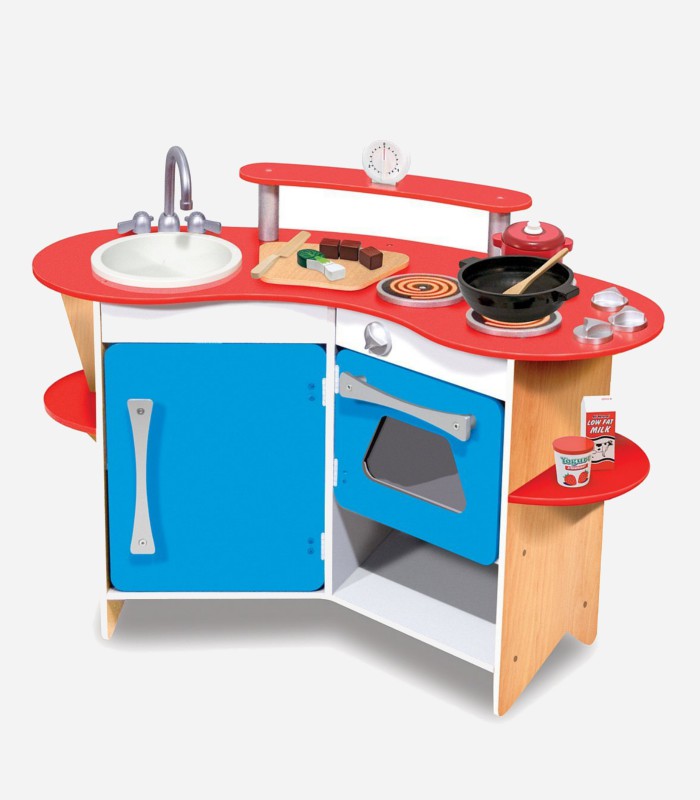 2. Cooks Corner Wooden Play Kitchens: This award winning cooks corner toy kitchen by Melissa and Doug is a little more compact than the KidKraft kitchenette, but it's just as delightful. It's got a neat realistic look and feel that will totally appeal to both boys and girls.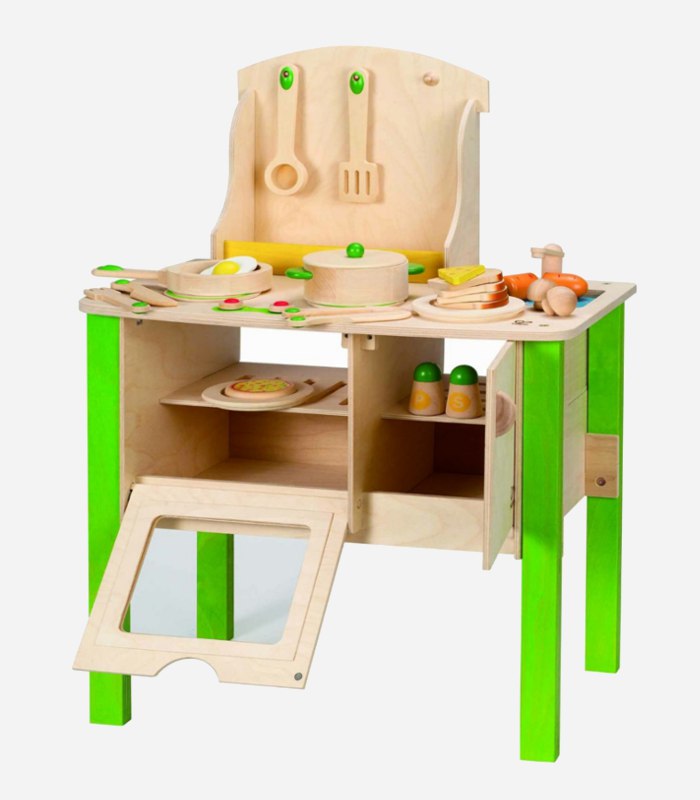 2. My Creative Cookery Club Kitchen Toy Set: I can totally see why this kitchen play set is often lovingly described as simply adorable. Yes the design is pretty basic design, but with the bright green coloring, it certainly draws attention. It also comes with some great looking food accessories which only help to further encourage creative play.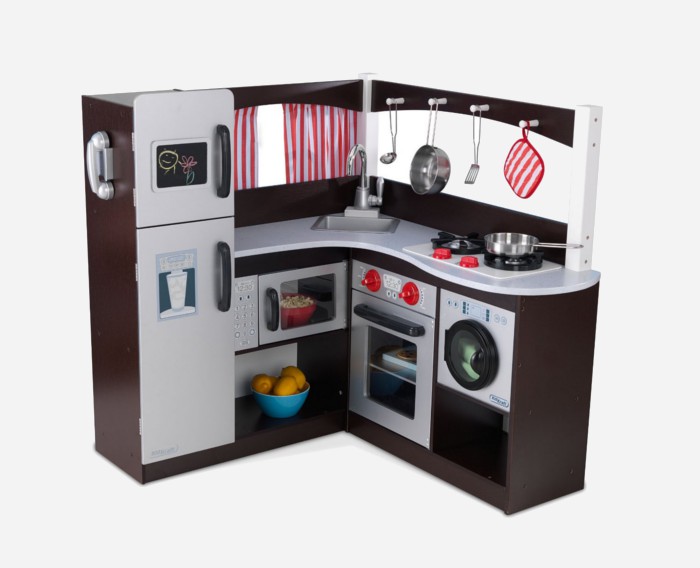 4. Grand Espresso Wooden Corner Kitchen: This wooden corner kitchen is the sort of play set you can save wall space with by shoving it right in the corner of your kids room. It's also generously designed to allow two children to play with it at the same time.
If you don't like DIY, you need to know that assembling this toy might prove challenging, as there are several pieces to it. But a little patience on your part means little Jonnie or little Jessica get an awesome kitchen to play with.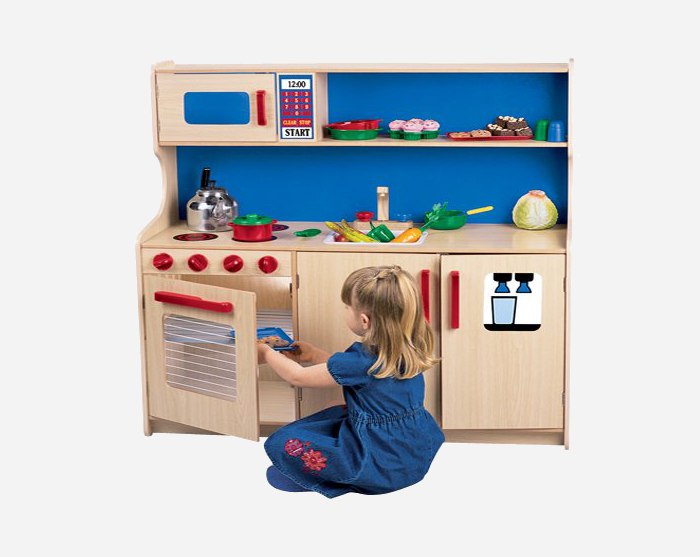 5. Wooden Efficiency Kitchenette for Kids : To me this is this pretend kitchen set by Constructive Playthings is the one that looks the most 'boyish' out of the lot. Perhaps it's the shade of blue. I'm not quite sure.
Either way this cute little kitchen set offers plenty of storage with two functional cupboards. That's certainly enough room to stash the kids food accessories away.
Are you feeling inspired by these awesome wooden play kitchens? Great. Now don't forget to pin, like and tweet them out.