Do you remember what was in your toy box as a kid? I bet  somewhere buried deep under the teddy bears, dolls and loose pieces of LEGO, you had a set of wooden alphabet blocks.
Or at least I should say, I did.
I don't have too good a memory from when I was a toddler, but my mom used to say that I'd spend hours stacking them up high, then knocking them down again.
She used the building blocks as a way to introduce me to each of the letters of the alphabet.
She'd sit and spell out words for me. Simple things like 'cat', 'dog', bird' etc.
Little did I know, I was actually learning how to read.
So, if you're looking for a fun, hard wearing educational toy and you've got your mind set on wooden alphabet toys, then I'd say you've made a very good choice. Building blocks for toddlers are simply the best!
Want to take a peak at 5 of the most popular alphabet blocks for 2014? Let's do it!
Wooden Alphabet Blocks for Toddlers
#1 Uncle Goose Classic Embossed Alphabet Blocks ABC – 1.75 Inch Blocks
If it's a 'made in the US' toy you're looking for, then these alphabet play blocks by Uncle Goose are definitely worthy of your attention.
Uncle Goose sure do know how to produce amazing quality; from the non toxic paints they use to the finer detail and design of these vintage looking wooden blocks.
What I really like about these blocks is that the pictures on them have a realistic look, not cartoon-y like a lot of blocks.
So a bird, for example, looks like an actual real life bird. It just makes them that bit more relatable for kids. Available at Amazon.com.
#2 Uncle Goose Lowercase ABC Blocks (28 pcs) – 1.75 Inch Blocks
Here's another great set of alphabet blocks from Uncle Goose.
While the classic set above features uppercase letters and adult animal pictures on them, this set displays lower case letters only, as well as numbers, symbols, words and various corresponding baby animal pictures.
As with the classic wooden play blocks, you'll find they're made from quite a dense wood, making them incredibly durable and less prone to the nicks and denting which commonly appears on bricks formed from softer wood.
Note: If you're buying blocks for a bi or multilingual family, Uncle Goose do an extensive range of non-English language alphabet blocks. Worth taking a look. Available at Amazon.com.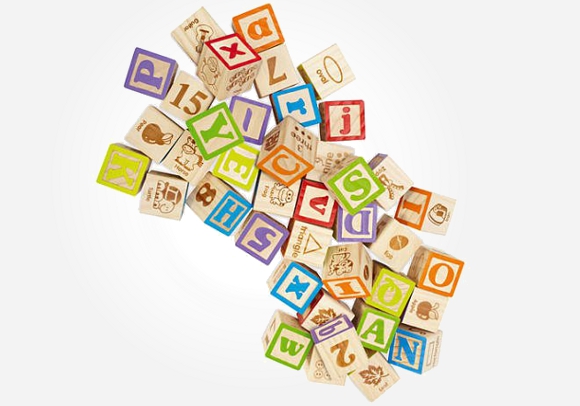 #3 Imaginarium Wooden Alphabet Blocks – 1.75 Inch Blocks
Little ones can learn their ABCs as well as their 123s with this vibrant wooden building block set.
The alphabet is presented in both upper and lowercase letters. As well as featuring numbers and letters, these blocks are decorated with images of cutesy looking animals and everyday shapes.
There are even words on the blocks, to help toddlers begin to associate the images they see with matching words.
When playtime is over, you can quickly store the blocks away in the handy little storage bag that comes with the blocks.  Available at Amazon.com.
#4 Uppercase and Lowercase Alphabet Blocks Set – 1.75 Inch Blocks
Ok, so I've snuck yet another Uncle Goose ABC block set into my list. But these blocks are truly beautiful, so how could I exclude them?
And besides, they're very popular with both parents and kids and are made to the same high standards as the classic and lowercase sets I mentioned above.
Also, if your mind is set on buying the Uncle Goose blocks but you're undecided about whether to go for the upper or lowercase ones, then this set gives the option to combine the two.
Some of these play blocks have the letters engraved into the wood, while others are painted on. This adds another fun play angle for toddlers to explore. Available at Amazon.com.
#5 Large ABC Blocks by Schylling – 1.625 Inch Blocks
These Schylling ABC blocks are big, bold, colorful and oh so bright. They're sure to capture and hold the attention of very small toddlers, although the actual recommended age is 2 years old and up.
This block set comes with it's very own sturdy storage box so you can keep all the pieces neatly together in one place.
Do note, these toddler alphabet blocks are made from a fairly soft wood, so do expect them to get dinged a bit if they are chewed on or played with often.
They'll still hold their own as a durable toy though, so don't be too concerned about the wood type if you think these will be the best choice of gift for your toddler. Available at Amazon.com.
Do you have a favorite set of wooden alphabet blocks for toddlers? Leave me a comment in the box below. And also, please like and share this page with your friends and family.