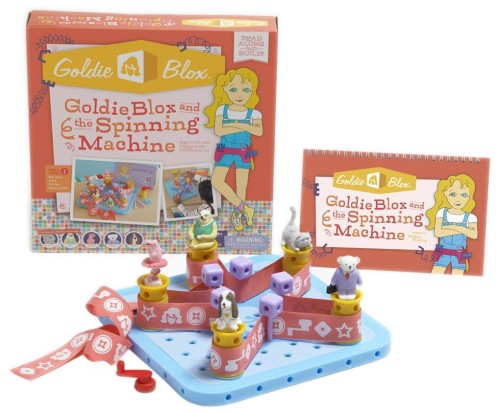 At last! A new construction toy for aspiring girl engineers that is more than just a pretty pink box of re-branded 'boys' toys. Goldie Blox and the Spinning Machine is designed to get girls interested in science and mechanical engineering from a young age.
Goldie Blox and The Spinning Machine
The Goldie Blox kit is an interactive toy, for 6 year olds and up, which centers around a main character called Goldie who, along with a few pals, is just crazy about building machines that help to solve problems. Inside the box you'll find an interactive story book which allows kids to follow Goldie on her many adventures; re-creating the things that she building.
You'll also find a construction set which includes design templates, building 'tools' and parts such as a peg board, blocks, animal figurines, wheels, axles, a ribbon, a crank and washers. The machines are built on the pegboard which features several holes where a child can easily slot each part firmly into place.
This short video from engineer and creator, Debbie Sterling, does an awesome job of explaining the concept behind this toy. So do take a look and then read the rest of the review below.
What's truly unique about this toy is that it taps into one of the fundamental ways that girls like to spend their time. And that's reading. Through my work with children I know that if you walk into any school yard at playtime, 9 times out of 10 you'll see the boys running around like their pants are on fire, while the girls quietly chat or sit curled up over some book somewhere.
The Goldie Blox construction kit is such a great way to engage girls in a subject area that's predominately thought of as male territory. Aside from learning that it's OK to be a girl who likes building, they'll develop verbal and spatial skills as well as a long standing interest in engineering and science.
Girls will be inspired by reading about other girls building stuff and solving real problems. They'll get to follow along with fun story lines and create their own machines right alongside Goldie.
Goldie Blox and the Spinning Machine is just a great educational toy. Clearly the creator has put a lot of thought into how to go beyond the pink packaging and make this a toy that has real appeal to girls. It's toys like this which send out very powerful and positive messages about gender roles – yes, you're a girl but that doesn't mean that you can't be an innovator too!
Goldie Blox and the Spinning Machine is available on Amazon.com.
Do you have a sister or niece that would get a kick out of Goldie Blox and the Spinning Machine? I'd love to hear your opinion on it, so please leave a comment below. Also, don't forget to share this with your friends and family too.