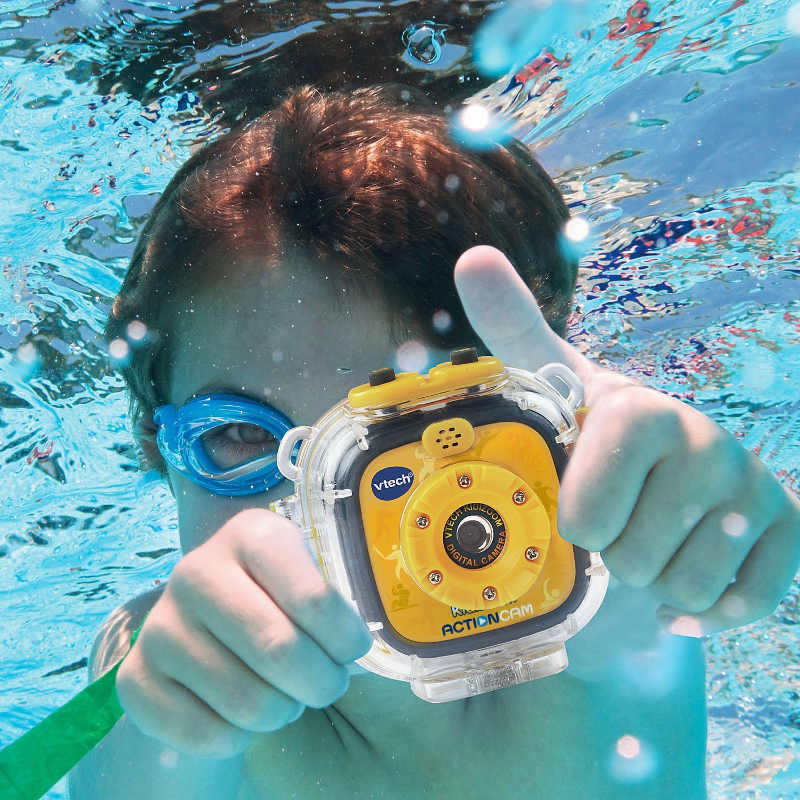 The Vtech Kidizoom Action Cam is a lot like the GoPro, but it's designed specifically for children and is nowhere near as pricey. Thankfully.
I mean, as much as I'd love to watch in-the-moment clips of the kids outdoor adventures, do I really want to fork out hundreds of dollars on an action cam for my boisterous brood? An action cam that will likely be dropped, slammed, kicked, banged, smashed and rolled down steep hills (don't ask).
Umm. No, not really. Some of us just don't have money to burn like that.
Which is one of the reasons why the Kidizoom Cam is a welcome entrant to the kids video camera market, and is arguably the best action camera for thrill seeking kids.
Vtech Kidizoom Action Cam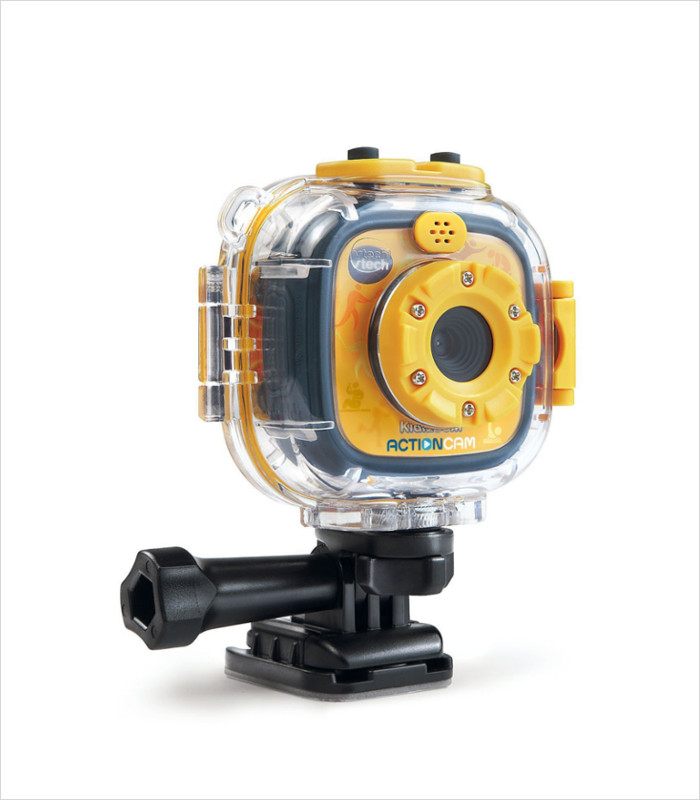 With the Vtech Kidizoom, children as young as 4 can shoot still photos, take time-lapse pics, record continuous and stop-motion videos, all in pretty decent quality. And it's super easy to use. There's no complicated menu system to fiddle around with, just separate buttons for still shots and video recording.
The standard resolution for taking snaps is 640 x 480 (which is around 0.3 megapixels), while the standard for video is 320 x 420.
OK, so this isn't the absolute best resolution and if the kids are used to recording on your iPhone or Galaxy S7, they'll probably notice a difference in camcorder mode. That said, this is an action camera for kids. A few deary recordings isn't going to hamper their enjoyment of this camera all that much.
But, if you want to give them more recording ummpf, you can upgrade the cam with a 32GB microSD card. It'll will increase video resolution to 640 x 480. It'll also boost storage, making it possible to shoot 240 videos and save around 278,000 photos.
The Kidizoom Cam has a modest 1.41-inch LCD screen. Yes, it's small, but at least the kids can instantly play back their videos and review their photos while they're out and about.
Pictures can be edited on the camera with a range of filters, frames and special effects for an extra creative touch. Not exactly mind blowing stuff, but little ones in particular may enjoy jazzing up their photos in a wacky way.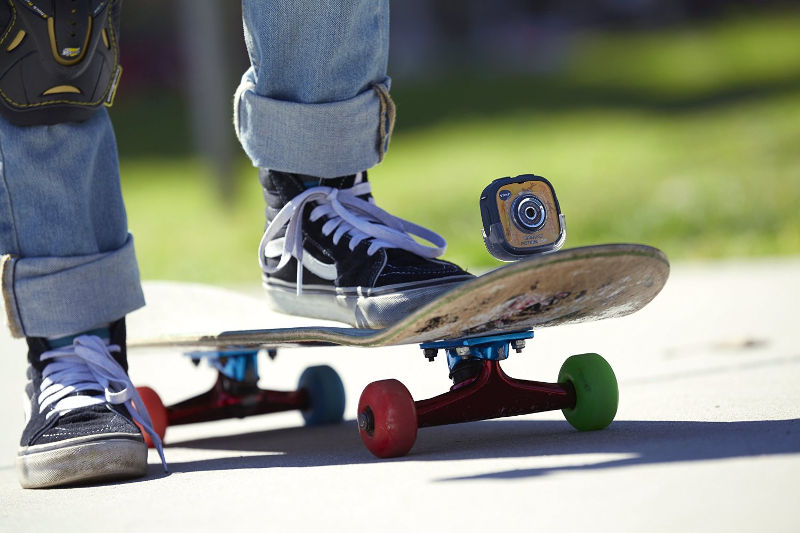 So what's in the box? Oh, just a bunch of really useful accessories. There's a bicycle mount, so the kiddos can shoot videos on the go, recording their fun biking adventures.
There's also a stickable mount and 2 double sided adhesive strips that can be used to secure the camera to any flat surface – a skateboard, helmet, the handlebars of a scooter or a ride-on-toy. Great for capturing real time action shots and whatnot.
The only thing is, the sticky tape that comes with the mount can't be reused. You'll either need to be really sure you want to secure the mount to the object in question – never to be moved again, or make sure you stock up on  some extra strong adhesive tape.
Now, you can't have a good kids sports camera's without the ability to use it underwater. So the fact that the Vtech Kidizoom comes with a toughened waterproof case is a major plus point, making it ideal for trips to the beach or the pool. The cam can go to a depth of 6-feet in water, which is just about the right depth for finding Nemo.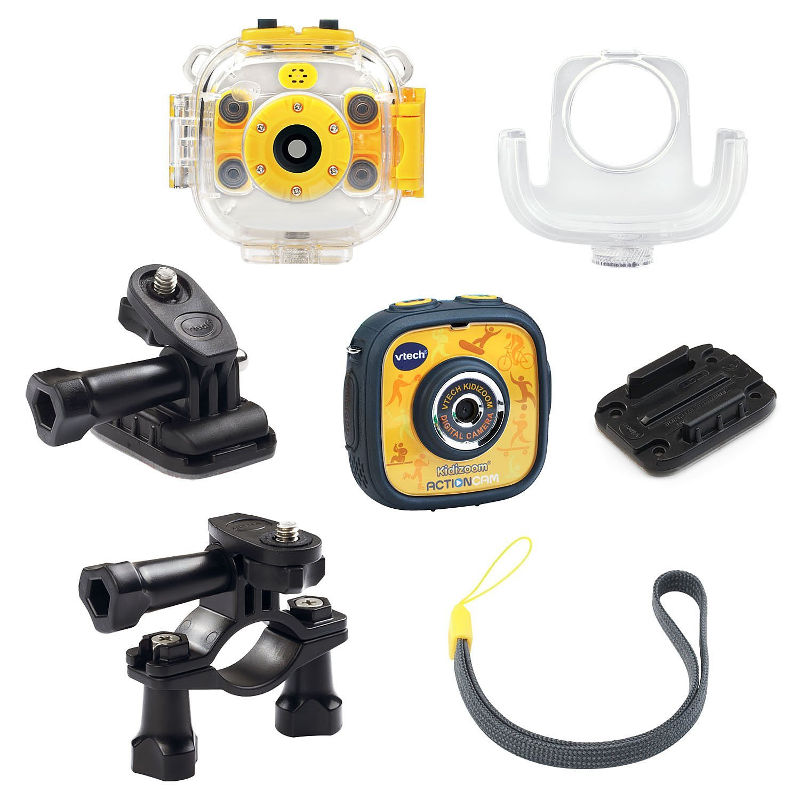 The wrist strap makes it easy to carry the cam around and is also a good catchall for kids who have a tendency to forget or lose stuff.
Made from impact-resistant plastic, the Kidizoom certainly looks as though it can take a good beating. And, as this is a kids action camera, you'd fully expect it to get bashed around – all in the name of adventure, of course.
Considering the tiny size of this cam, battery life is pretty good. The built-in Lithium Polymer battery can last up to 2.5 hours once fully charged. And of course, with an internal battery system there's no need to constantly buy replacements. Simply plug the camera into a USB outlet and juice it up.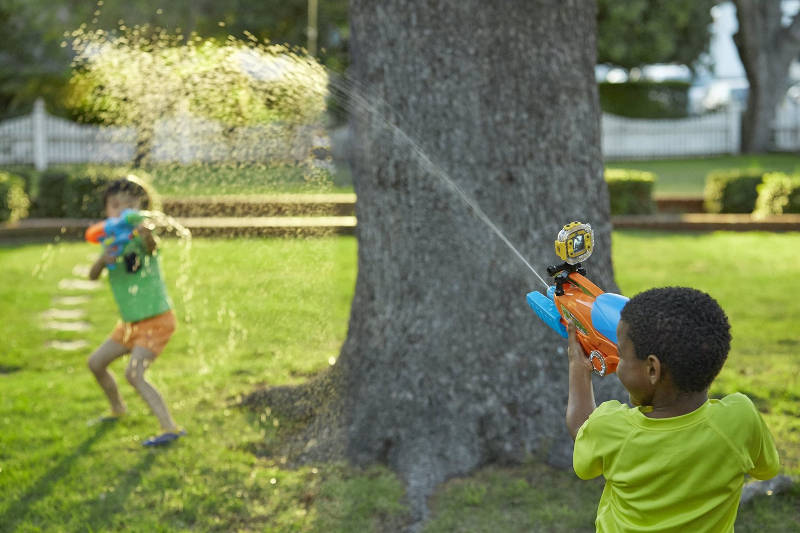 Being more than just a camera, the Vtech Kidizoom comes pre-loaded with 3 fun games: Mountain Bike, Super Boarder and Skydiving Crazy Captain. Although more of a novelty feature than anything else, the gaming element does give kids a well-deserved break from shooting selfies and video clips all day.
While this sports action camera is designed with children in mind, we won't be surprised if adults grow fond of this gadget too. Maybe even feel a strong urge to 'borrow' it.
For the price, the camera is packed with good features that will appeal to young adventurers and extreme sports buffs. And as of now, it really is the best action camera for kids.
The Vtech Kidizoom Action Cam is currently available at Amazon.