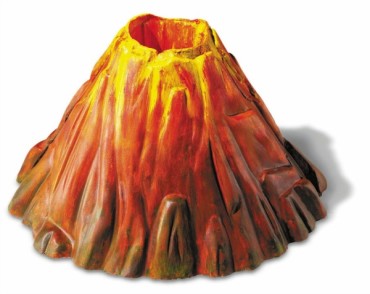 Volcanoes are pretty amazing things to watch aren't they? From a distance of course.
It's the hot bubbling molten lava and powerful eruptions that make these wonders of the world so fascinating to watch.
Not surprising then, that most kids (and adults) have an interest in how volcanoes work.
Thankfully, you don't have to drive to remote volcanic regions to experience a volcanic eruption.
You and your kids can enjoy creating your own eruptions with your very own volcano making kit.
What's Cool About the 4M Volcano Making Kit?
This volcanic modeling kit is pretty involved and there are a few steps to complete before it gets to eruption time.
First your child gets to build the volcano from the mold and plaster included in the kit.
The creative bit comes next as your child gets stuck in with painting the volcano.
And then it's time for the grand finale – creating a huge eruption.
A good measure of baking soda and vinegar (food coloring too if you want the red effect) is all you need.
The great thing is that you can use the volcano over and over again once it's been built.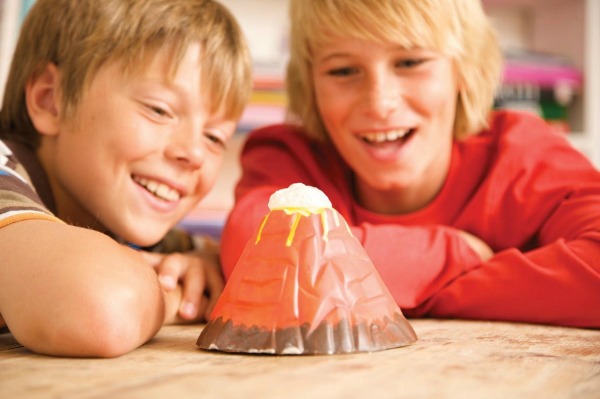 Things to Consider Before You Buy
The only things you don't get with the kit are the very ingredients you need for the eruption. But to be fair, most homes have baking soda and vinegar stashed in the kitchen cupboards.
Prepare for mess. A lot of mess. The plaster will go everywhere if you don't keep a watchful eye out. Be sure to put down lots of paper or cardboard to protect surfaces from the mess.
Speaking of plaster, don't expect to receive an excessive amount of plaster with this kit. There's precisely enough to make one volcano. And that's it.
So make sure that either your kid has steady hands (you don't want any spillages) or get an older child/adult to do the pouring bit.
Worst case scenario you run out of plaster, you can always buy a bag from a local craft or DIY store. It's not really a biggie.
Kids aged 7 and up, with an interest in science will definitely appreciate this volcano kit.
It's fun, it does the job and it' s geeky cool too.