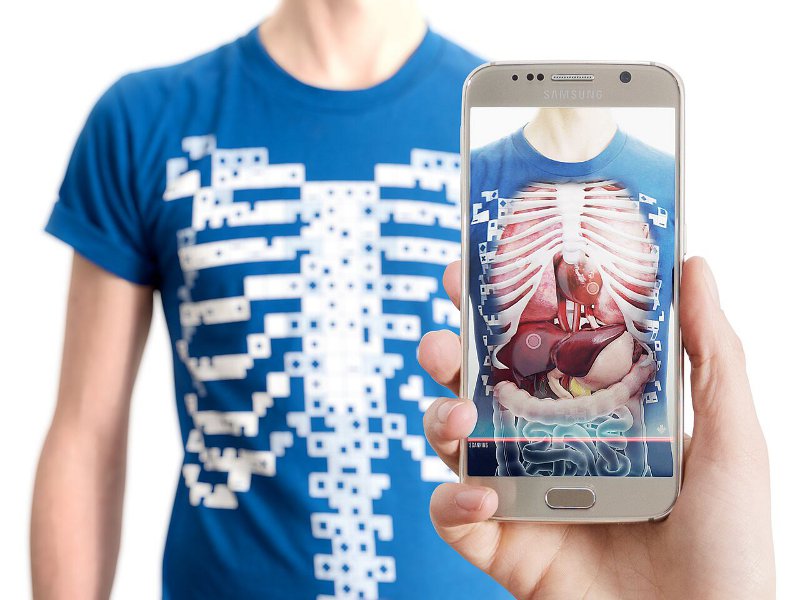 Ever thought how awesome it would be for your little ones to see their heart beating inside them? How about a sneak peek at their own liver, lungs, blood and guts?
Well now they can (sort of), with the help a really cool product that simulates the workings of the inner body in full 3D animation.
It's called the Virtuali-Tee smart shirt and is the brainchild of Curiscope, a small UK based company on a mission to make learning fun. They take regular technology that kids play with everyday and use it to create awe-inspiring adventures into augmented reality.
The Virtuali-Tee Smart Shirt
At first sight, the Tee looks like an ordinary T-shirt. But connect the bold prints on the face of the shirt with a smartphone or a tablet and bingo! You've got access to a new world of bodily exploration, in all its gruesome glory.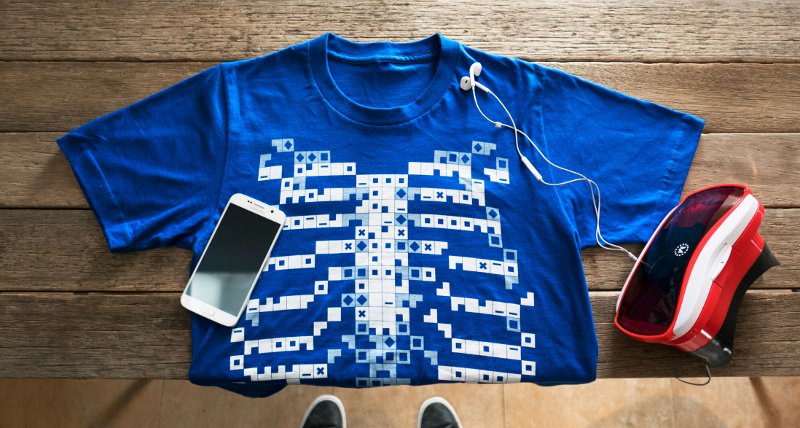 Turning the shirt into a learning tool for kids is as easy as firing up the free app that comes with the Tee. You simply put on the shirt (or let your kids wear it), open the app on your phone or tablet, point the camera towards the shirt and watch a simulated version of your heart, lungs, stomach and other organs in action. You can even zoom in to get a closer look at how specific body parts function – like how red blood cells travel through the bloodstream.
Love a good selfie? Good news: there's a built-in selfie mode so you can easily view the major organs while wearing the shirt. Or can stand in front of the mirror and get the same result.
But really, it's the virtual reality headset that takes this to a whole 'nother level of interactive fun. Kids, big and small, get to 'teleport' themselves into a virtual body and discover a world of wonder and adventure. 3D style.
When I told my nephew (who insists on becoming a doctor when he grows up) about the Tee, in particular the app and virtual reality mode , he was blown away. 'That's soooo cooool!' he exclaimed. And it really is.
It shouldn't come as a surprise that this smart shirt has the potential to be a big hit with the youngsters. Kids already spend a crazy amount of time playing with technology. This Tee just adds an extra incentive to learning, whether that be learning at home or in the school environment.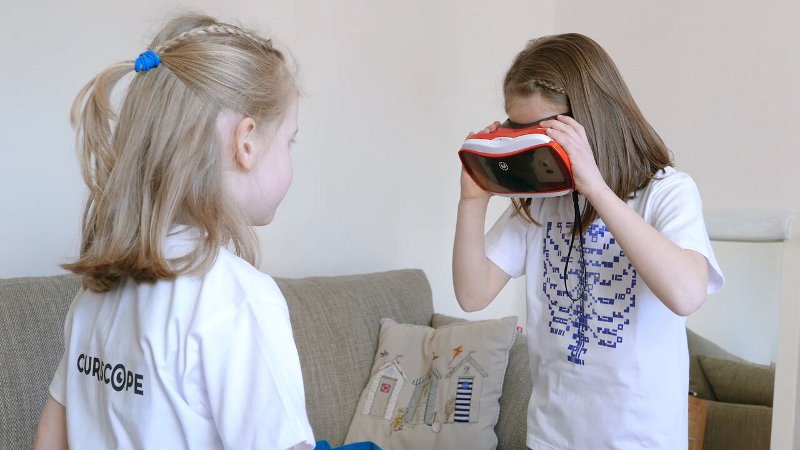 So, how compatible is the Virtuali-Tee app with your hardware? Well, it runs on the iPhone 6, iPhone 6 Plus, iPhone 6s and iPhone 6s Plus with iOS version 8.3 or higher.
Android users can enjoy the app on the Samsung Galaxy S5, S6, and S7, Samsung Galaxy Note 4/5, Motorola Moto X and Droid Turbo, LG G3, G4 and G5, HTC One, Nexus 5 and 6, and Sony Experia Z3 and Z5 running Android version 4.4.4+.  The app will also work with current generation Samsung, Sony and Nexus tablets.
As for the totally cool virtual reality function, the Tee is compatible with the Samsung Gear VR (for select Samsung models) and the Mattel View-Master (compatible for both iOS and Android).
If you don't own either of those, don't fret because your kids can still experience virtual reality mode with a special Curiscope Google Cardboard headset. You'll  have to purchase the 'New to VR Pack' in order to do so, which naturally includes the smart shirt itself.
The Virtuali-Tee is machine washable and comes in vibrant shades of red, green and blue. Sizes are available for little kids (5 years) all the way up to adults.
Curioscope have fully completed their funding campaign on Kickstarter and the Virtuali-Tee is currently available for pre-order, in varying sized packs, on Indiegogo.