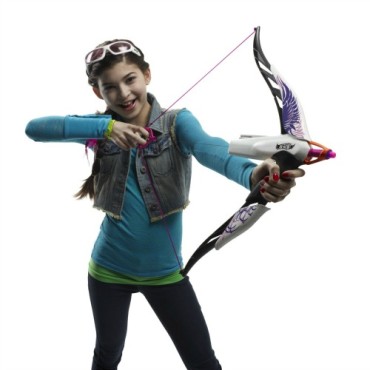 Looking for a top Christmas toys 2013 list? Then this is the guide for you.
This year's Christmas toy list includes some great new toys, as well as some of the old, but revamped classic favorites.
You'll find electronic gadgetry from the leading makers of kids PC tablets, Monster High 13 Wishes Dolls, a new LEGO set and animated characters including the return of the Furby… albeit an updated version. Ready to look at top Christmas Toys 2013?
OK let's do this, but be sure you check out the Christmas toys for 2014 list for more ideas too.
The Top Christmas Toys 2013 List
#1 2013 Furby Boom
As you'll know, the Furby absolutely dominated all the 'top 10 Christmas toys' lists last year.
These cute little creatures totally captivated kids everywhere and now Hasbro are back with the latest multi colored bundles of fur.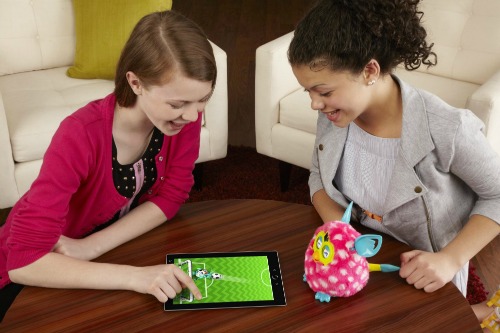 One thing you should know about these new Furbies is that the software isn't cross compatible with the older models.
Having said that, they're are a few new features to Furby Boom that your child will be pleased about.
The 2013 Furby Boom can still sing, dance, talk and adapt personalities depending on how well you treat it. But with the new software apps, Furby will respond to it's name, let you know when s/he is full after a feed and when s/he needs a bathroom break.
Yep, Furby can go poopy.
Oh and get this, these new 2013 Furbies … can breed!
When looked after well, they'll produce a new generation of Furbies (virtually, of course), which can be nurtured to adulthood.
#2 Monster High 13 Wishes Dolls
While any of the dolls in the Monster High 13 collection would make top toys for Christmas 2013, it looks like it's the Twlya doll that's standing out as a firm favorite among buyers.
She's the daughter of a Boogie man, but unlike her pops she grants only good dreams.
She's adorable to look at, has a shy and sensitive personality and has the cutest pet bunny (a dust bunny no less) called Dustin.
The Twlya Monster High doll certainly makes a good gift choice and it's clear to see why Twlya and in fact the whole Monster High 13 collection are recognised as a top Christmas toys for 2013.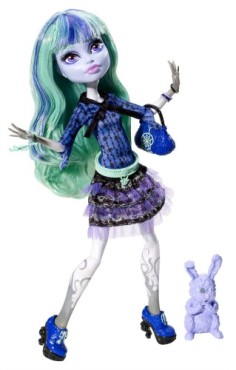 #3 Nerf N-Strike Elite: Strongarm Blaster
As far as top Christmas toys 2013 go, Nerf guns continue to hold their own.
The Nerf N-Strike Elite: Strongarm Blaster is a strong favorite among children and parents.
It's a quick fire shooter with incredible accuracy and fast reloading capacity.
I'd buy this for my nephew in a heart beat, but he's only 3 🙂 And gathering from the way he was wielding his water gun at the weekend, I'm pretty sure he would have a stack load of fun with this.
Another plus point for the Strongarm Blaster is that comes with a very attractive price tag, making this a great purchase for anyone on a tight gift buying budget this year.
Are you new to buying Nerf toys? If so, check out my beginners guide to Nerf stuff.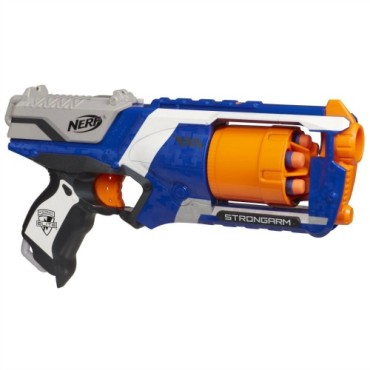 #4 LeapPad Ultra
PC tablets for kids always seem to make the top Christmas toys 2013 lists.
This year, LeapFrog's LeapPad Ultra has more fun packed features; a larger screen capacity so it has a 'real' iPad feel to it, more great games and educational apps.
Right out of the box the LeapPad Ultra comes with 11 pre-loaded apps including an arts studio, photo fun and a music player.
But best of all the LeapPad Ultra now offers parent controlled wi-fi access.
You don't have to worry about your child uncovering Internet nasties while the play the Ultra, as you can totally control what they can and can't see.
And another cool thing about this new device, is that it will also work with LeapFrog's extensive library of over 800 apps and games. Meaning that you won't have to replace all the software you bought for previous versions of the LeapPad.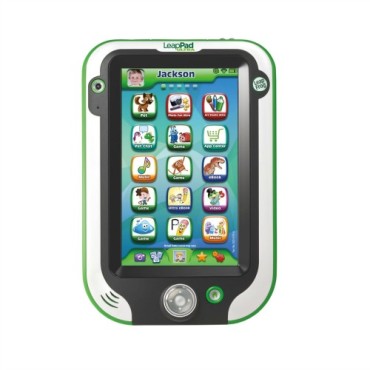 #5 VTech InnoTab 3 The Learning App Tablet
Naturally, LeapFrog's major competitor InnoTab have brought out an updated version of the old InnoTab 2, securing their place on the top toys for Christmas 2013 list.
The InnoTab 3 comes pre-loaded with 15 fun, educational and musical apps. There is also an extensive library where your child will get access up to 350 additional apps.
Now bear in mind that this library is constantly growing which means there will be many more educational game and app releases to keep your child well entertained.
There are a few differences from the InnoTab 2.
The InnoTab 3 has a smaller screen (5 inches down to 4.3), which is a good thing as it's less clunky and easier to navigate, while still allowing for amazing graphics.
The camera has also been upgraded from a 1.3 megapixels to a 2 megapixels one and there is a new D-pad controller, making it even easier for your kids to handle the device when playing games.
Unlike the InnoTab 2S, you won't find wi-fi capability, but if you really like the style of the InnoTab, then the 2S model may be something you'll want to take a look at.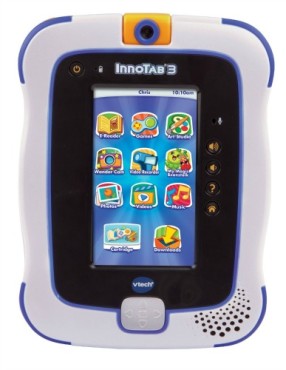 #6 Nerf Rebelle Heartbreaker Bow
The Nerf Rebelle Heartbreaker Bow is a brand new Hunger Games inspired crossbow designed for girls aged 8 years old and up.
This toy right here has the coolness factor written all over it.
It's stylishly designed with an eye catching combination of purple and pink. It comes with 5 individually patterned darts (don't worry they're totally safe… made out of foam in the same way as all Nerf products) and a storage accessory, making it practical to carry and store.
The manufacturers say it'll shoot darts up to 75 feet in the air. Having seen this bow in action, I'm not convinced you can actually get it to shoot THAT high.
Still, archery is hot, hot, hot this year and if you want a gift that would equip a child with a sense of strength and inner confidence, then this would make a pretty good Christmas toy for girls. Gotta love it!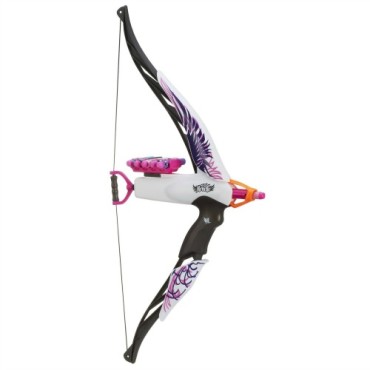 #7 LEGO Friends Dolphin Cruiser
This LEGO Friends Dolphin Cruiser is just mega packed with a ton of LEGO luxuries!
It's a 2 bedroom villa set of a boat, that comes with all the amenities you'd expect to find in a luxury apartment.
Well, except for the waterslide, captain's deck, special dolphin food, dolphin sonar and waterskis, perhaps.
Mia, Maya and Andrew mini dolls are included and the whole cruiser can be opened up so kids get full access to the internal workings of the cruiser.
My youngest niece is still a bit too little for a set like this, but I can fully imagine her going to town with toy.
A dreamy 2013 Christmas present for kids that allows the imagination of young minds run on for miles.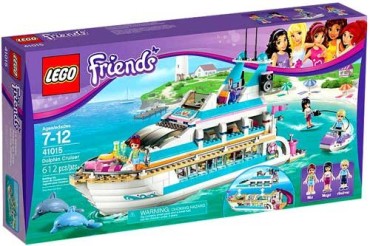 #8 Sesame Street Elmo Hugs
Who doesn't love Elmo right? This cute little guy can sing, dance, take a nap and hug your child right back.
Elmo is in fact a good educational toy for pre-schoolers as Elmo will help with learning the ABC, counting, color and shape recognition as well as a whole bunch of other stuff.
Looking for a top 2013 Christmas toy for a toddler? Then you'd do well to consider Sesame Street Elmo Hugs this year.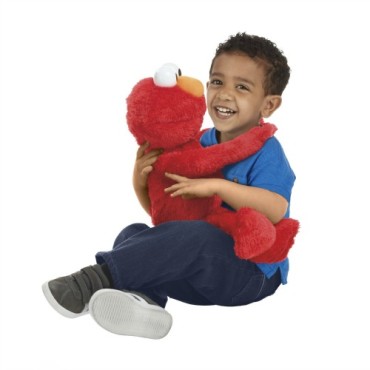 #9 Hasbro Littlest Pet Shop V.I.P Monkey – VIP Pets
This is just one of a range of collectable V.I.P pets, but I like this cheeky looking monkey the best so that's why I've used this image 🙂
Don't be mistaken into thinking this little cutie is just a stuffed toy. No, he's a Virtually Interactive Pet… V.I.P (get it?)
Each V.I.P comes with a secret code that when plugged into a computer, unlocks a world of online play activities, games and other cool stuff that kids like.
I'm not surprised these VIPs made the Christmas toys 2013 list. Just look at the big goo-goo eyes on this little guy. How can anyone resist this adorable creature?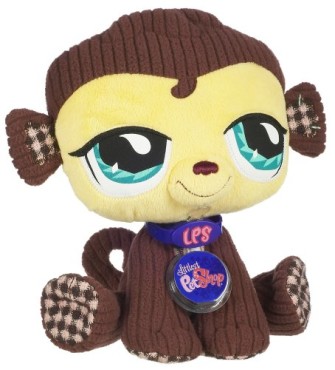 #10 Disney Doc McStuffins Doctor's Bag
And last, but not least to make this top Christmas toys 2013 list, is the Disney Doc McStuffins Doctor's Bag.
Little kids love pretend play and for some reason, pretending to be a doctor is always one of the more popular characters that children like to engross themselves with.
This Disney Doc McStuffins Doctor's Bag, gives them all the tools to allow them to play out the role to perfection.
The kit comes with a stethoscope, blood pressure monitor, a thermometer, syringe and other bits and pieces, all of which fit neatly into the little glittery doctors bag.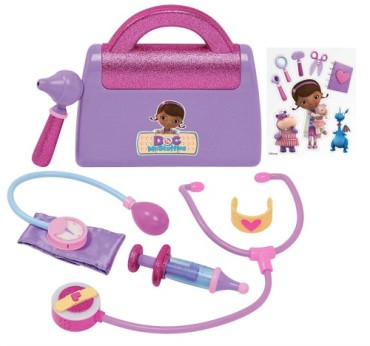 And that concludes this top Christmas Toys 2013 list. Have you seen anything here that will capture the imagination of the young person you're buying for? Share your thoughts in the comments below.