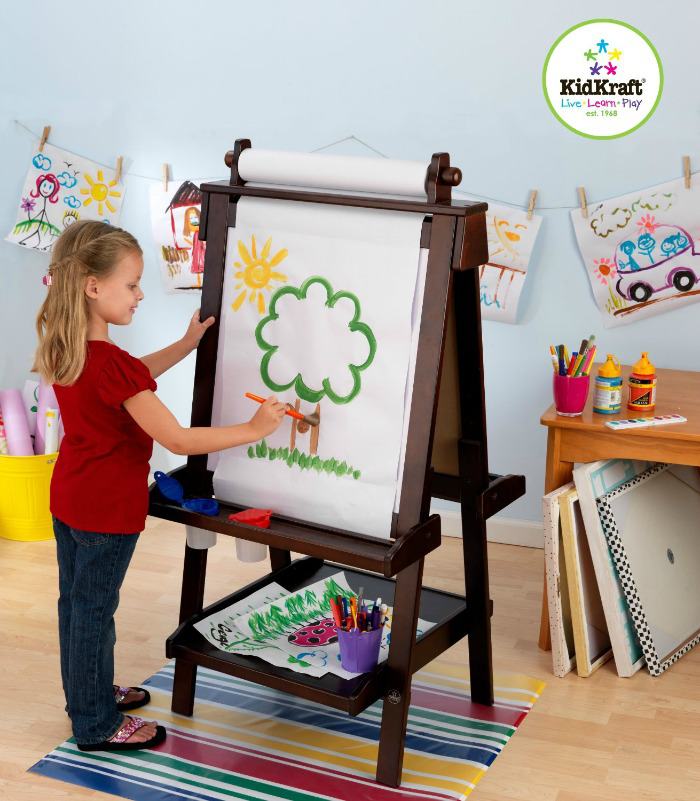 Does your niece or nephew like to draw? On everything? Maybe they're about ready for their first easel. Seriously! If you're tired of wiping crayon off the walls and de-painting the cat, it could be time to get them something they are allowed to paint on.
Below we've listed some of the best easels for kids aged two and up. Perfect for channeling the inner Picasso of your creative munchkins. Let's go take a look.
Best Easels for Kids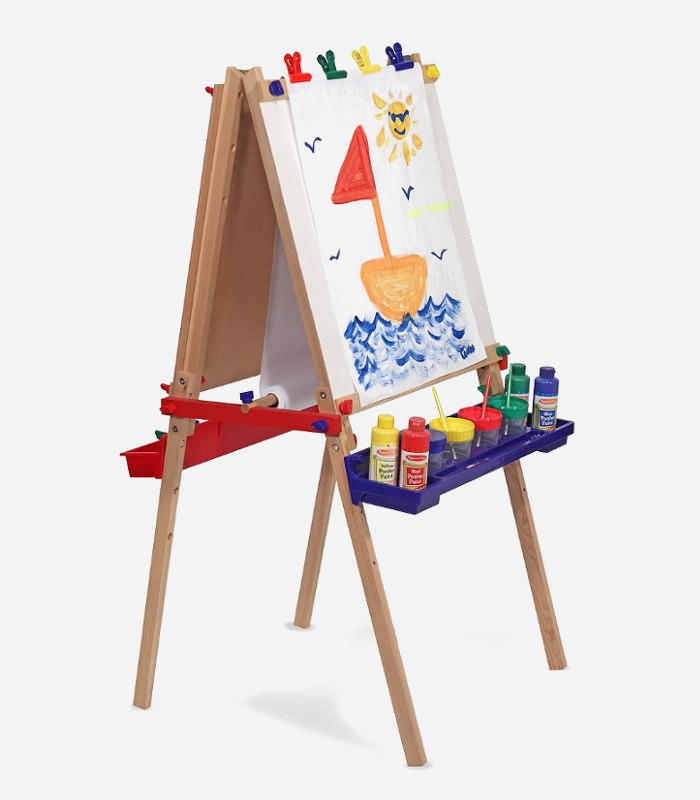 1. Melissa & Doug Deluxe Standing Easel: This may not be the newest kids art easel on the block, but it's certainly one of the most popular. Its sturdy wooden frame houses a chalkboard, dry erase board and a locking paper-roll giving children the option to create wonderful works of art using paint, crayons, chalk, waterproof markers… you name it.
As this easel is fully adjustable, it will grow as your niece and nephew grows. They'll get a lot mileage out of this multi-purpose easel and you won't have to buy a replacement a year or so down the line.
For a durable, wooden easel for kids which is a cinch to clean and easy to store, you'll be glad you made the investment.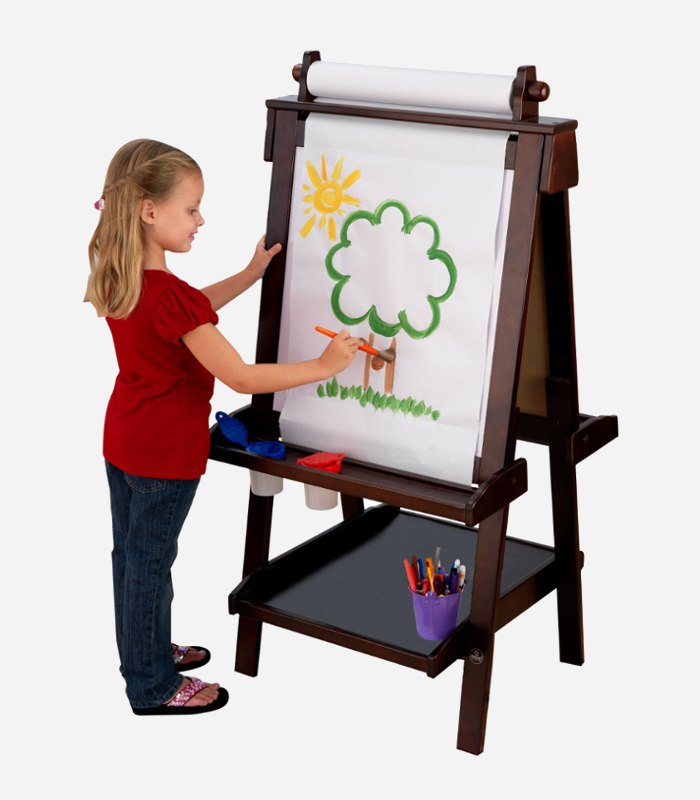 2. Kidkraft Childrens Wood Framed Painting Easel: I have to say that this is simply b.e.a.u.t.i.f.u.l – – a real quality piece of wooden furniture in its own right. If you're the sort of person who likes to coordinate your home furnishings, this is one painting easel for kids you will appreciate.
But let's not forget, this is a children's art accessory and it doesn't fail on that count. The Kidcraft Deluxe is highly durable and features a chalkboard, dry eraser board and a paper dispenser. There's also a really handy art tray underneath the easel which provides a convenient spot for storing your child's art supplies in one place.
This wooden art easel for kids is also fully height adjustable, so it will comfortably accommodate your child as he or she grows.
The Kidkraft Deluxe Wood Easel is available in natural wood or in espresso (as pictured above).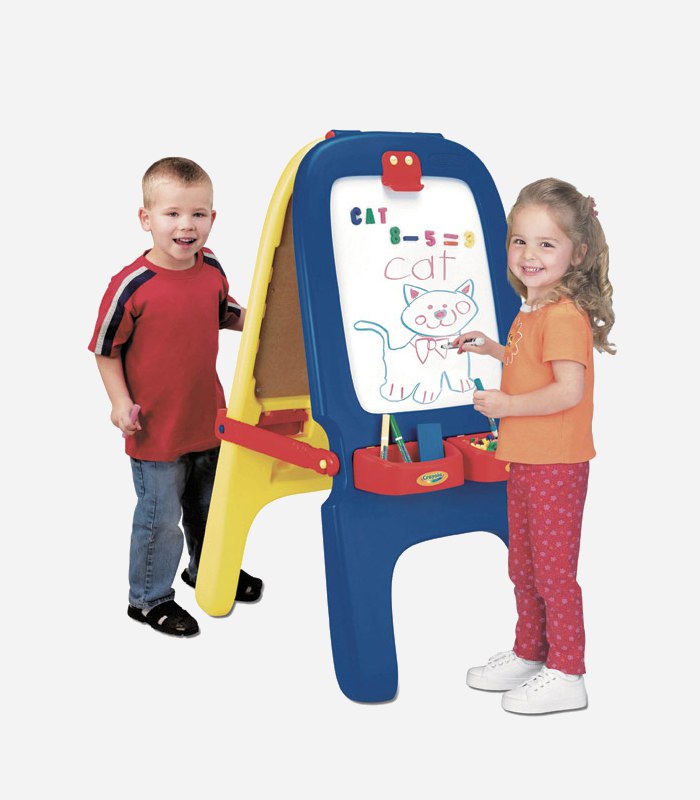 3. Crayola Magnetic Double Kids Art Easel: This is another high-quality double-sided children's easel that allows two budding artists to create their masterpieces at the same time. It's made from highly durable plastic and is weighted so there is no chance of it toppling over while in use.
You get some great art accessories with this easel including 77 magnetic numbers and letters (adding an additional learning dimension) and four removable storage pots, which are great for holding coloring pens, paint brushes and chalk etc.
There are also pre-attached clips at the top of the easel which hold art paper firmly in place while your child happily paints away.
This easel is easily foldable so when your child has finished up for the day, you can quickly pack up and safely store it away until the next art session.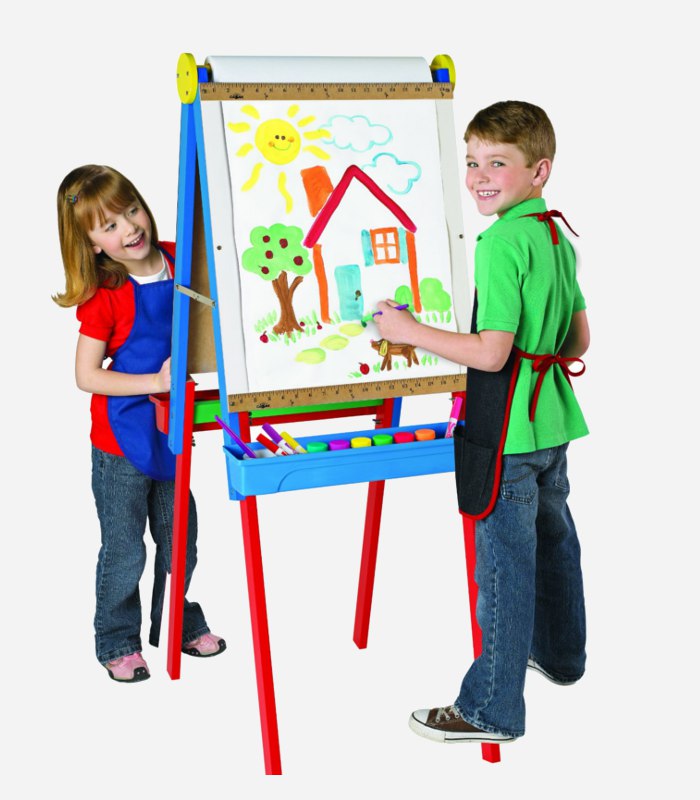 4. Cra Z Art 3 In 1 Artist Childrens Easel: This is a well-made, adjustable art stand for kids with a dry erase board, chalkboard, washable supply trays and a 35ft paper roll – – perfect for all kinds of drawing and painting activities.
Now this mini artists tool takes a little more work in terms of assembly as compared to the other options on this list, but it does come with really easy to follow instructions. It won't take you too long to put this baby together.
The Cra Z Art 3 In 1 Artist Easel is sturdy, yet lightweight enough to be easily transported from room to room, without having to dismantle it.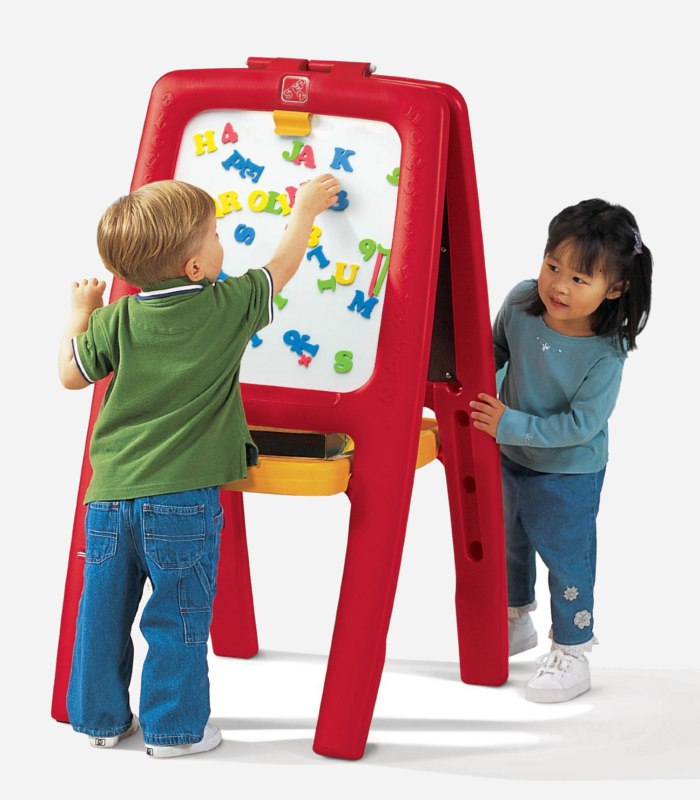 5. Step2 Easel for Two: Another top kids easel that you may want to seriously consider. It's ready to go straight out of the box – no assembly needed with this one, you just whip it out, snap the holder tray into it's slot then place the easel where ever you like.
This easel features a chalkboard and a dry erase board which doubles as a drawing surface and a magnet board. If your child is in the mood to paint, they simply clip some art paper into place and they're good to go.
The easel itself is made from a toughened plastic. It's extremely sturdy, highly durable and a total snap to keep clean. Making it one of the best easels for a 2 year old to get started with.
Two things to consider with this easel; 1) it's not adjustable and 2) it doesn't come with a chalk eraser. But really, for the price of this baby, you're still getting excellent value for money.
It's also available in pink.
Did you enjoy my top picks for the best easels for kids? Don't forget to like and share this post with your friends and family.