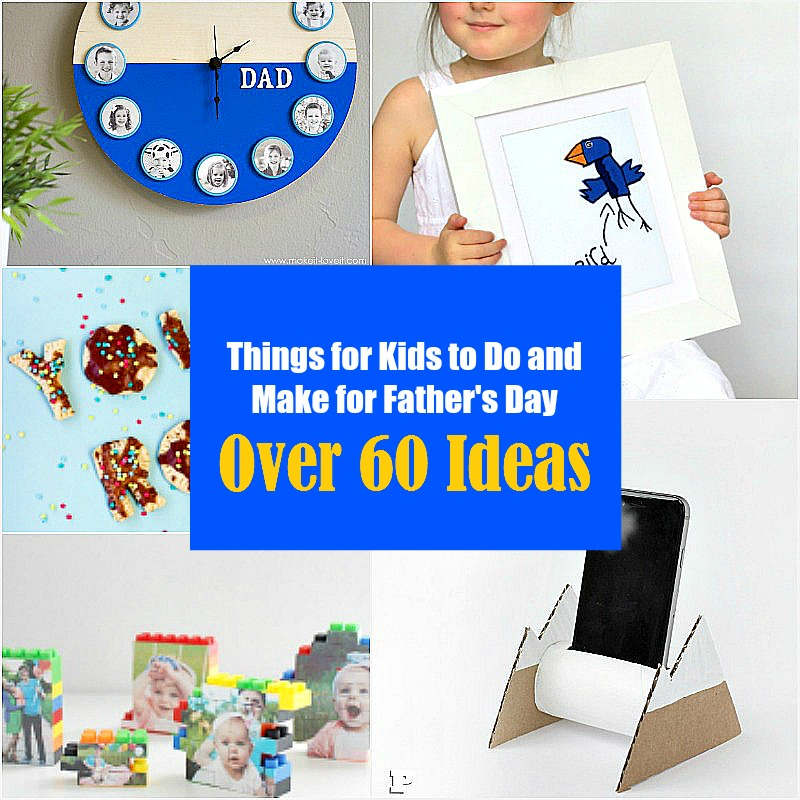 You're probably wondering what you can do to make Father's Day extra special for the father of your nibblings. After all, he was half responsible for giving you great nieces and nephews. But what do you get the dad who pretty much has it all? Ah, it's got to be something the kids made. Gets them every time.
So, with that in mind, we've pulled together some fun, original and creative things the kids can do and make (with you help), to give dad an extra special surprise this Father's Day. One or two of these may even bring a tiny sentimental tear to his manly eye.
Things to Make for Fathers Day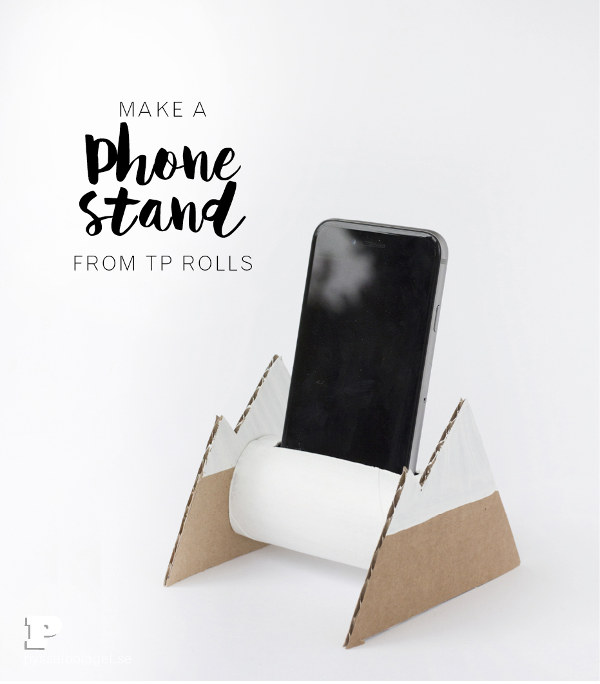 DIY Really Useful Gifts: Get the kids to make dad something ultra practical from stuff in and around the home. Like this phone stand. You can go for the clean, lean neutral look or fancied up with a dab of colorful paint and a sprinkle of glitter. OK, maybe leave the glitter out. Probably wouldn't go down too well, especially if he's a bearded fella.
Maybe dad's already got a phone holder. In that case he may appreciate:
This handy DIY to tidy messy cables
Something to keep his desk organized
Paperweights made from rocks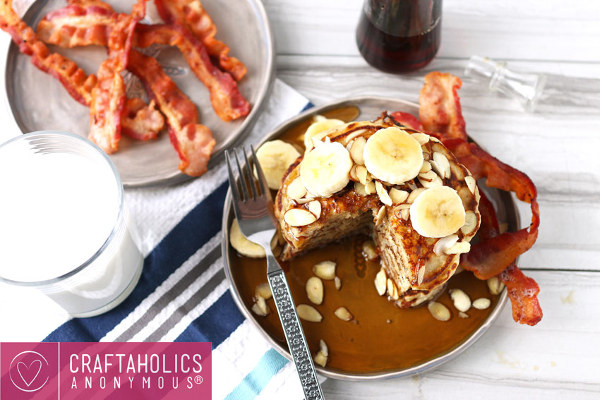 Cook Breakfast in Bed: Food. Always the way to dad's heart. Especially when delivered on a tray and served in bed. I'm thinking some crispy bacon and these almond banana pancakes drizzled in maple syrup.
A few more breakfast ideas to win dad over:
Mini egg pizzas
Cheesy waffle breakfast sandwich
Painted toast
A big healthy bowl of blueberry-pie oatmeal
Tropical orange mango smoothie – to wash it all down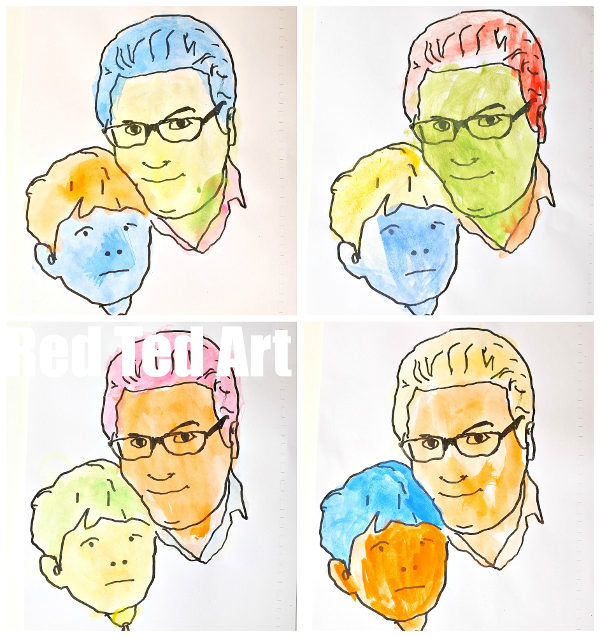 Create Art: It doesn't matter how big, rough and tough dad is, a simple piece of artwork from the kids will melt his heart in a second. Turn one of his photos into Andy Warhol inspired pop art. He'd love it!
And I reckon dad will love these Father's Day crafts from the kids too:
Dot marker canvas art
Customized DAD painting
Minecraft inspired art
Special Father's Day portrait
Graffiti art that can works great as gift wrap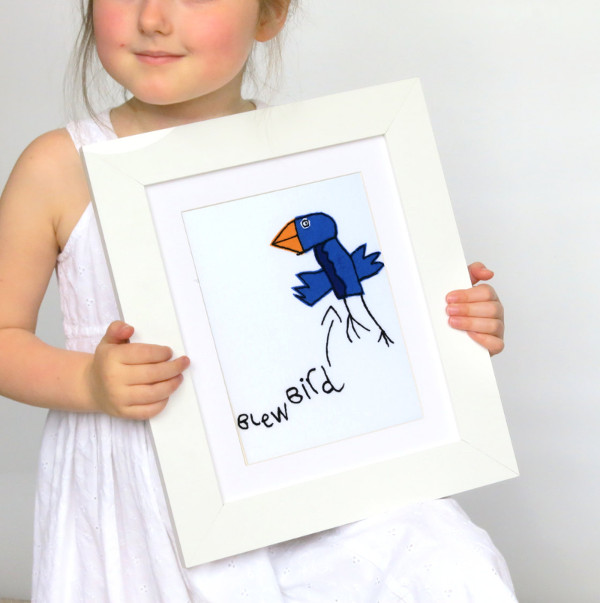 Create Embroidered Art: Or, you can have the kids artwork sent off to be embroidered onto a cotton canvas and turned into a lovely looking piece of kiddie artwork, to be forever cherished.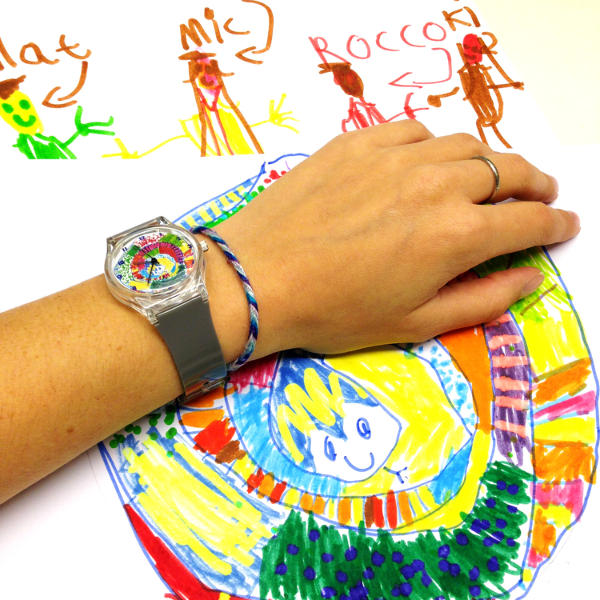 Turn Artwork Into Keepsakes: But, there's so much more that you can do with kids artwork, beyond hanging it on the wall. Like turning it into a special, one of a kind watch.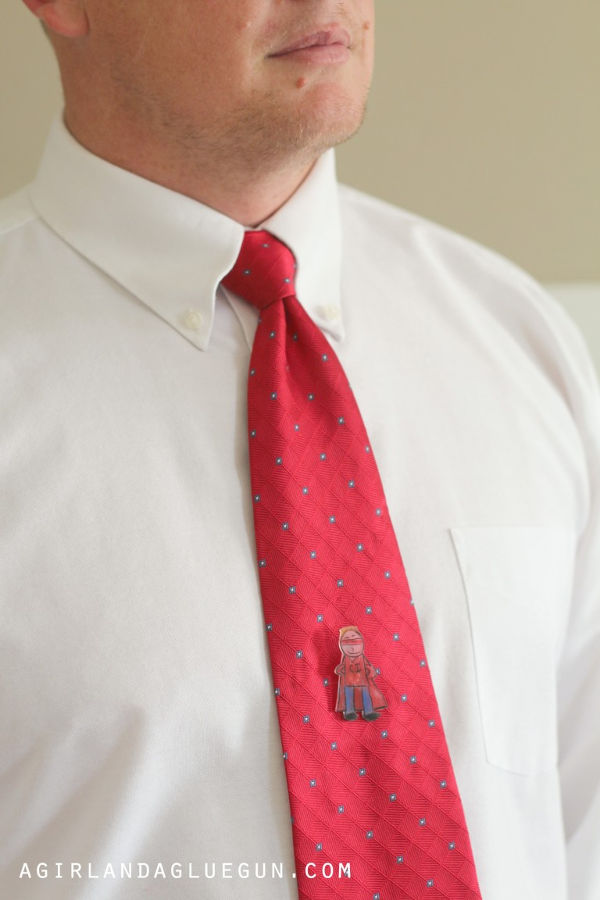 And this shrinky dink tie accessory is pretty sweet too. well worth 15 minutes of your time.
The fun doesn't stop there. The kiddos can also turn their artwork into:
A personalized keychain
His favorite coffee mug
A special breakfast bowl
Not quite a keepsake, but a cool way to jazzy up his iPhone or iPad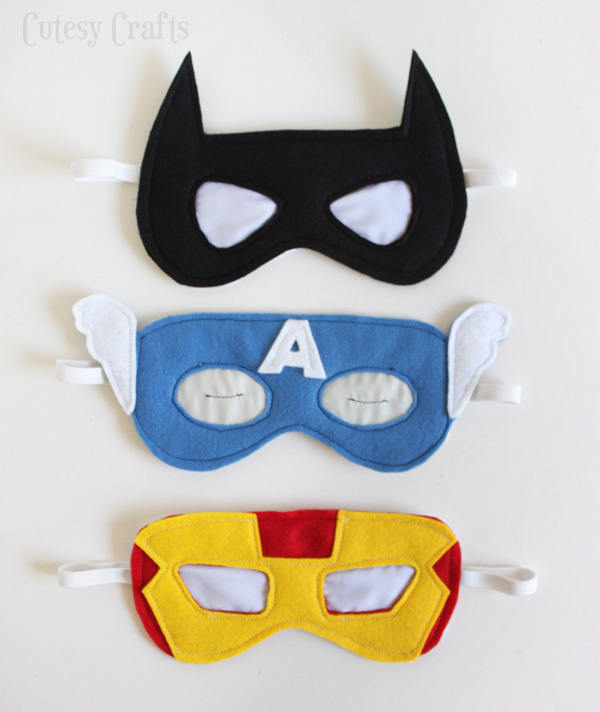 Make Cool Superhero Stuff: Because dad is their superhero anyway, right? Maybe a few DIY accessories could prove how much we see the hero in him. Start off with one of these fetching superhero masks. They double as sleep masks, so he'll appreciate that.
Maybe he'd also get a kick out of his own:
Bat-mobile (HINT: It's something crafty and totally doable)
Superhero badge of honor
Super Pillowcase for a superdad
Superhero lunch printables
Hand printed coasters set for a superhero
Super dad pop box set – perfect for lugging his sweet treat around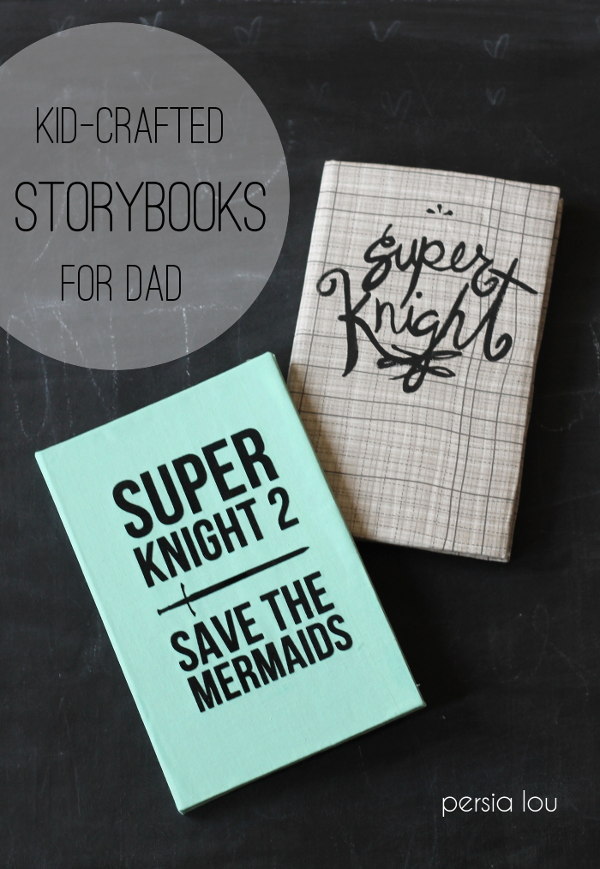 Make a Book Just for Dad: It's got to be all about dad this Father's Day. Get the kids to make this special story book with him as the main point of focus. He'll love it.
More DIY book ideas for Father's Day:
Printable 'about dad' book
Best dad in the world book
A flip book full of kisses (also great for Valentine's Day)
And this book of chore coupons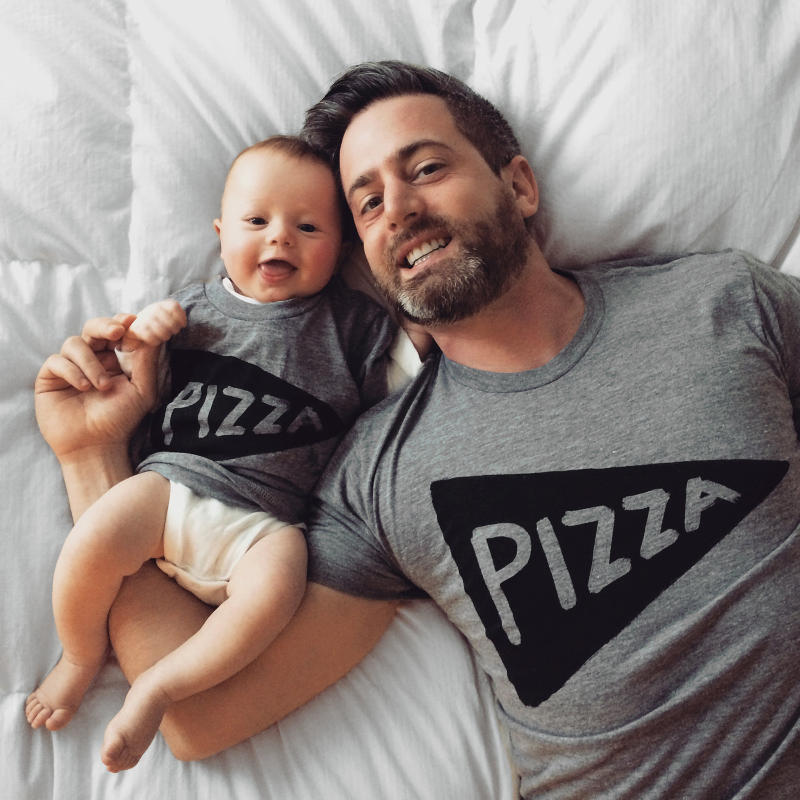 Make (or Buy) Custom Shirts/Wear Matching Shirts: They say imitation is the best form of flattery. If that's the case, dad would be tickled pink at the prospect of dressing like his pint-sized buddy for the day. These dad-daughter garms are pretty sweet.
Here are a few of ideas to add to your arsenal:
A DIY Papasaurus Rex combo
This DIY Rad Dad shirt is all kinds of cool
These father-son t-shirts – adorable
Even matching father-son underwear
A handmade Father's Day shirt with hand prints all over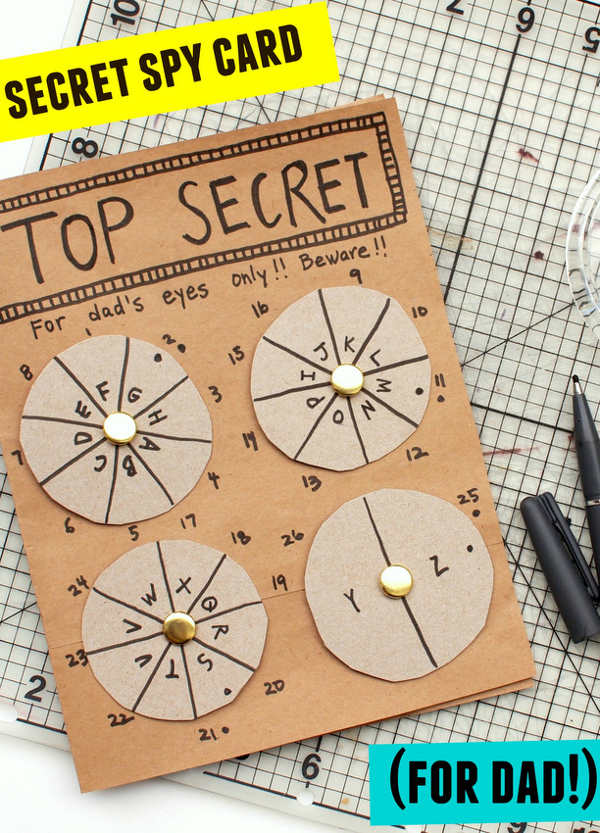 DIY Unique Father's Day Cards: Finding the perfect store bought Father's Day card is a thrill, but making your own, that's 10X the fun. Here's a great tutorial for a super secret Father's Day card. Complete with a special message for dad to decode.
Or, check out these other kid-friendly DIY Father's Day cards:
The card made from wood
The personalized 3D Father's Day card
The Father's Day card designed like a shirt
The card that doubles as a necktie
The biggest Father's Day card you've probably ever seen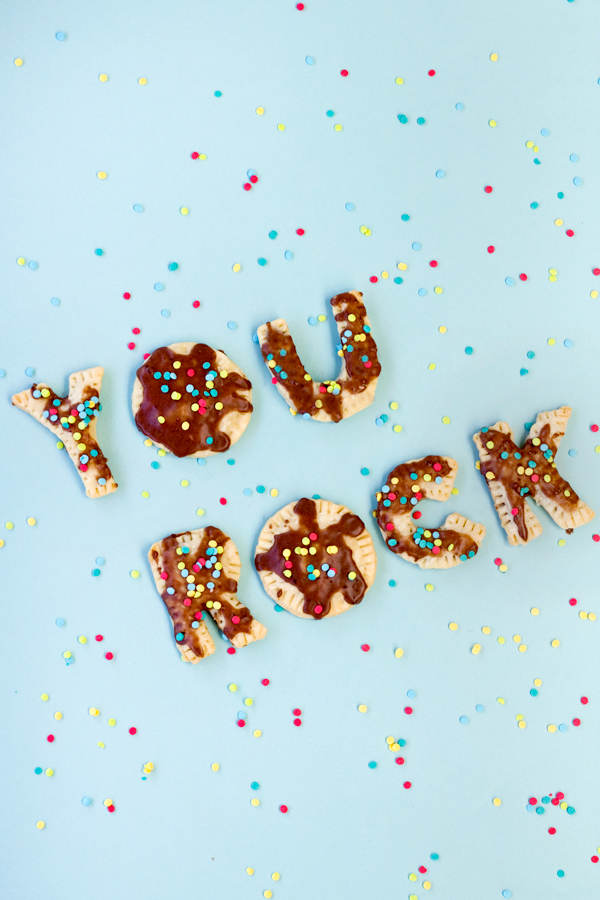 Bake Cookies and Offer Him Treats: Cookies, cupcakes, pop tarts that spell out a message – I'm sure he's not going to turn his nose up at anything that's sweet and made by the fair hands of his little ones.
Nor will he want to say no to THIS chocolate brownie. Looks just like steak. Mmm, STEAK!
More sweet treats for him to enjoy on Father's Day:
Cookies the kids can scribble on
Hamburger cupcakes
Make him a bag full of candy complete with personalized topper
Cookies that POP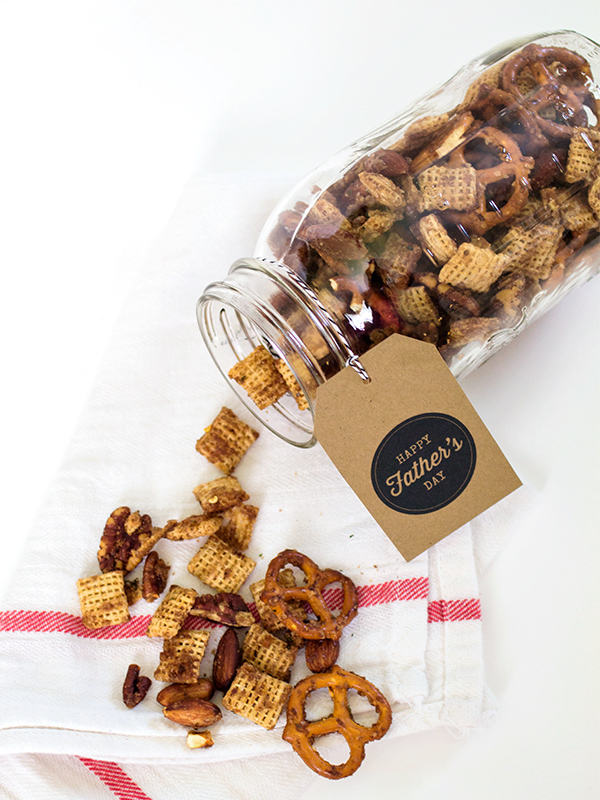 And let's not forget the options for the dad who prefers savory treats over sweet. Like this snack mix in a jar, or this 'nuts about you' Father's Day gift idea.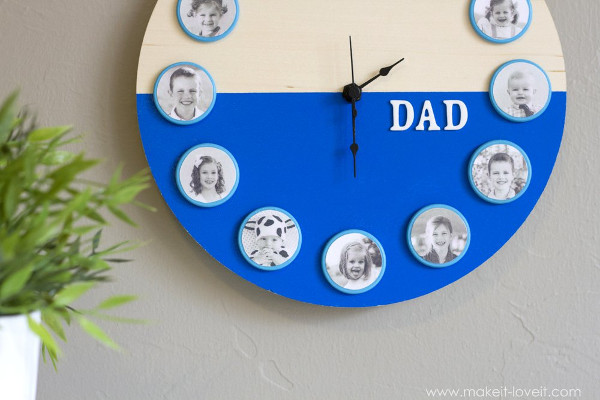 Re-Purpose Old Photos: For a really sentimental touch, gather up all those photos of the kids from months and years gone by. You know, the ones he's probably forgotten about, and turn them into a family portrait gift. You could get the kids to help you with this decorative portrait clock.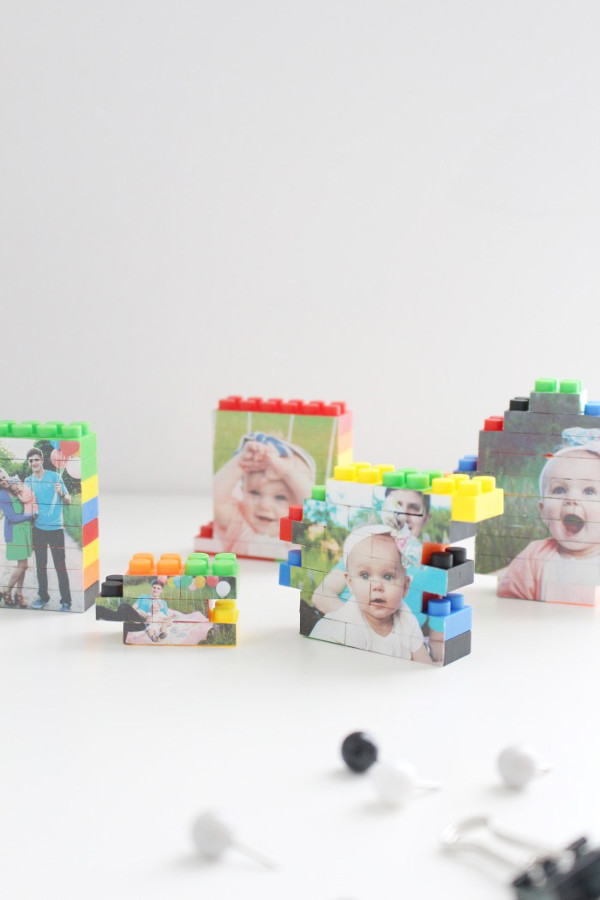 And this LEGO picture puzzle is just best. Especially if dad likes to tinker with LEGO blocks.
Or try out any one of these fab ideas:
A desktop calendar
A Father's Day clock
Wallet sized keepsake photo
Clothes peg hanging display
Inspired by this list of kid-friendly things to do and things to make for Father's Day? Good, now be sure to share these with other crafty aunts you know.