Do you have an ever increasing brood of nieces, nephews and godchildren?
Then I totally feel you when it comes to choosing the best Christmas gifts for them.
You're no scrooge. You enjoy spoiling the munchkins and getting cool stuff they love, but that wallet of yours is not a bottomless pit.
So what do you do? You look for small things that will pass as decent gifts and stocking stuffers for kids. Or at least that's what I'll be doing for Christmas this year.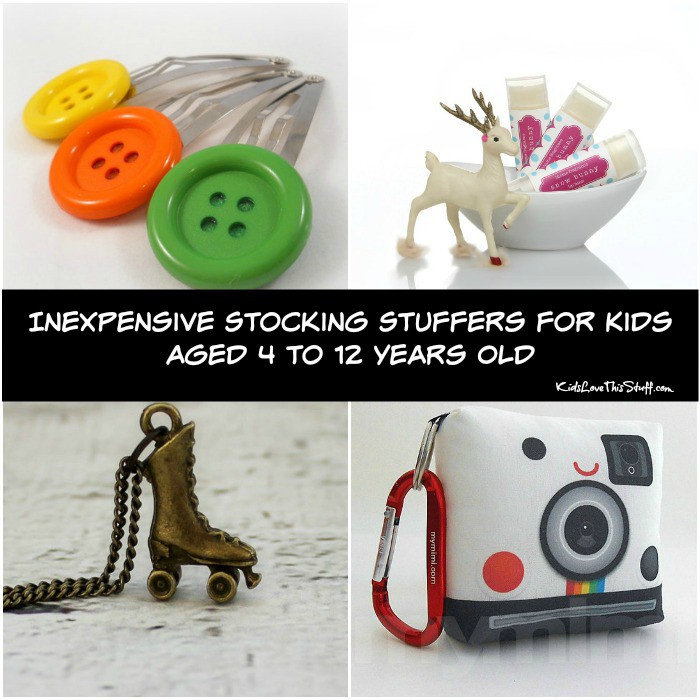 Below you'll find my list of top stocking stuffer ideas for four to nine year olds as well as cheap stocking stuffers for girls and boys aged 10, 11 and 12. Here's to finding some really cool small gifts for the kiddos!
Related: Preschooler gifts for under $20
Great Stocking Stuffers for Kids (4 – 9)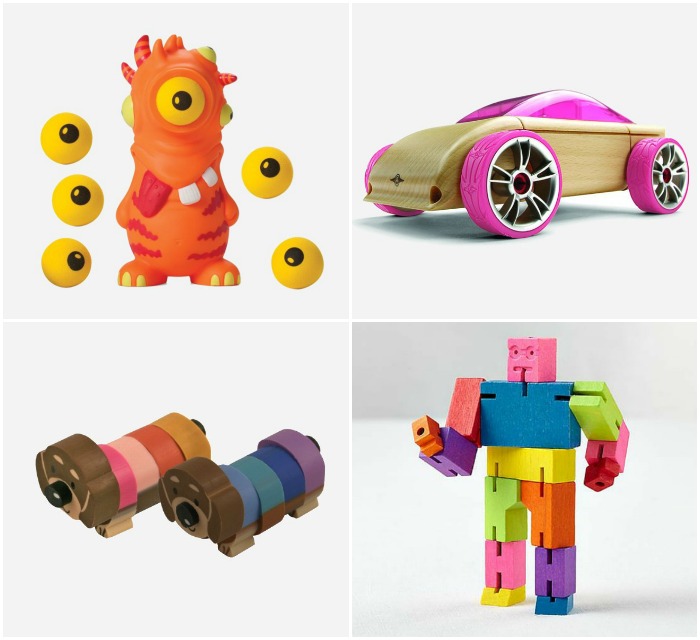 1. Hog Wild Monster Gump Poppers (top left): OK, it's bright orange and when squeezed, the monsters' eyeballs pop out. What are the chances of your four year old niece or nephew loving this fun stocking stuffer?
2. Automoblox Mini C9P Sportscar (top right): Yeah, I thought this was one badass of a toy car too. What's cool about this is all the parts are interchangeable with other cars in the series, so the kidlets can get creative with their new 'ride'. Not digging the pink trim? No worries. Automoblox cars come in various colors and vehicle types.
3. Puzzle Pup Erasers (bottom left): An eraser that's also a puzzle? How cool! Each section can be mixed and matched to create a puppy with a different look. A really fun and cute stocking stuffer idea for the kids.
4. Cubebot (bottom right): I never tire of toys that have the ability to transform into something totally different. The name Cubebot kind of gives it a way, but it's a wooden cube that morphs into a robot. Cool, cheap, colorful and challenging enough to keep any four to nine year old busy.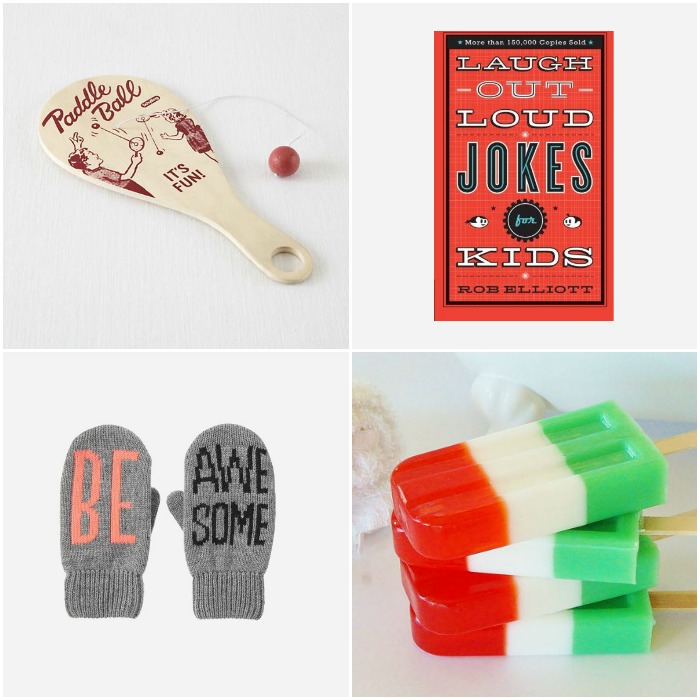 5. Paddle Ball (top left): Do you remember having a paddle ball as a kid? They may not be all whiz bang, but keeping that ball bouncing is a helluva lot of fun. So why not bring a little old school flavor to your nieces and nephews stocking stuffers this year?
6. Laugh-Out-Loud Jokes for Kids (top right): If your munchkins are anything like mine, they absolutely love it when you tell them a silly joke. Really, I'm a terrible joke teller, but still they laugh. Which makes me feel good about myself. This bestseller of a joke book is a popular small gift and at less than $5, it's a total steal.
7. Be Awesome Gloves (bottom left): Not just cute, but a good way to remind your little ones just how awesome they are. And of course, you're giving them something that will keep their little pinkies warm during the colder months.
8. Christmas Soap Popsicle (bottom right): These fab Christmas popsicle soaps look so good the kids will almost want to lick them. Almost. But even if they do, these natural ingredient based soaps are super safe and gentle on the bod.
Christmas Stocking Stuffers for Tweens (10 – 12)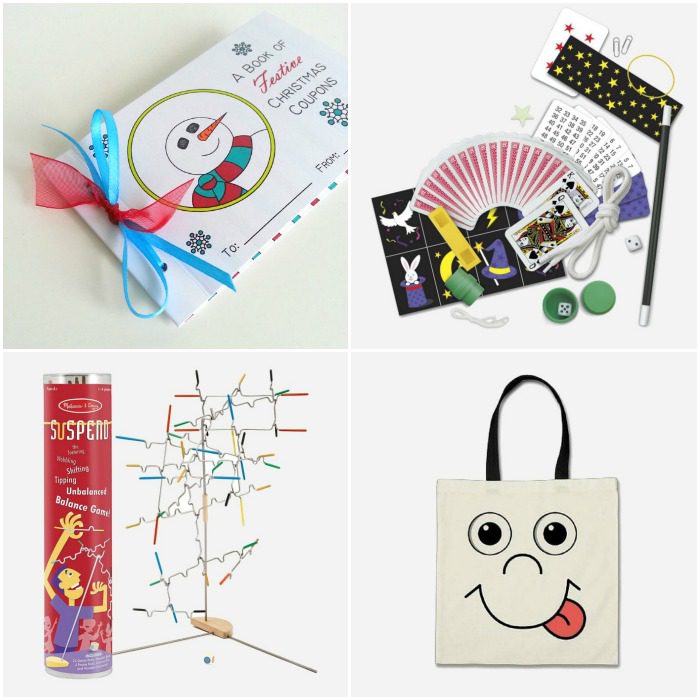 9. Personalized Christmas coupons (top left): This book of six coupons is not just a cheap stocking stuffer for kids. It's a clever way of 'booking' time to do cool stuff with your nieces and nephews. Each coupon is a blank sheet. All you need to do is fill in the blanks with whatever activity you choose. Fun stuff like a trip to the ice skating rink or a picnic in the park with the worlds coolest aunt. You get the gist.
10. 4M Kids Magic Set (top right): A magic set that has everything your kiddos need to put on their own spectacular magic show.
11. Melissa & Doug Suspend (bottom left): This may look like a packet of Pringles, but it's so much more. Contained within the tubular exterior is a game that will entertain and challenge the brightest of kids. And you'll probably want to get in on the game action too.
12. Cartoon Face Bag (bottom right): Goofy faces on simple cotton bags rule! They also make great practical and inexpensive kids stocking stuffers.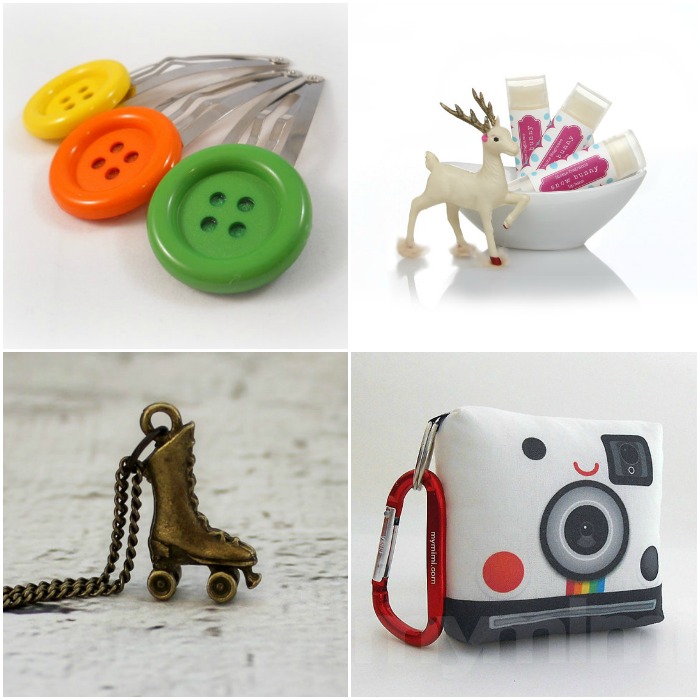 13. Cute Hair Accessory (top left): The best stocking stuffers are often the ones that are slightly quirky. Like these these adorable hair clips. Tell me your tween niece wouldn't love to find these in her Christmas stocking this year?
14. Lip Balm Set (top right): Because it's not nice having chapped lips. Even as a kid. So go on, treat them to this set of three lip balms. They're made from natural ingredients. But that cute little reindeer, unfortunately isn't part of the deal.
15. Roller Derby Necklace (bottom left): Got a roller girl on your Christmas list? How about gifting her a piece of handmade jewelry that represents her passion?
16. Polaroid Keychain Pillow (bottom right): A totally cute pocket sized gift that the kiddos can take everywhere.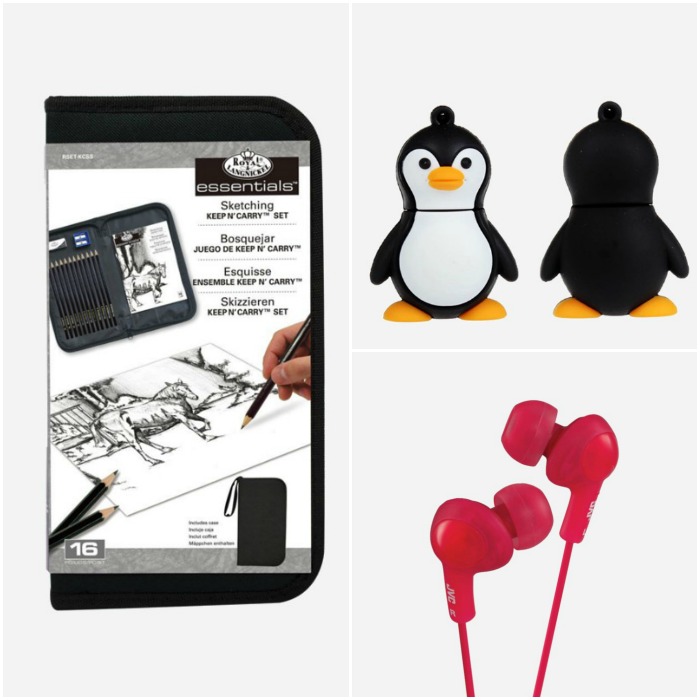 17. Drawing and Sketching Pencil Set (left): If your niece or nephew loves to draw, then a zippered art set like this one is a no brainer.
18. Baby Penguin Shaped USB Memory Stick (top right): 8GB of memory packed into the body of cutest cartoon baby penguin. A practical stocking stuffer idea for kids that also makes a really cool back to school gift.
19. JVC HAFX5R Gumy Plus Inner Ear Headphones (bottom right): A brand spanking pair of headphones is always a welcome gift for a 10, 11 or 12 year old who loves getting lost in the music.
Are you digging my handpicked selection of inexpensive stocking stuffers for kids? Great! Don't forget to share this list with your friends and family too.