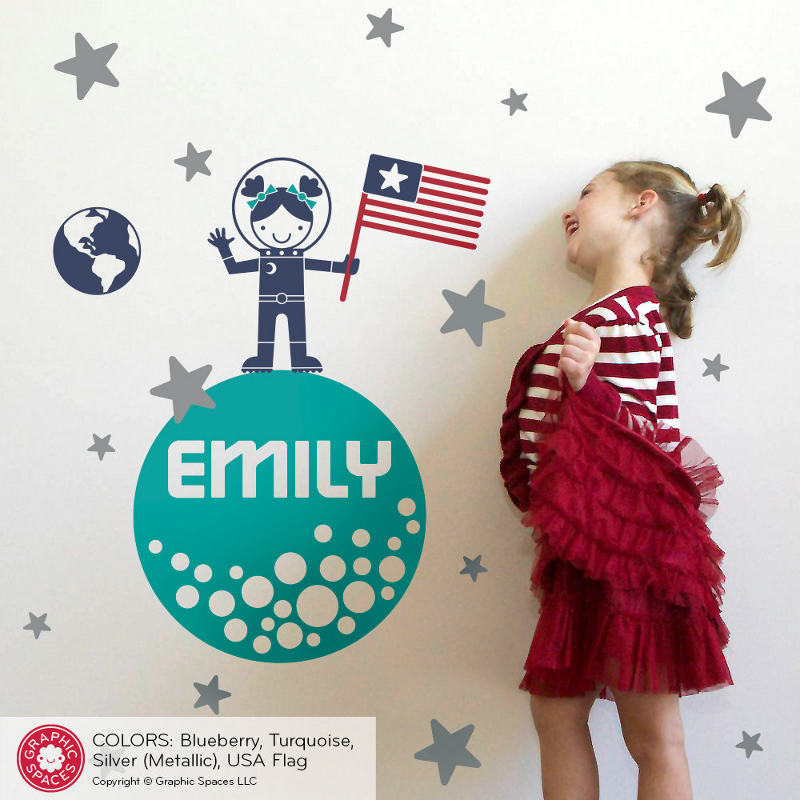 We love hunting down different looks and themes for kids bedrooms, and this week, it's all about exploring outer space. You can help turn your niece or nephews bedroom into another galaxy with this totally cool list of space themed wall decals and art stickers. These decals will not only look great on the walls, but they'll fire up the imagination too. And let's not forget, the kiddos will get an out of this world education on the solar system. Here's what we've got for you. 
Space Themed Wall Decals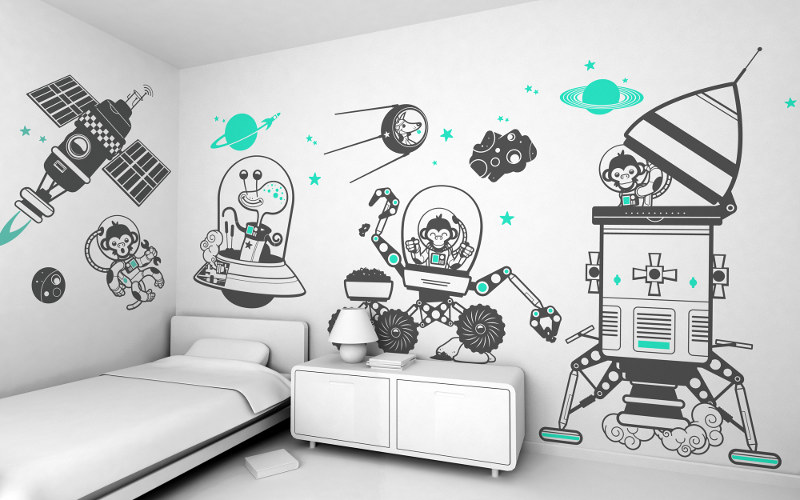 1. Outer Space Bedroom Decal: A cute and comical space themed wall decal that has monkeys for aliens and dogs for astronauts. How crazy cool is that? Well, at least we think it is. A little outta this world wackiness is all good.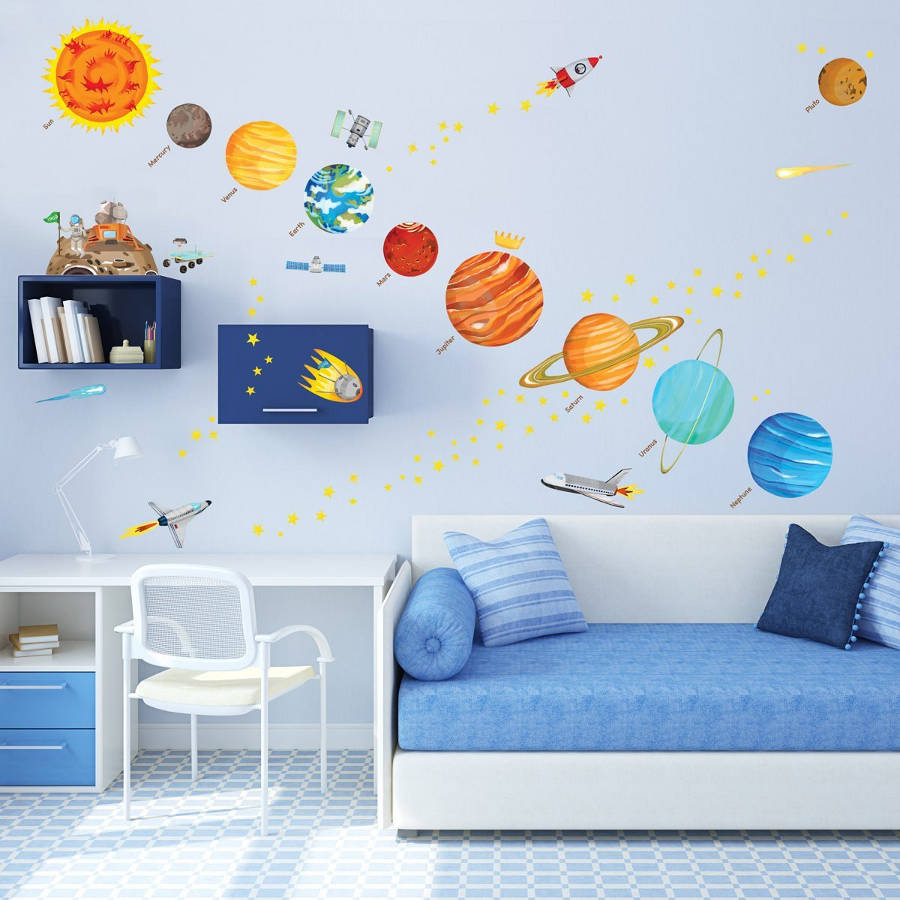 2. Kids Solar System Wall Stickers: This is what we're talking about when we say that outer space wall decals can be used as educational tools. The colors are great, and they accurately depict the order of the solar system. Does Saturn come before Jupiter? Now the kiddos will know for sure, and so will you.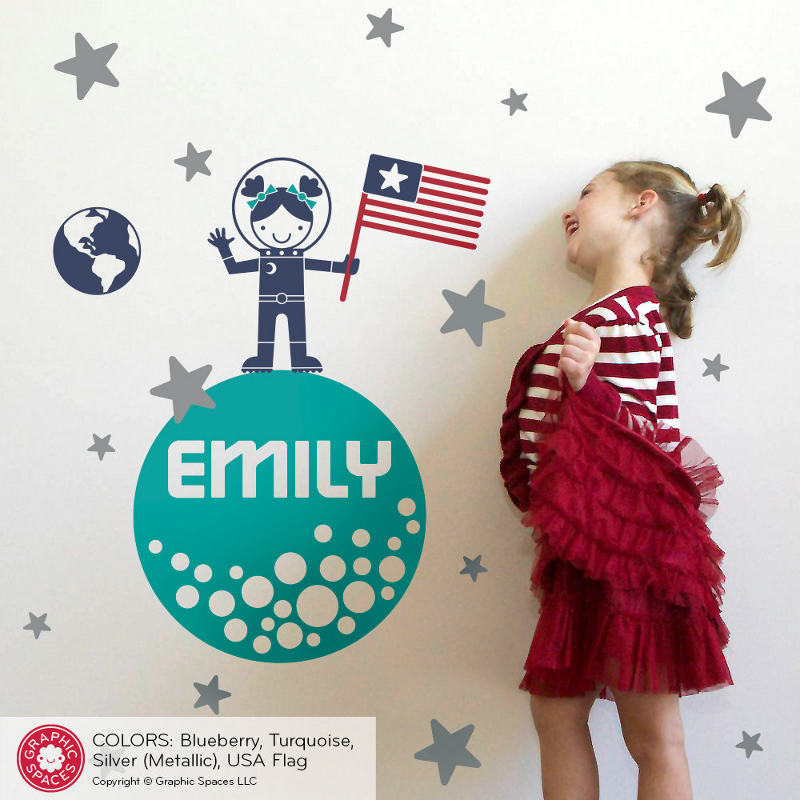 3. Personalized Moon Walk Decal: Because space themed wall decals aren't just for little boys, you know? The graphics and bright colors of this customizable bedroom decal are strong and empowering, without being overly cutesy. But best of all, you can give your girl the moon and even name it after her. That's pretty cool.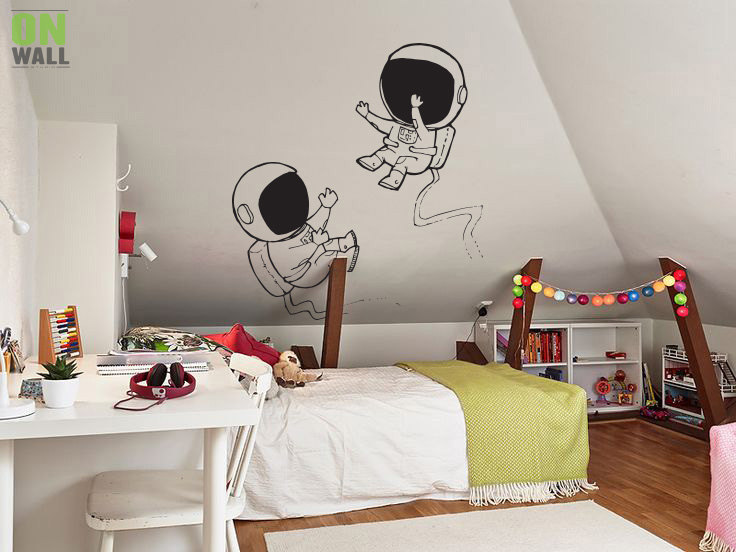 4. Astronauts Wall Decal: The kiddos will get a visual sense of what it's like to float in zero gravity with these next wall stickers. The cartoonish astronauts are fun and as cute as can be. This playful decal adds a dash of comedy to any playroom, bedroom or nursery.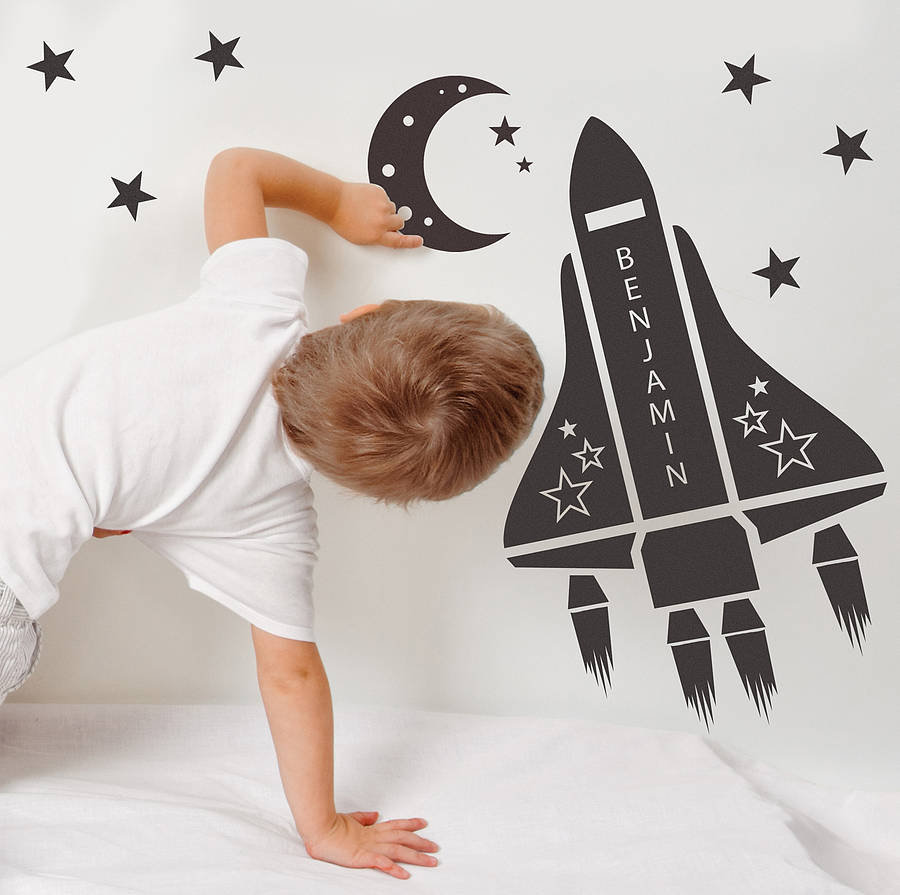 5. Personalized Space Shuttle Wall Stickers: "Houston, we have a problem." Or maybe not. These space shuttle stickers are totally rad, and your little rascal will have a spaceship named after him or her. How cool is that? Choose from a variety of colors to suit any wall, and blast off into the unknown.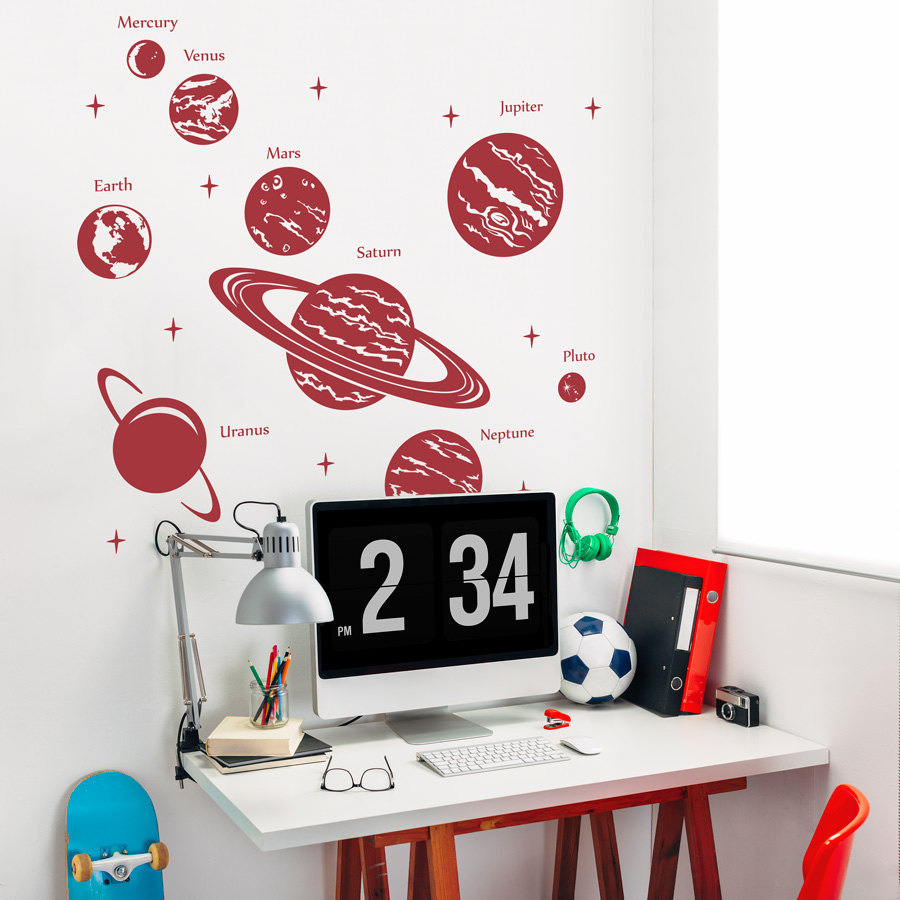 6. Solar System Wall Decal: Yet another colorful and utterly brilliant astronomy theme to liven up your niece or nephew's room, while helping them learn about the different planets. These eye catching space decals for walls can be configured in any size, for any type of room.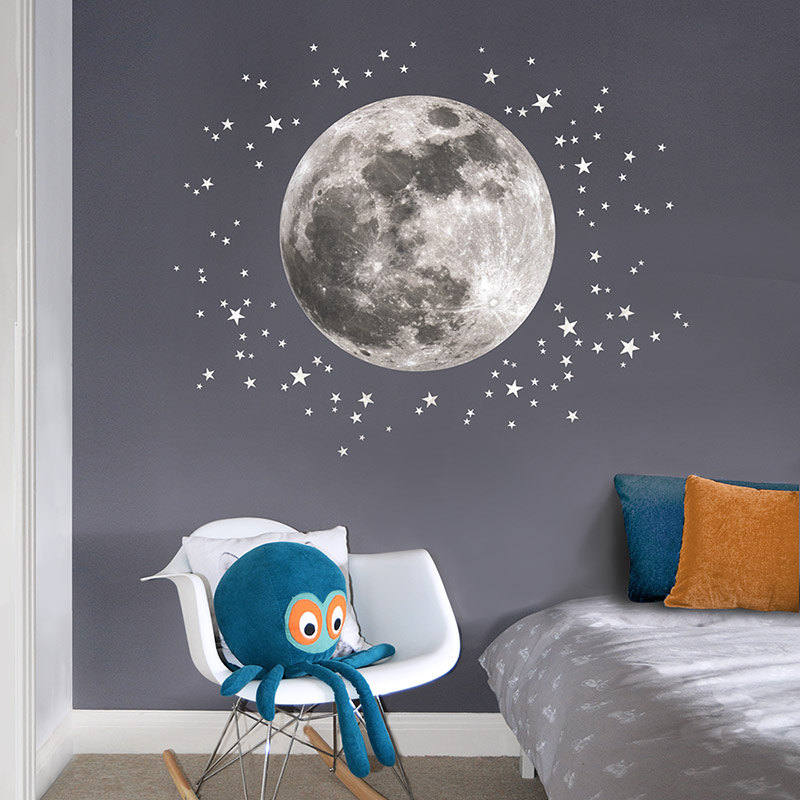 7. Moon & Stars Fabric Wall Decal: Forget the kids, we're thinking of getting this one for ourselves. Seriously, the striking image of a full moon when complemented by a cluster of shiny stars is simply spectacular and awe-inspiring. Two thumbs up for this baby.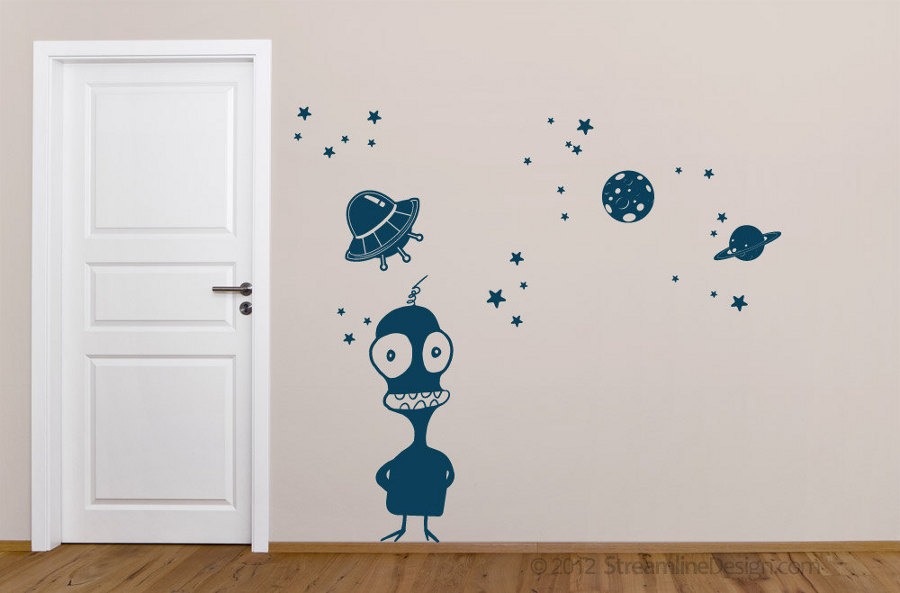 8. Alien Removable Vinyl Wall Art: Kids, meet Smiles O'Brien, a friendly alien who comes in peace. Smiles brings with him his trusty spaceship, 2 planets and 27 stars to perk up the littles bedroom. One cool thing to note is that these space wall stickers can be ordered to fit any sized room. Order them in small or large. The choice is yours.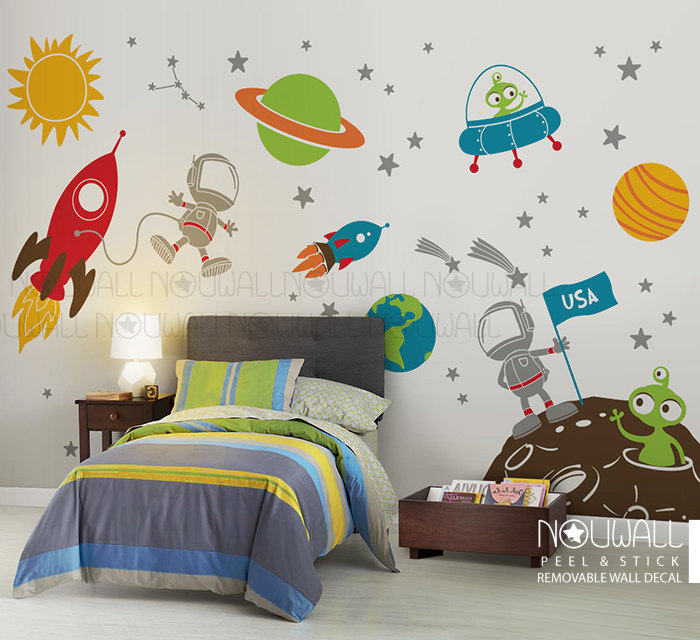 9. Galaxy Decal Space Stickers for Walls: Playful, colorful and fun. Those 3 words sums up the design of this elaborate set of wall stickers. In the pack you'll find astronauts, planets, stars, aliens and rocket ships. Yep, it's pretty much got the whole constellation sewn up.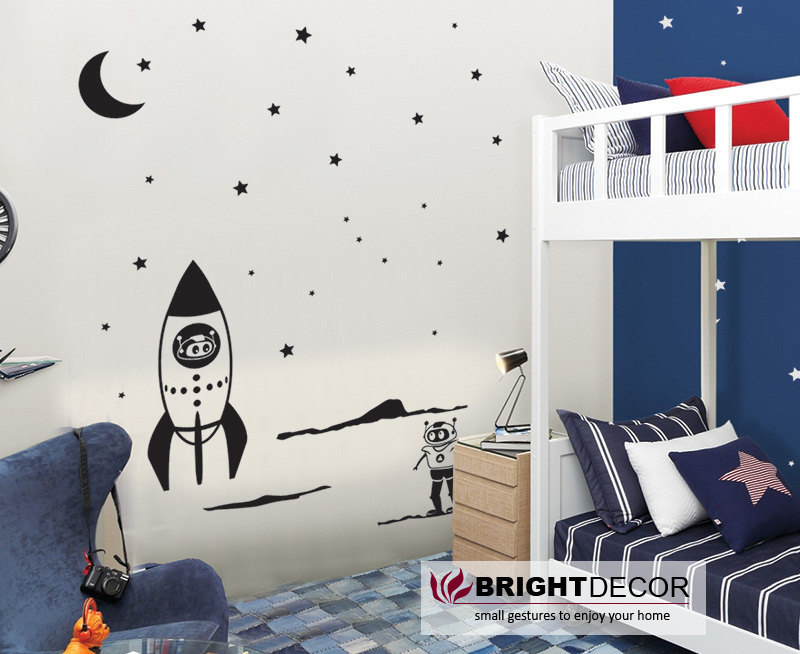 10. Moon Explorer Wall Decal: A simple wall decal which portrays the moon landing in all its animated glory. Want to know what it feels like to arrive on another planet after traveling a million space miles? Call the little ones into the room, and have them play out their own imaginative story lines.
Did you like this list of space themed wall decals? Don't forget to share it with other space cadets.