SnapCircuits electronic learning kits are award winning electronic kits for kids that turn complex concepts such as mathematics, engineering and electronics into fun play activities for children.
I for one remember feeling really bored in math and physics class. Unfortunately a lot of kids feel the same way. So anything that actively encourages a child's interest in these areas has got to be well worth investing in, don't you think?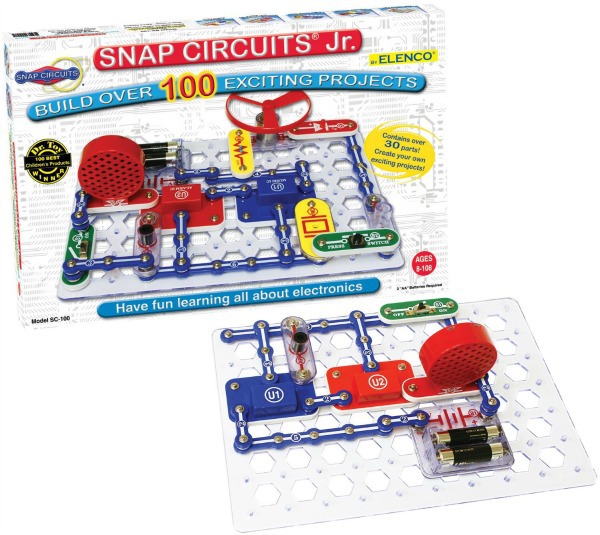 The appeal of Snap Circuits is that children start with real world experiments (and not all that boring classroom stuff).
They get to work on wonderful creations and science projects at their own pace, such as remote controlled vehicles, light circuits and radios etc.
During the process of learning to build really cool things, they become more receptive to understanding the science behind why and how they work. The perfect way to facilitate an education in electronics for kids. Call it learning by osmosis if you like. 🙂
The kits are color co-ordinated to make it easier for children to understand how and where the different components click together. They also come with easy to follow instructions that take the form of picture-based training manuals.
What is the Recommended Age for Snap Circuits?
While the manufacturers age recommendations are for 8 to 108 year olds, you could of course buy any of these kits for children who are younger – perhaps as young as 6 with supervision. It really does depend on how comfortable your child is with learning new concepts.
Which Snap Circuits Kit Should I Buy?
Now there are a few different types of SnapCircuits available, but I've put together a list of the best selling ones (remember if it's selling well that's a good indicator that it's worth buying).
This list will help you to nail down the exact kit you want to purchase. And if you're wanting to know where to buy these SnapCircuits electronic learning kits, you'll find that information below too.
1. Snap Circuits Jr. SC-100
Snap Circuits Jr. SC-100: This is starter kit of the snap circuits family, but oh do you get a ton of stuff to work with – enough to build 101 different electronics projects.
There are larger snap circuits kits in this range. I won't go into detail with all of them as the only real difference is the number of components in the box, but if you'd prefer to start with one of the larger kits then do take your pick from:
If you want to test the waters with this starer kit first, you'll always have the option of upgrading to any sized kits by purchasing one of these Snap Circuits add-ons: UC-30 SC100 to SC300, UC-40 SC100 to SC500 or  UC-60 SC100-SC750.
What's in the box?
A step by step instruction manual with pictures.
30 color coded circuit components including; several snap wires, switches, jumper wires, 2 resistors a motor fan, speaker, alarm circuit, music circuit and a lamp among other things.
Requires: 2 x AA batteries required (purchase separately).
This kit has all the components necessary to build 101 projects including the following:

Laser Gun
Musical Doorbell
Flying Saucer
Voice Control Device
Motor-Controlled Lamp
Quiet Water Alarm
Space War Siren
Spinning Rings
Alarm Circuit
Electric Light & Switch
Plus many more…
2. Snap Circuits Green – Alternative Energy Kit
Alternative Energy Kit: Develop your child's interest in the environment from an early age with this green energy snapcircuits kit.
You and your child can build 129 projects that will teach them all about different environmentally friendly energy sources such as solar power, wind, hydrogen fuel, geothermal, tidal power etc.
What's in the box?
100 page full color instruction manual.
Over 40 parts including; snap wires, a rechargeable battery, a solar cell, electrodes, FM radio, clock, a motor, hand crank, a wind fan and water wheel.
Requires: No batteries
This kit has all the components to build 129 projects including the following:
Hybrid Car Concept
Windmill
Clock with Memory
Solar Light Charger
FM Radio
Kick Start Motor
Battery Power
Water Wheel
Gas Pedal
Energy Converter
And many more…
3. Elenco Snap Circuits Lights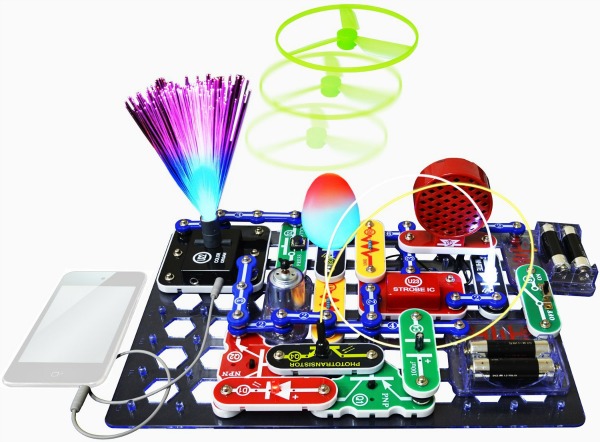 Snap Circuits Lights Kit: This fun electronic learning kit combines music with lights allowing your child to create their very own light show. it's really cool to watch how the lights move and change in time to the rhythm.
Power up the light display by attaching an iPod or MP3 player. You can even use your voice or fingers to tap out a beat.
Note that on the box it says you can build over 175 projects, but I've checked the instruction manual and that tells me that you can actually build 182 – so let's stick with that figure.
What's in the box?
Color instruction manual.
55 snap circuits parts including; snap wires, capacitors, jump wires, motors, transistors, light emitting diodes, speakers, fiber optic cables, a microphone and  a glow fan blade to name a few.
Requires: 4 AA batteries
This kit has the components to build 182 different projects including;
Funky Light & Sound
High Pitch Buzzer
Night Light Show
Photo Buzzer
3D Pictures
Strobe Lights
Color Oscillator
Automatic Light
Infrared Detector
Suspended Raindrops
4. Deluxe Snap Circuits RC Rover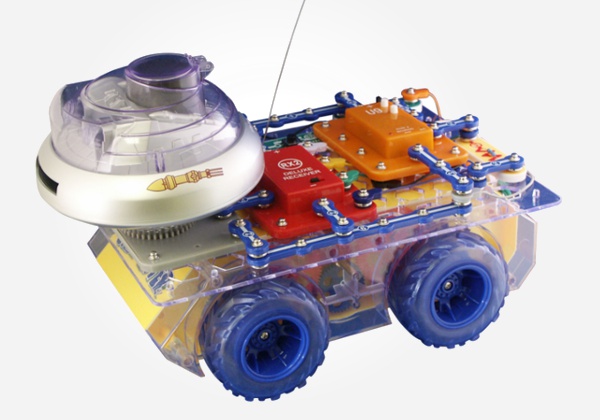 Deluxe Snap Circuit RC Rover: Remote controlled toys are a lot of fun, but how much more fun is it when you learn how to build their very own RC vehicle? This Rover has 63 parts, which means lots of projects to have fun with!
But if you want to buy a smaller Rover kit for now,  you can upgrade to this deluxe version at a later date by grabbing this UC-90 upgrade kit.
What's in the box?
Full color instruction manual.
Over 30 component parts including; the rover body, snap wires,  remote control unit, horn, resistors, white LED, jumper wires, capacitors, a receiver and other parts.
Requires: 1 9V and 6 AA batteries
Create 23 different projects including;
RC Flashlight
Backwards Rover
Lighthouse
RC Rover
Night Rover
Morse Code Device
Generator
Pencil Buzz
Stay-on Pencil Light
Water Detector
And others…
5.  Elenco Electronics Snap Circuits Snaptricity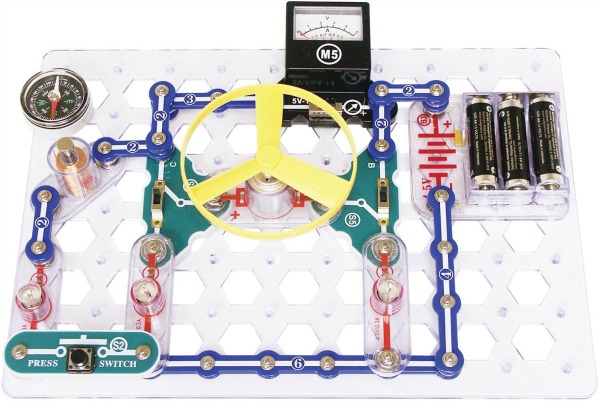 Snap Circuits Snaptricity Kit: If your child is curious about magnetic fields and how electricity works around the home, this is likely to be the ideal kit for her or him.
They'll learn all about how switches control the flow of electricity and what it takes to power up the lighting system in your home. A great electronics kit for kids.
What's in the box?
Full color instruction manual.
78 component parts including; electrodes, snap wires, jumper wires, a compass, lamp, battery holder, motors, a fan blades, switches, magnets and a meter amongst other items.
Requires: 3 AA batteries
Create 23 different projects including;
Make Your Own Electronmagnet
Water Impurity Detector
Motion Enhancer
Propeller and Fan
Light Bulb
Triple Switch Voltmeter
3-Speed Motor
Current Divider
Voltage Shifter
Cola Power
Plus others…
6. Snap Circuits Flying Saucer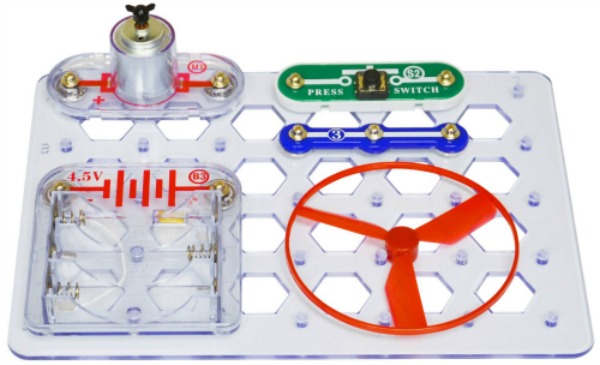 Flying Saucer Kit: This happens to be one of the smaller electronic learning kits from the Elenco range, but it offers just as much fun. It's really good value for money, so the perfect gift to buy if you're on a budget.
This would make an excellent starter kit, particularly if your child is interested in learning about flying saucers. Alternatively combine it with one of the larger kits above.
What's in the box?
Easy to follow 2-page instruction manual.
7 component parts; the base grid, 3-snap wire, motor, press switch, cardboard pattern, fan and battery holder.
Requires: 3 AA batteries
Create these 5 fun projects:
Flying Saucer
Fan
Hypnotic Pattern
Spin Draw
Strobe the House Lights
7. Elenco Electronics Snap Circuits FM Radio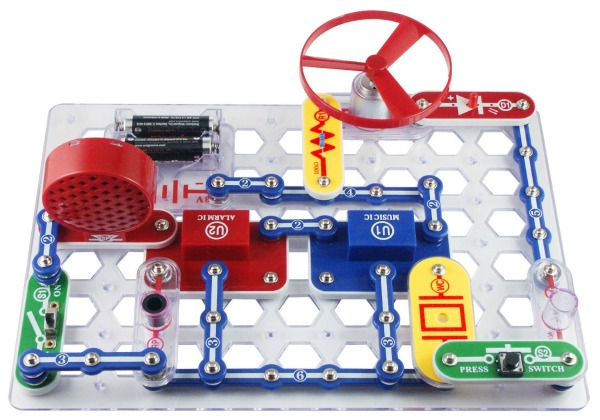 Snap Circuits FM Radio Kit: Here's another mini Snap Circuits kit that's popular with kids as well as adults. After your child has finished building the radio they can then tune it in to listen to their favorite radio station.
What's in the box?
A simple 2-page instruction manual.
14 component parts including; snap wires, an FM module, speaker, slide switch, adjustable resistor power amp and battery holder.
Requires: 3 AA batteries
Create these 4 musical projects:
Build an FM Radio
Power Amplifier
Electronic Kazoo
Trombone
Electronic learning kits for kids are so education and so much fun! If you are looking to invest in SnapCircuits electronic learning kits for your child, you could do no wrong with any of the above sets.
Did this post help you find something suitable for your child? Leave me a message in the comments to let me know.