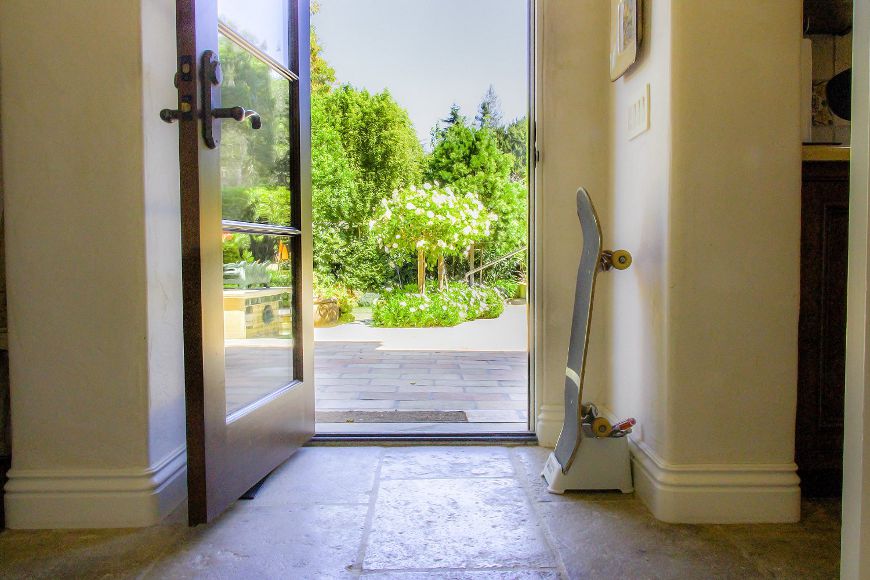 Growing up with skater brothers (and now a pre-school nephew, begging for his first board), I think skateboarding is about as cool as cool can be. It's an art form, a lifestyle and a sport all meshed together. It's fun riding out on hot, sunny days, but what do the kids do with their boards when they're done riding them?
A young skater isn't going to be as meticulous about cleaning or looking after their board compared to someone who's been around the block a few times. And let's not get started on the potential trip hazards. If you have ever slipped or tripped over a board that your kid, nephew or niece forgot to put away, you'll know what I'm talking about.
So, if you've got a skater dude or dudette in the family, do them and the other family members a favor. Invest in some good skateboard storage. You know, a neat and tidy, clutter-free zone which will allow them to show off the beauty of their board. Here, we've found a few options for you.
Skateboard Storage Solutions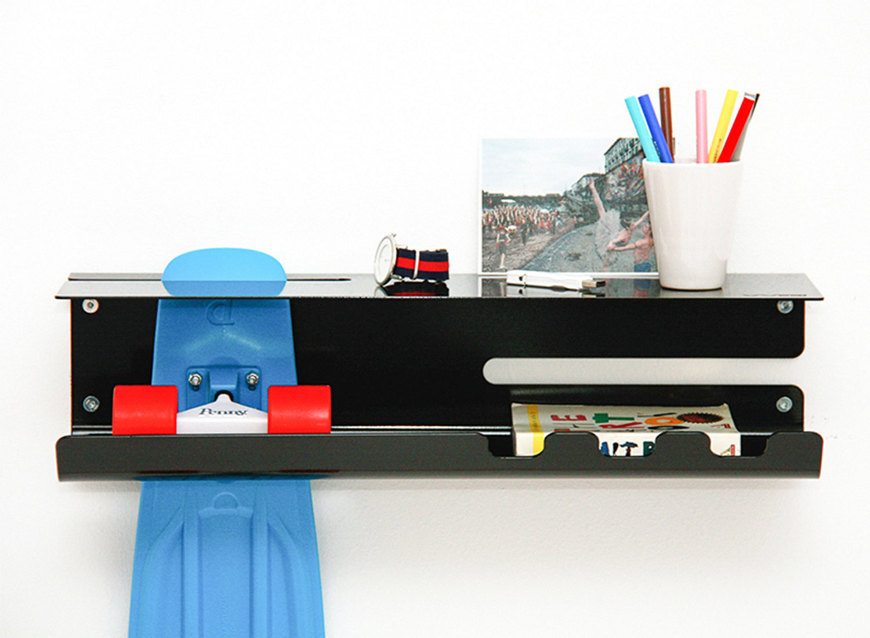 1. Wall Ride – Skateboard Wall Mount: This Italian-engineered wall rack is not only practical, but we think it's one of the most versatile we've seen. You don't even need to own a skateboard to use this thing. It has three hooks and two shelves so you can display books, picture frames and other useful stuff. Did we mention that you can also open a bottle of soda pop (or a cheeky brewsky when the kids aren't looking) on this thing? We love it!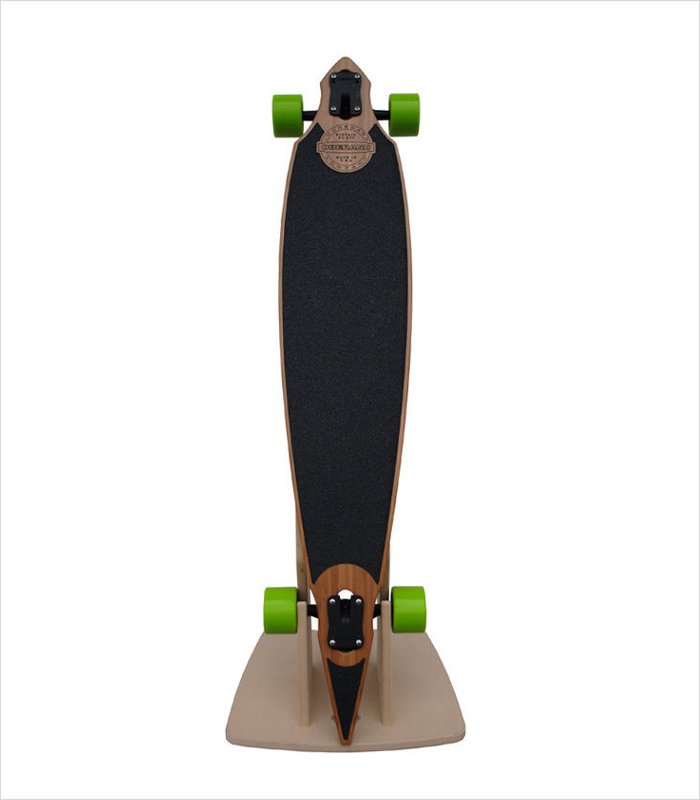 2. Oberand Longboard Floor Rack: Do the kids prefer longboards over skateboards? Check out this Oberand rack. It's perfect for holding a single longboard in firmly place. Each part of this simple creation is meticulously machined so kids – and adults – can show off their board with pride. Best of all, the stand is made from 100% recyclable materials. Feels good when you purchase stuff that helps the environment, doesn't it?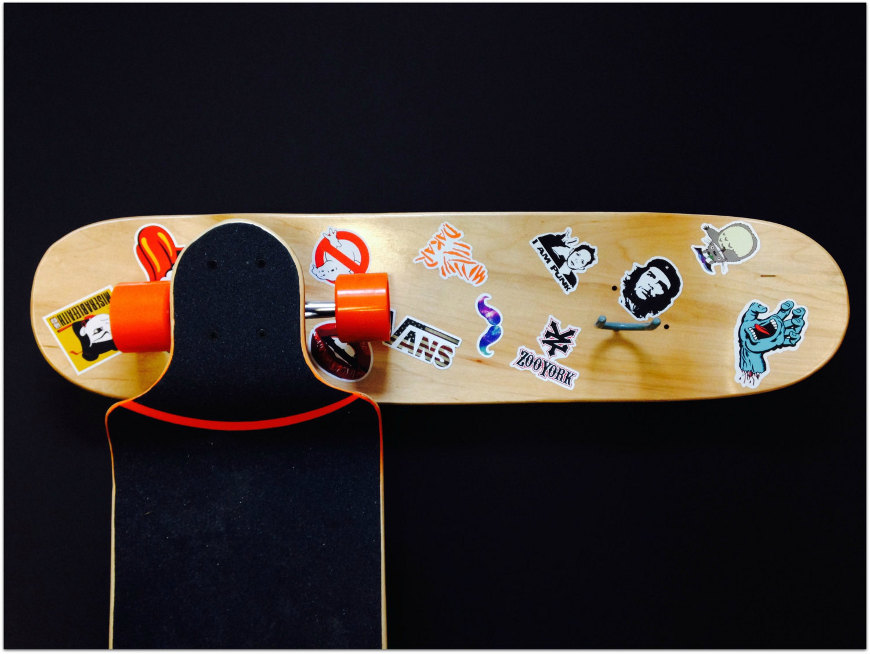 3. Skateboard Holder – DIY Sticker Board Rack: Canadian maple is the choice of wood for this simple, yet fab storage solution. Your kids can hang up to two longboards or skateboards on this baby. It also comes with a pack of twenty assorted stickers, 'cos the kids will probably want to customize it. With or without the stickers, this rack looks pretty rad.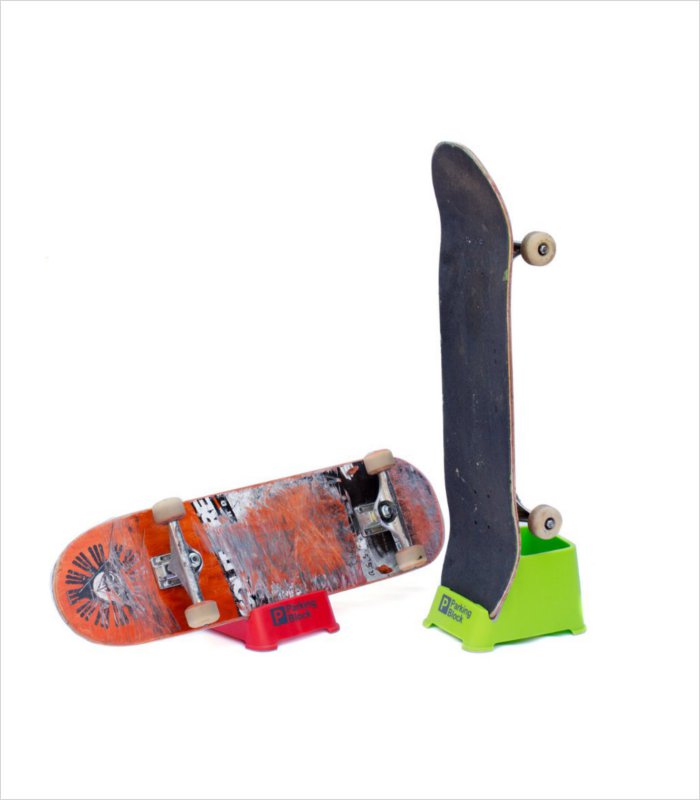 4. Parking Block Portable Stand: This was designed by a group of hardcore skater dudes from California, so it's safe to say they know to put their money where their mouth is. The kiddos can display their boards either vertically or horizontally, and it'll keep the wheels away from walls to prevent scratches and marks. The Parking Block can also store extras like spare wheels, bearings, tools and other stuff in the built-in cubbyhole. Totally cool skateboard stand.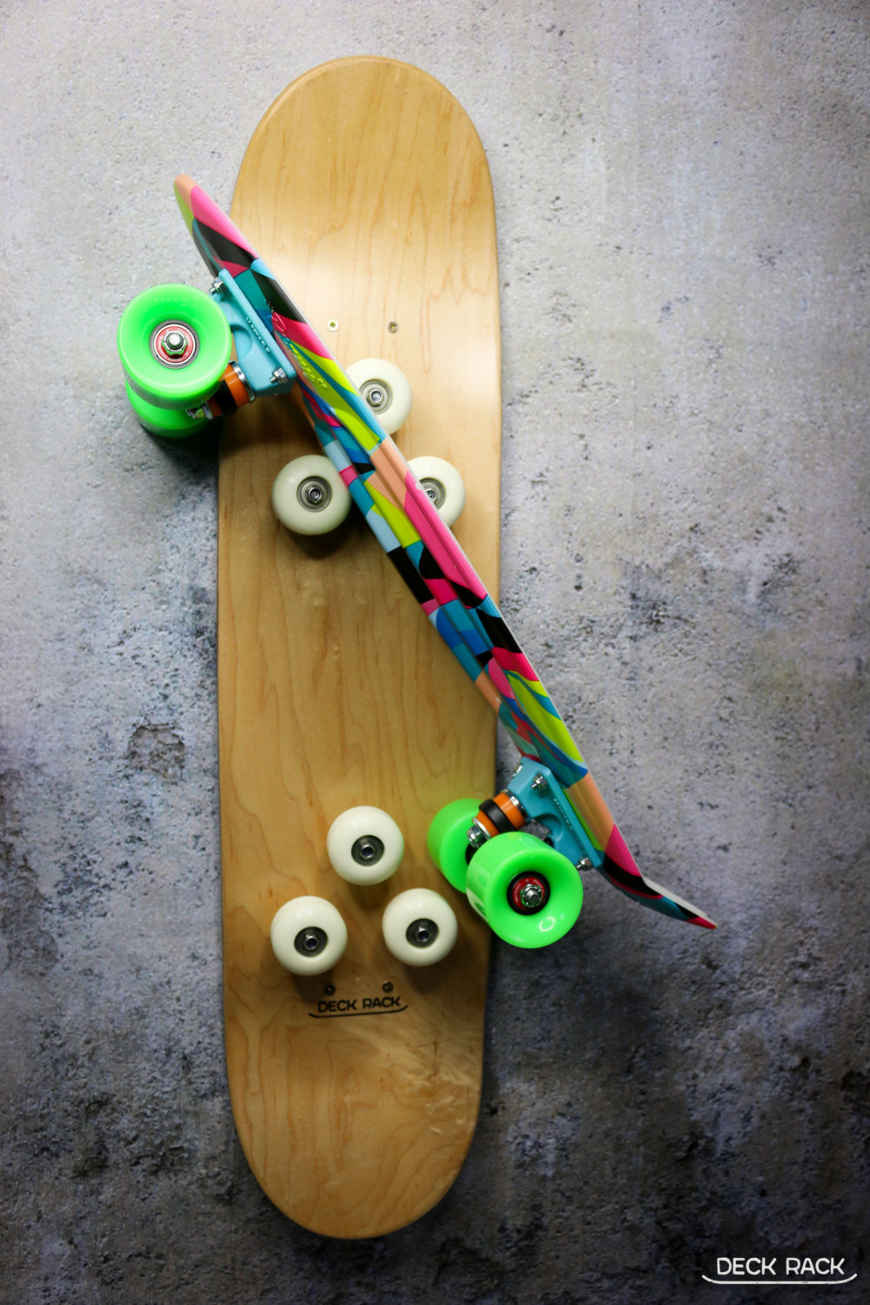 5. Skateboard Deck Wall Mount: Now here's a skateboard storage rack that's made from umm… another skateboard. It's a creative wall-mounted rack that can hold two boards at once, accommodating skateboards, longboards and 'penny' boards. You can adjust the shelves – which are actually skateboard wheels – to fit any type and size of board. It won't help you open a bottle of pop, but it does have that skater chic.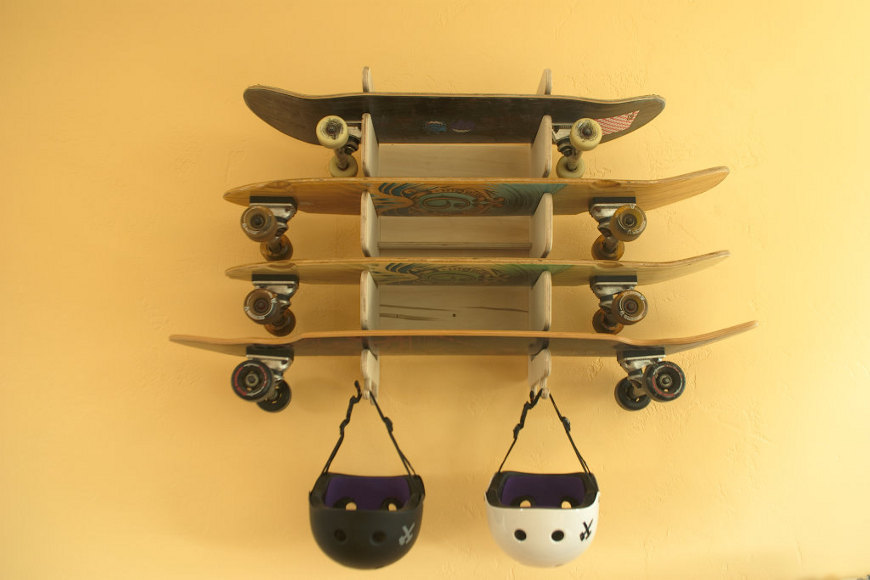 6. Soto Board Deck: The munchkins can store up to four skateboards with this clever little unit, but the versatility doesn't end there. It has two molded hooks at the bottom shelf to hang helmets and other safety gear. Since you can adjust the rack, it can accommodate all sorts of boards including kiteboards, wakeboards, mountain boards. Even a pair of skis. We totally dig multipurpose skateboard storage.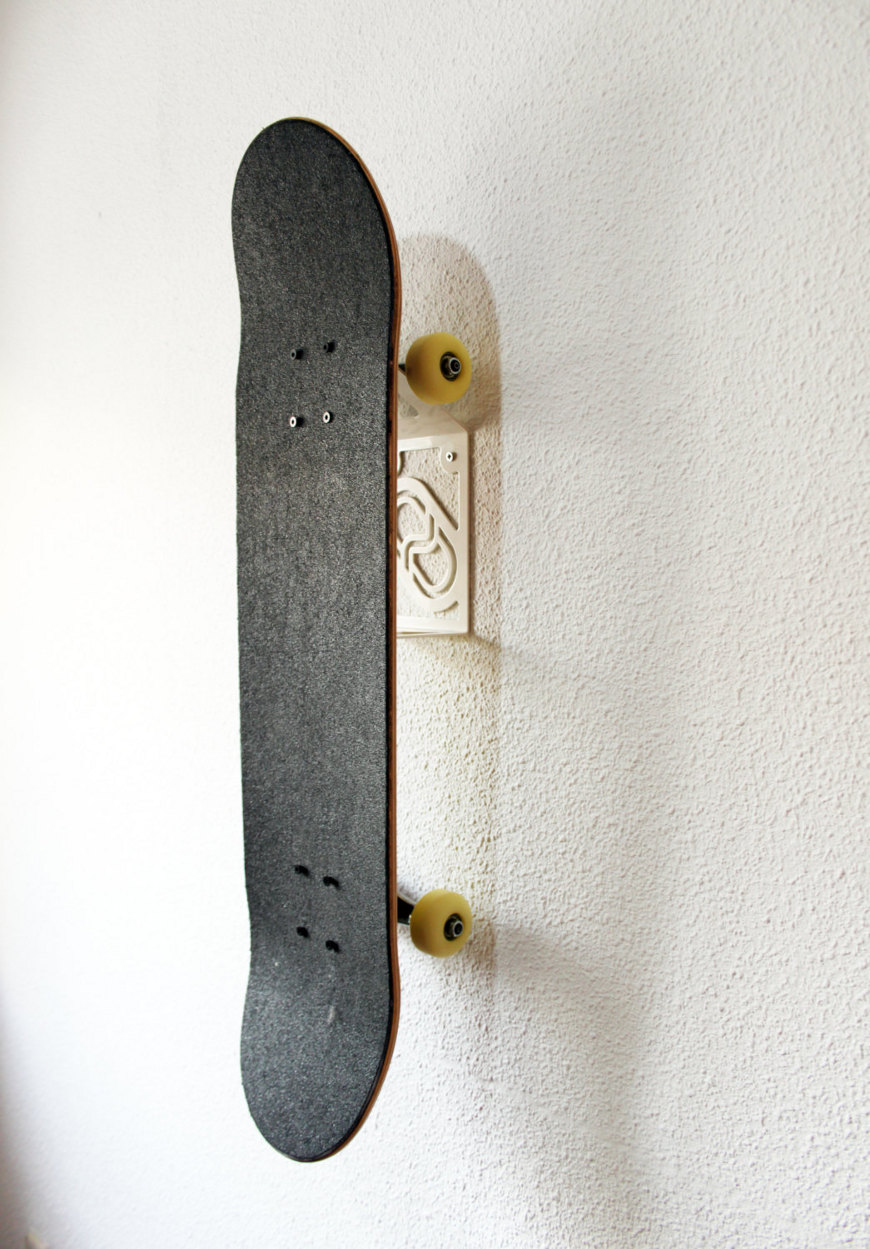 7. Steel Skateboard Rack: This effortless skateboard wall hanger is made of steel. While the kids might not fully appreciate the European-inspired design, this wall rack is perfect for small homes and single skateboards. The only downside is, when in used, the wheels are kinda close to the wall. Potential for a spot of wall rubbing. On the other hand, this might teach kids the value of cleaning their boards before they enter the home.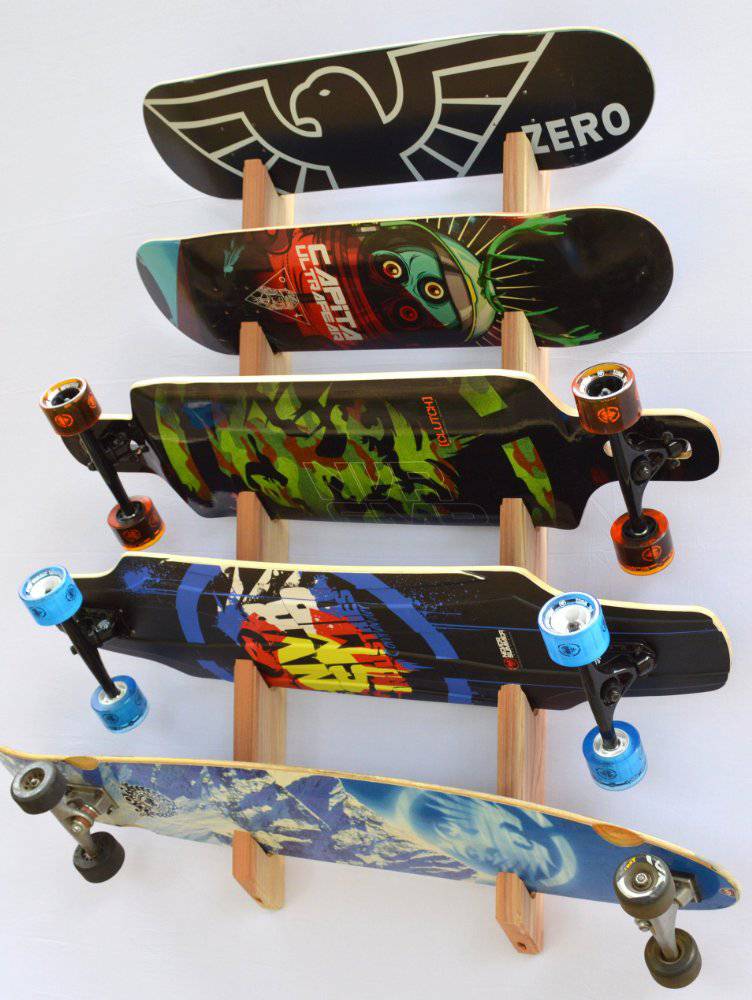 8. Skateboard Longboard Wall Rack Mount: Now this is the Titanic of skateboard racks. Just the thing if there's more than one skateboarder in the home. It measures forty-nine inches from top to bottom, and can easily hold up to five longboards or skateboards. What we love most about this kit is the wood material. It's made from Pacific-Southwest redwood, which will mean nothing to the kids, but it will look great hanging on the wall of their bedroom.
As far as skateboard storage solutions go, we love them all, but what are your faves? Tell us what you think.