The humble shape sorter toy may look pretty basic, but it delivers an incredible amount of educational value to babies and young toddlers.
Let's not forget these classic toys are bags of fun for you and your child too.
Ever noticed just how elated your child gets when they do something for the first time? It's a joy to watch a child realize a sense of accomplishment.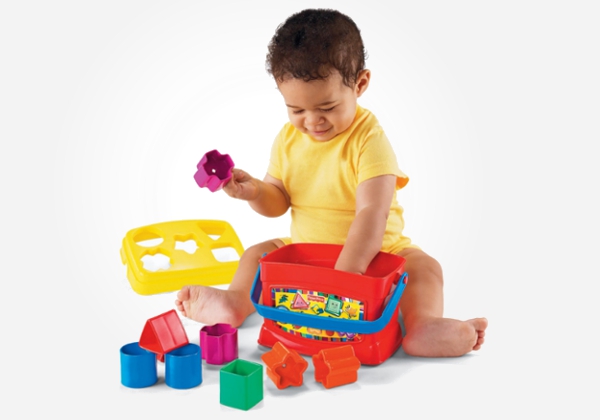 Click here to skip to the top 5 shape sorter picks
I love shape sorters because they educate children on so many levels. They help develop eye-hand coordination, teach children about different shapes and colors, helping them gain a better understanding of the world around them.
They also teach problem solving, logic, spatial awareness and reasoning. Through playing with shape sorters, your child starts to learn about object permanence – just because an object is out of view, does not mean that it no longer exists.
Babies start to understand the very basics of cause and effect. That if they place a shape into the correct hole, it will disappear. But if they are unable to find the corresponding hole, they won't be able to make the shape disappear.
Through play with a shape sorter toy, they start figure out the right way to solve the puzzle and achieve the result they want.
This leads to that sense of accomplishment that I mentioned earlier, which in turn leads to a boost in confidence as they grow, develop and explore their surroundings.
What are the Best Shape Sorter Toys?
Well most of the shape sorters available on the market make great toys.
Having said that, do bear in mind that your child's usage of a shape sorter toy will peak at around the ages of 6 to 18 months, so go with something that will stimulate their brains as they grow.
In fact, any of the top shape sorters listed here, come with the highest recommendation, making them very worthy of your consideration.