The classic ride on toy has to be one of the coolest 'props' for firing up a child's imagination. As well as for inspiring both independent and social play.
And a sweet looking ride is practically guaranteed to make any little kid feel like the big kahuna of the yard.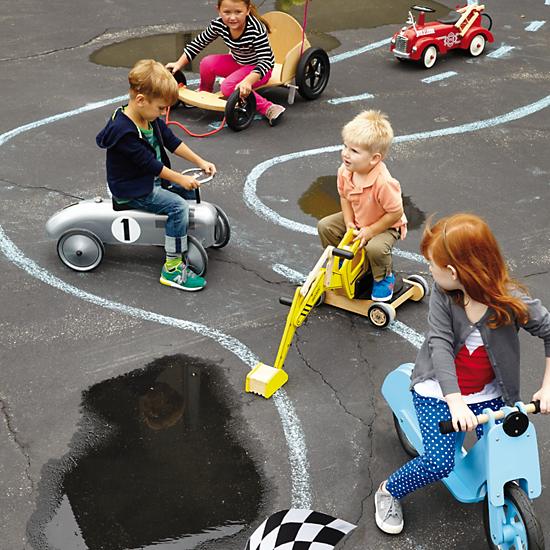 If you ever needed an excuse to encourage the kiddos to go play outside, this adorable little ride on excavator is just the ticket.
All of a sudden the front yard is no longer a front yard. It's a derelict construction site just waiting to be dug up.
Call me old fashioned, but I have a thing for sturdy toys made out of wood.
Perhaps it's because I know with my brood, wooden toys have a much better chance of surviving beyond the first few months of play. I'm exaggerating a little. Well… Sorta.
This bright yellow ride on digger for kids aged three and up, just happens to be made out of non toxic wood. It's painted with non toxic paints and finished with super durable rubber wheels, giving it a smoother, safer ride.
If you're like me – concerned about gifting stuff that's built to last –  this ride on toy is probably looking quite appealing.
Plus it's a digger. And what little kid doesn't love a good construction toy?
Ride on Excavator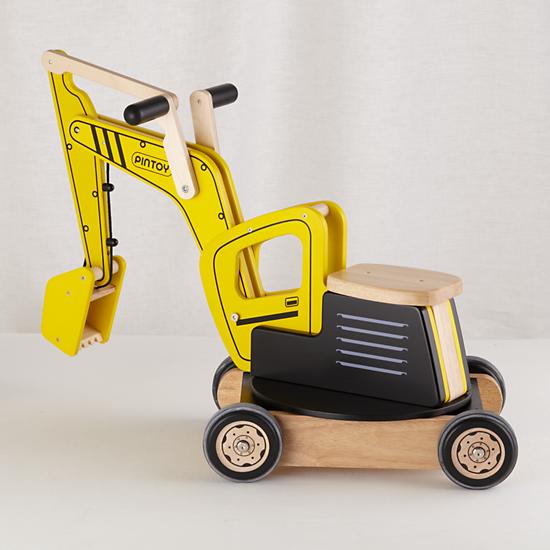 Kiddos enjoy play-acting with toys that look and work like the real thing, so the fact that the seat can swivel 360 degrees, is pretty cool.
The backhoe is operational too and will scoop up sand, bricks (the toy variety, of course) and dig holes in the dirt. Way fancier than those ride on toys where the only thing the kids can turn is the wheel.
Now, if only my behind were small enough to fit. I'd have a total blast on this thing… yeah, I can but dream.
The ride on excavator toy is currently available at the Land of Nod.