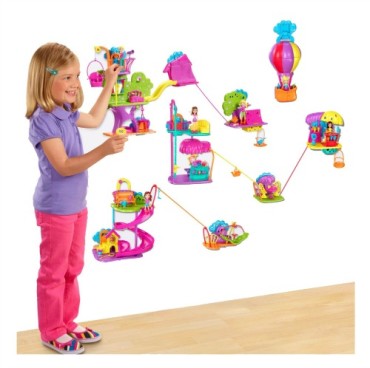 The Polly Pocket Wall Party Ultimate playsets is one of those toys that offers a unique opportunity for children to explore different worlds creatively.
It will make a great little addition to a young child's pretend play toy box, so let's dive in and take a look at the set in more detail.
You may remember Polly Pocket toys from when you where a child. They were popular then and they still seem to be popular now.
Mattel, the makers of Polly Pocket, seem to have gone to town with this set though. It's absolutely huge!
The Ultimate Playset is made up of a whole bunch of individual sets that interconnect together to form a larger play world. Add to this the potential to attach the set to walls of your home, keeping your floors clear from toy debris, this is a very enticing offering from the Polly Pocket manufacturers.
This is ability to incorporate wall play is a new concept for Polly Pocket  and judging from the number of 5 star reviews on Amazon.com, it's one which has so far been well received.

The Polly Pocket Wall Party Playset: Key Features
* Play extends from the floors to walls,
* six different playsets included,
* Tons of different pieces.

Is the Polly Pocket Wall Party Playset Worth Buying?

Polly Pocket is one of those toys that always puts a smile on the face of the child receiving it. Although the range is popular, it's never been massively famous like other big toy brands. Polly Pocket toys just sort of hang around.
Polly Pocket is very much a toy that is marketed at aimed at girls, yet it can be equally appealing to little boys who are too young to be concerned with the "girly" look. The toy just gets enjoyed for what it is: a great big imaginary world bursting with fun and adventure.
This Polly Pocket Wall Party set, is absolutely massive.
It includes the following playsets:
Wall Party Tree House
Camp Ground
Balloon Ride
Pet Park
Juice Bar
Café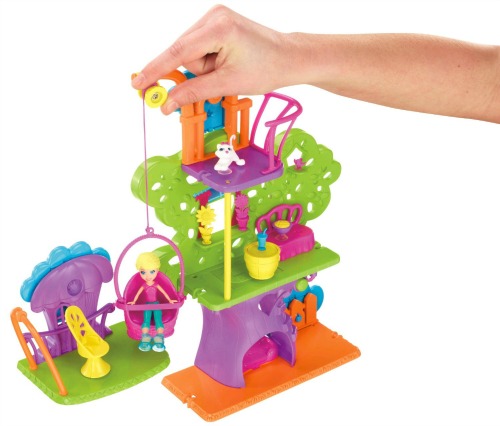 Each of these sets can either be played with on the floor, like conventional toys, or it can be attached to the wall via special suction cups and tape.
The thing that makes moving play onto the wall so much more fun is that it allows children to play across multiple 'floating' levels, creating a spectacular magical play land.
The whole experience becomes that bit more exciting.
Also included in the set are four dolls – Polly, Chrissy, Lila and Lea – along with their pets and lots of other accessories. Add in the bright colors and cute little play worlds and you get a winning formula.
Whilst the different playsets can be played with individually, they can also be connected as well.  The inclusion of ziplines and slides make that really to do.
This Polly Pocket Wall Party Ultimate set is sure to keep your little ones entertained for hours, if not days, as they get immersed in the Polly Pocket universe; exploring the different worlds and enjoying a fascinating play experience.
Polly Pocket Wall Party Instructional Video
Is This Toy Worth Buying?
Given all the little extras that you get with this toy, the Polly Pocket Wall Party Ultimate playset offers really great value for money.
Just be prepared to roll your sleeves up for little bit of assembly.  While some reviewers found it easy to put together, others claim they spent a good couple of hours trying to get it set up.
Still, I wouldn't let that put you off if you're thinking of buying this set as it ticks the boxes in all other areas.
The Polly Pocket Wall Party Ultimate All-in-One Playset is current at Amazon.com.