Do you have a toddler just learning to walk?
Not sure which Playskool walker to buy? Well the Playskool Rocktivity Walk 'N Roll Rider may be just the thing you're looking for.
It is designed to not only promote walking, but it grows with your child offering great flexibility.
Speaking of flexibility, the walker can be used as a walker in the traditional sense PLUS it can be converted into a riding toy when your child is a little more steady on their legs.
The walker also provides audio entertainment in the form of fifteen different songs about walking and riding – these are popular songs such as "Walk Like an Egyptian", so you'll be able to sing along if you wanted to.  Your little one will have so much fun with the walker and will happily dance and walk all around the house.
The walker also includes a dashboard of lights to provide visual stimulation for your child.  It also has a horn that really beeps and when your child turns the key, she or he will hear the sound of the engine revving up.
The dashboard also includes a giraffe character that can be pushed.  When you push the character, it says fun phrases.  Your child will enjoy pressing it over and over again to hear what the giraffe will say next.
This Playskool walker also includes realistic features such as handlebars and a dash board.  It also has a gas tank and wheels with hub caps. The seat can convert to a grip for walking and then easily be put down to convert the walker to a rider.
Parents love that this toy is so easy to assemble. It comes with instructions and all the hardware you need to put it together. You will need a screwdriver and the walker will need two AA batteries – though it does come with one set of batteries when you buy it.
You'll love that your child can push this toy while she or he is learning to walk. Then once your child is steadier on his or her feet, they can ride it around as a toy car for many more months.  You'll also appreciate that the songs it plays are familiar and won't annoy you the way some other electronic devices have a tendency to do.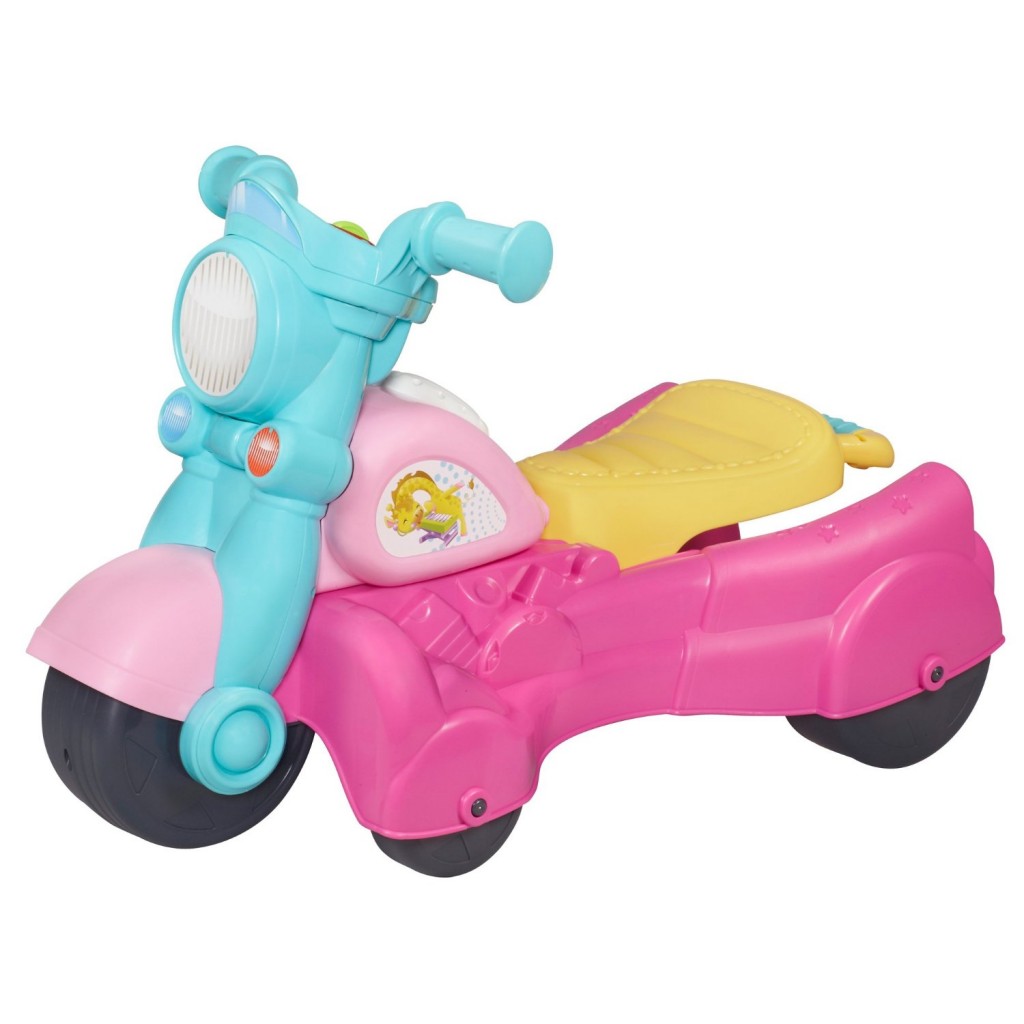 This Walk 'N Roll Rider comes in pink too
This is a great toy that will have a  huge effect when placed beneath the Christmas tree.  It's also a great value and will last for years to come, so you can pass it on to any future children, so they then can learn and play with it. The walker can accommodate a child that weights up to 42 pounds, so you can be sure it will be a favorite for some time.
If you're looking for a Playskool walker that gives your child the motivation to start walking as well as the encouragement to sing and dance, then this is the perfect choice for you. The Playskool Rocktivity Walk 'N Roll Rider is certain to be a big hit in your household.