Your kids will love being able to mix up all manner of weird and wonderful concoctions with this Mind Blowing Science Kit.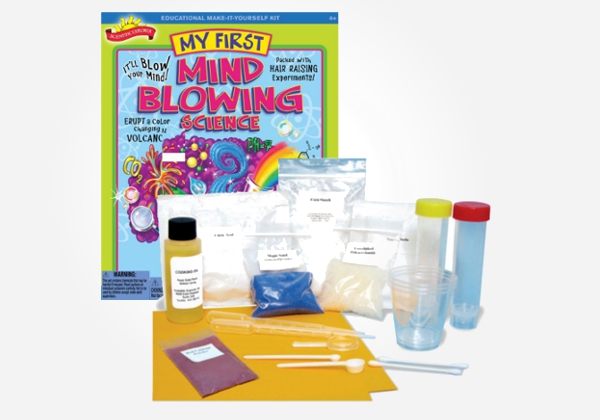 In the process they'll get a great chemistry (and math) education as they learn cool things like how to create their very own volcanic eruption or replicate a sunset in a test tube.
This is a really simple, yet intriguing science kit for kids as young as 4.
Let's go check it out.
What's Cool About My First Mind Blowing Science Kit
Not every child warms to learning science in school, let's be honest here.
So a science experiment kit such as this one is a great way to introduce them to basic scientific concepts that they can learn at home.
Your child won't find anything boring in this kit.
All the experiments are designed to 'wow' and thrill young minds. I guess that's why the makers called it mind blowing science right?
This kit comes with 11 standard science projects; all of which are detailed in the activity guide.
Kids get step by step instructions on how to create things like a super cool underwater volcano, liquids that change color, a sunset in a test tube, pretty crystals that jiggle and more.
This kit brings science into the real world; making it highly relatable, interesting and lots of fun for little ones.
Do you want your child to develop an early passion and curiosity for science? This kit will do just that.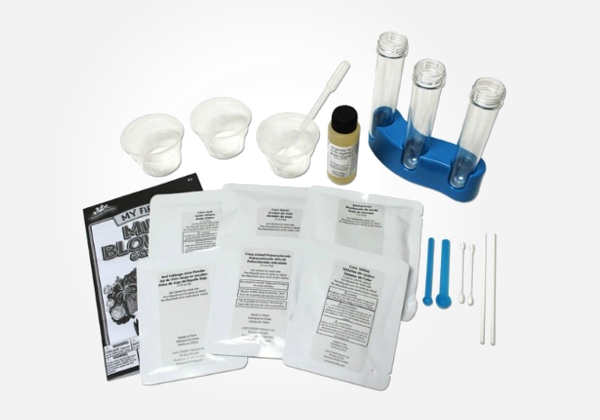 This mind blowing science kit contains:
Red cabbage juice powder
Citric acid
Baking soda
3 Color tablets
Polyacrylamide crystals
1 Pipette
Corn starch
Vegetable oil
Small & medium plastic scoops
2 Cotton swabs
3 plastic cups
2 Measuring scoops (one small, one medium)
3 Test tubes (and caps)
Test tube stand
2 Stir sticks
1 Step by step activity guide
Things to Consider Before You Buy
You know how kids like to get stuck into things. Well with this kit it's easy to get carried away with wanting to try everything at the same time.
I'd suggest having an adult on hand to read through the instructions and set a few boundaries. In fact the manufacturers insist on adult supervision at all times. Not a bad thing.
Speaking of instructions… I don't know about you but I like instructions in the form of colorful illustrations and diagrams, especially when it comes to teaching little ones.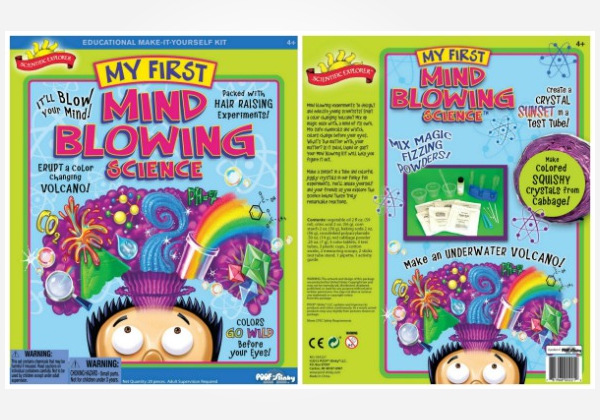 Unfortunately, the activity guide which comes with this kit doesn't have any of that. It's not a deal breaker, just would have made a nice touch.
Finally this kit does contain pretty much everything you'd need to recreate the projects, but you'll need a few extra items.
Nothing major and all things that you should be able to find around the home such as water, grape juice, baking flour, spoons, soap, towels, tape, tray (or plate), a coffee filter, a bowl and red/blue pens.
My First Blowing Science is suitable for kids aged 4 – 8 years old.