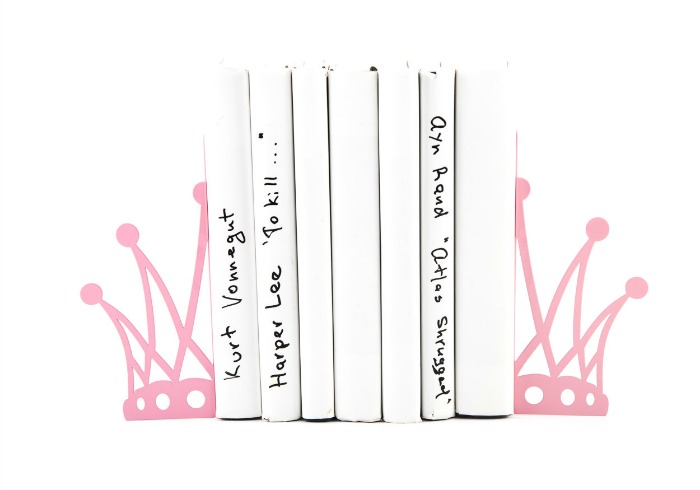 Want to encourage the kids to develop a love of reading? Surround them with books. Lot's of books.
Yeah, that's a great idea if you have the space for a bookshelf. But how do you keep that stash of books in a neat, orderly and tidy fashion, if all you have to work with is a single shelf or two?
The answer is simple. A pair of bookends.
Bookends for kids come in many different styles, shapes and colors and are a nice decorative touch to fit in with any room – whether it's the kids own bedroom or the spare room used for sleep overs at auntie's house.
Here's a selection of my favorite finds for you to ponder over.
Adorable Bookends for Kids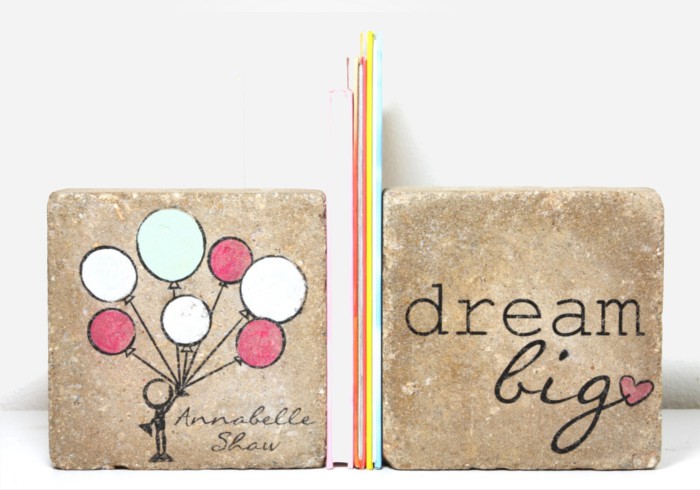 1. Children's Stone Bookends: Rustic bookends that are made from actual paving stone. These would look great in the bedroom of an older child. They're easy to personalize with a name, a cute image and a special message or short quote.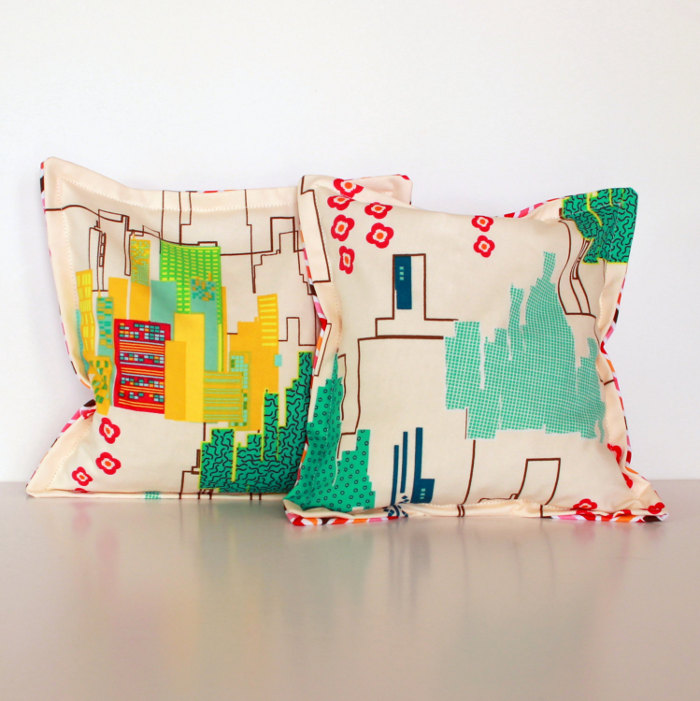 2. Bean Bag Book Props: These may look like a couple of jazzy pillows, but they're actually weighted bean bag bookends. They come in different patterns to match any style of kids room. And when not being used to prop up books, they're a helluva lot of fun to toss around.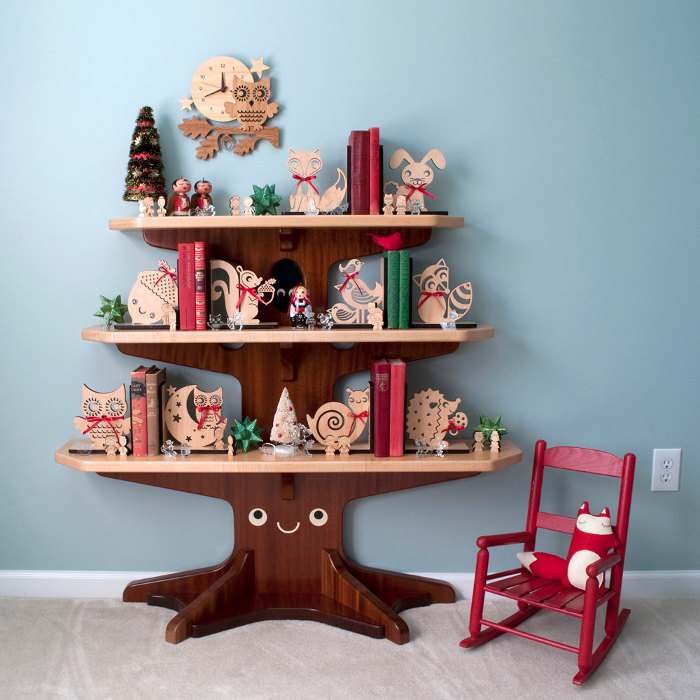 3. Eco Friendly Animal Bookends (two per set): Can't decide between these cute woodland inspired bookends? That's fine, because with these bookends you get to mix and match the perfect pair from a selection of 10 themed characters. I think the owl and the moon are my favorite, but whatever tickles your fancy. By the way, isn't that tree shaped bookshelf just darling?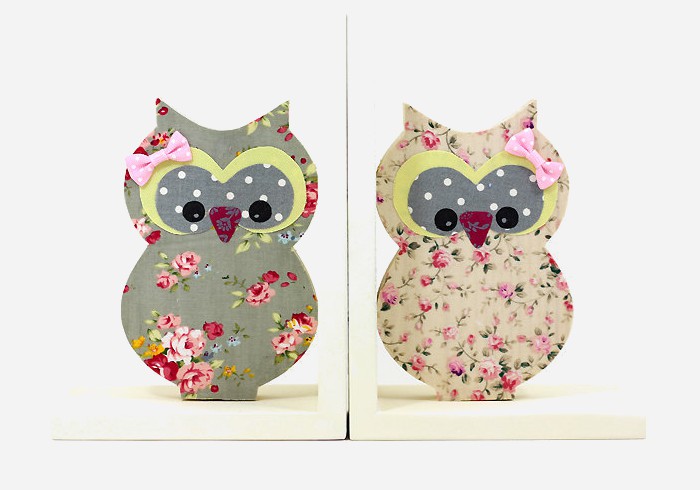 4. Decorative Owl Bookends for Nursery: These cutesy owl inspired bookends are over-laid with fabric and can be customized however you wish. So, if there's a particular color scheme or pattern you desire, simply put your request in to get it made your way. Sweet, fun, stylish and colorful. I bet these would make a fab addition to any nursery.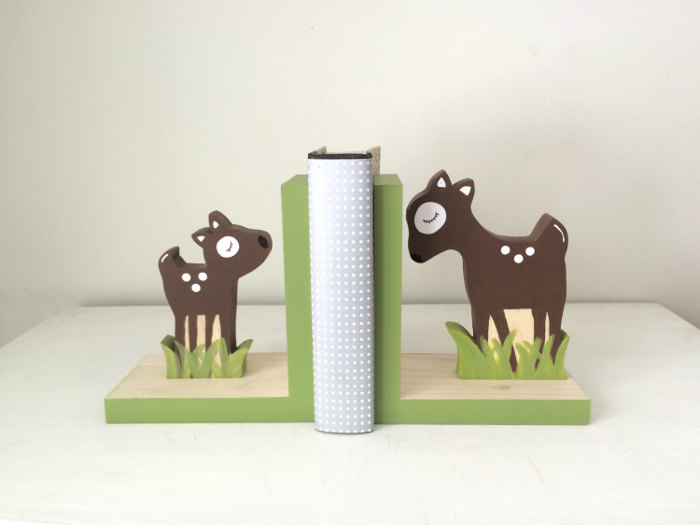 5. Eco-Friendly Character Bookends: Love these! There's nothing sweeter than seeing a mother dear and her young fawn. Another fun bookend idea for the kids room.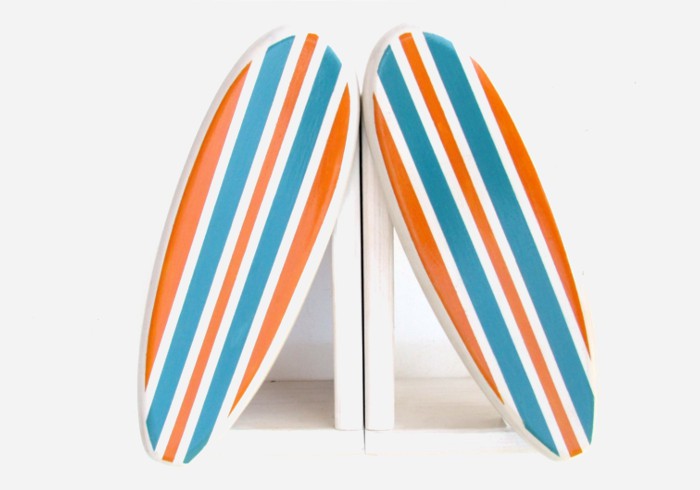 6. Surf Themed Bookends: For the surfer kid with a beach themed bedroom, this pair of surf board bookends would fit right in. Not digging the colors? Go custom and have the maker create something which fits the color scheme of your little one's room.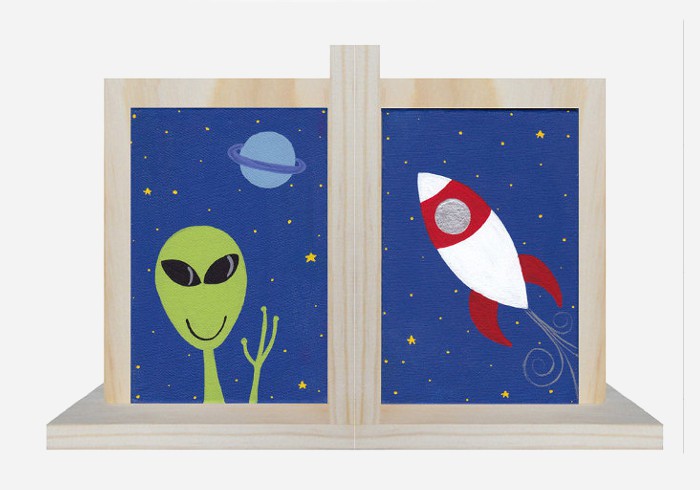 7. Hand-painted Rocket Ship Bookends for Kids: If you love the idea of artwork on a canvas base, this pair of bookends will be right up your street. Once again, if you're looking for something custom to fit in with a particular theme, you have the option to request that from the creator. A great gift idea for the nursery or big kids room.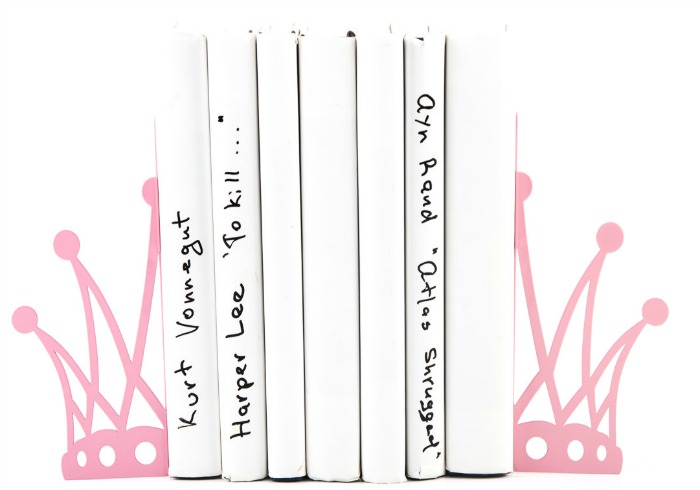 8. Princess Inspired kids Bookend: Fit for a princess who just loves to read. These metal bookends are precision laser cut and sturdy enough to keep books, big or small, firmly in their place.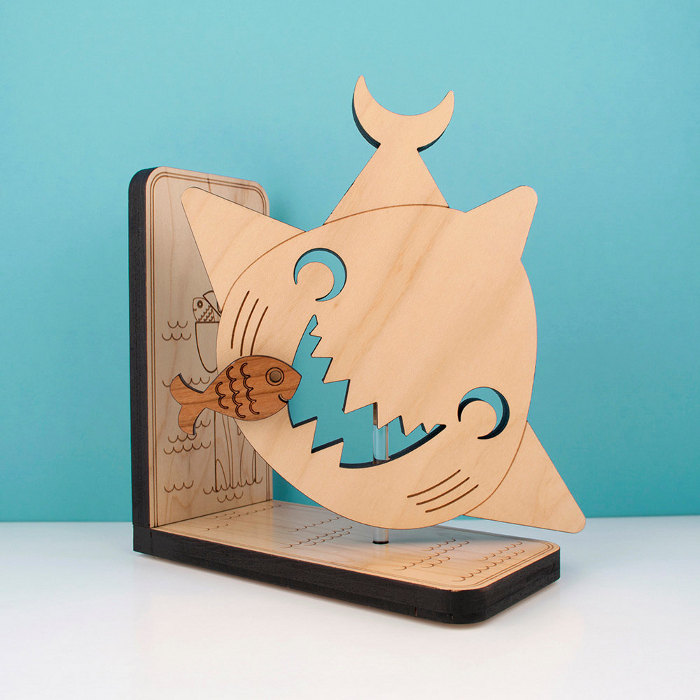 9. Wooden Shark Book end: If you're searching for a bookend for a child who loves sea life, consider this little wooden shark. Sure, sharks have big teeth and are usually scarey, but not this one. As you can see he's happily playing with his fishy friend. Simply adorable.
Love these bookends for kids? Chances are your other auntie friends will too. Don't forget to share, like, pin or tweet them out.