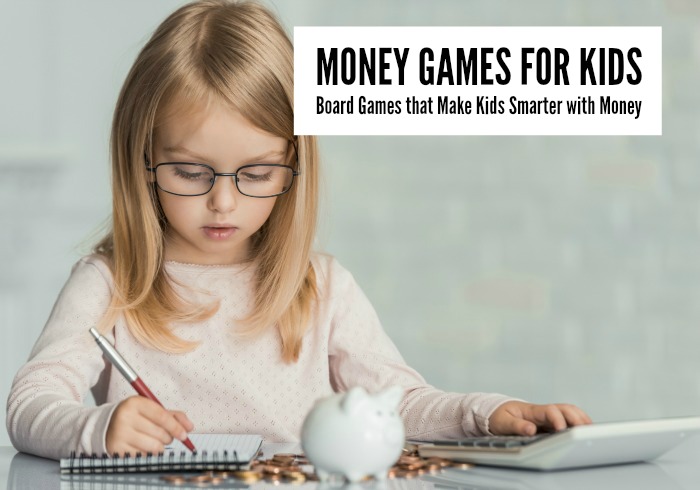 We all want our kids to grow up being financially independent, so as a parent/caregiver we have a huge responsibility to educate them about money matters from an early age.
Not just the consequences of over spending, but how to make money, save it and budget it too.
But how do you do all of that in a way that your kids will appreciate and relate to?
Why make it a game of course!
Did you know there are some pretty awesome money games for kids on the market?
Tis' true and I outline 5 top rated money board games for kids below. Check these out.
 Money Games for Kids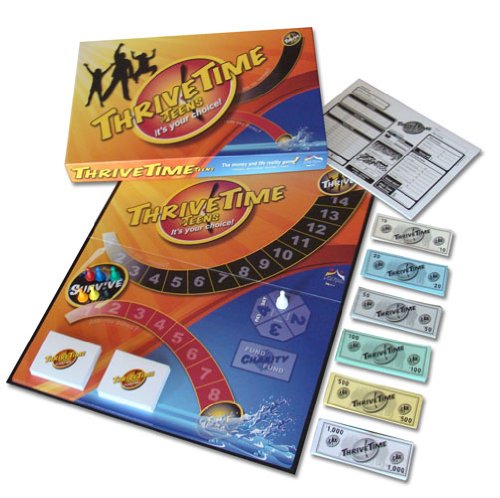 1. ThriveTime for Teens Board Game
ThriveTime for Teens is a game designed for teenagers that gets them thinking about how money works in the 'real world'.
Each player takes on the role of a high school student working a part time job.
There are various financial challenges to be faced along the way such as earning enough to pay their own way through college, deciding on how to finance a new car, whether or not to take out a credit card and so on.
Players win points based on the decisions they make. Good financial decisions are rewarded by moving up in the game. Poor decisions leave them stagnant.
Great Money Games for Kids Because: It gets your kids thinking hard about the real life financial decisions they'll have to face one day. Start planting the seeds of financial responsibility before they get to college.
Recommended age: 13 years and up but there's no reason why younger kids can't enjoy this too.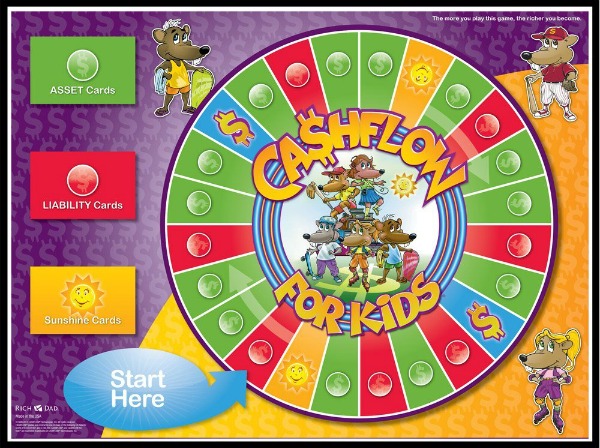 2. Cashflow for Kids
If you've heard of a book called 'Rich Dad Poor Dad', then you'll be familiar with it's author, Robert Kiyosaki.
This guy is responsible for inspiring millions of people to lead improved financial lives, so you'd better believe this board game will have a massive impact of your kids.
Cashflow for Kids is a fun 6 player game that teaches fundamental principals on how to increase wealth. Your kids will learn the difference between assets and liabilities which will help them make better choices when it comes to managing their money.
Want your kids to get a great financial education, learn the value of financial investment and how to budget like a boss? Then this is a game you shouldn't ignore.
Great Money Games for Kids Because: It encourages an entrepreneurial approach to money, promoting financial independence and providing life lessons on how to avoid the common money mistakes that so many people make when they're young.
Recommended age: 6 years old and up.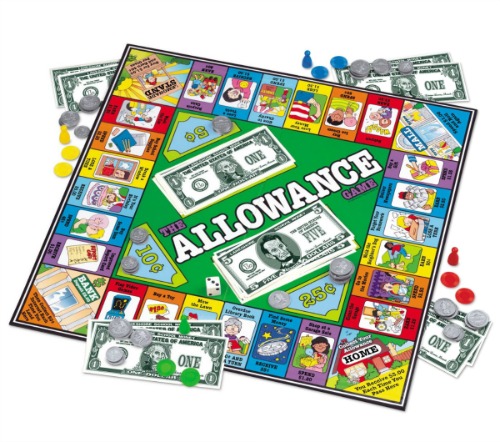 3. The Allowance Game
This is a 2 – 4 player money and savings board game that provides a concrete lesson on how to budget.
As with the other games mentioned here, The Allowance Game draws on real world examples to teach kids about the consequences of their money decisions.
Each player is given an allowance at the start of the game and they participate in various money activities as they make their way through the game.
They get to choose whether to save the money, spend it or do things like chores to earn a little extra. Players can also lose money at any time, for example, spending money on stuff at the mall or being penalized for failing to complete their homework.
The player who manages to save $20 by the end of the game is the winner.
Great Money Games for Kids Because: Kids quickly work out that it's far better to do things that will increase their allowance, as opposed to reducing it.
Recommended age: 5 to 11 years old.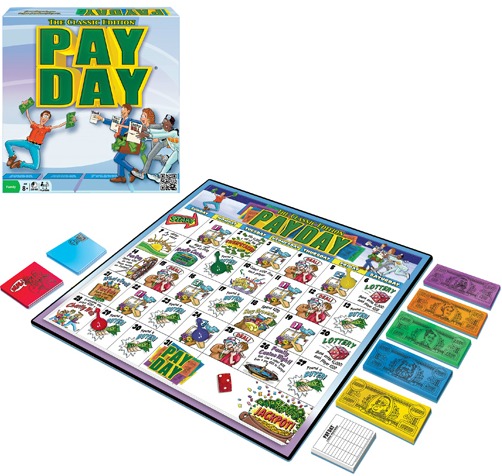 4. Pay Day Board Game
If you're a child of the 70s you may well remember the Pay Day Board Game. As with all good classics, the makers have brought back an updated version of the game.
Pay Day mimics the real life pay cycle. Players start with a calender months worth of salary and have to manage their money until the next time they get paid.
Kids get to experience first hand just how money works. Sure money comes in, but it can also go out just as quickly.
Each game player learns how to juggle bills and pay expenses. They also get the opportunity to make deals and take out loans if they're struggling.
But of course we all know the consequences of taking out loans and your kids will soon learn this too, when they realise those loans need to be paid back… with interest.
It's a race to keep their heads above water and the player with the least amount of debt by the end of the game wins.
Great Money Games for Kids Because: Kids will gain a real world understanding of how to manage a monthly budget, they'll understand how loans work and they'll (hopefully) develop more of an appreciation for your purse or wallet too.
Recommended age: 8 years and up.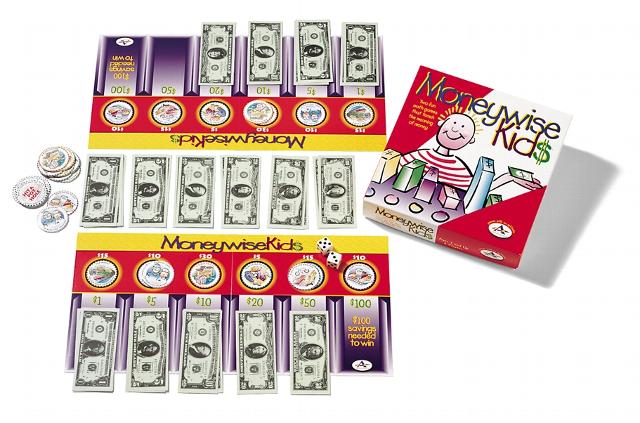 5. Moneywise Kids
Moneywise Kids is a 2 player game where each player takes it in turns to roll a dice and play.
This is actually 2 games in one – Bill Maker and Bill Breaker.
Bill Maker is all about making money. Kids earn a certain dollar value with each roll of the dice, so throw a 6 and a 3 and that equates to $9 in the pocket and so on. The first player to make it to $100 dollars wins.
Bill Breaker works in reverse. Each player starts with $100 but with each roll of the dice they get to choose a special marker which has the potential to lose them money. Markers are typically bills and expenses;  real world stuff like paying for food, buying clothing, paying medical bills etc.
In addition to all these bills flying about the place, each player has to continually save money as they go through the game. The one who ends with $100 in savings by the end of the game is the winner.
Great Money Games for Kids Because: Your child will learn the value of the dollar, how to handle money (in units of $1 to $100), how to save, budget, make change and count. Super relevant real world money matters.
Recommended age: 7 years and up.