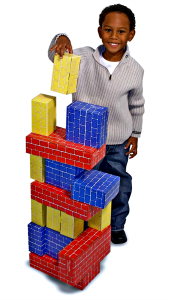 Melissa and Doug cardboard blocks are a safe and fun way of encouraging your child's development through block play.
The blocks are strong and durable, but because they're made from a reinforced cardboard, they're extremely lightweight as well as easy to clean.
Here's a range of Melissa and Doug cardboard building blocks that'll keep your little one(s) occupied for hours.
If you're a fan of the Melissa and Doug toy range you won't be disappointed with these brightly colored building blocks.
Let's go check them out!
 Melissa & Doug Deluxe Jumbo Cardboard Blocks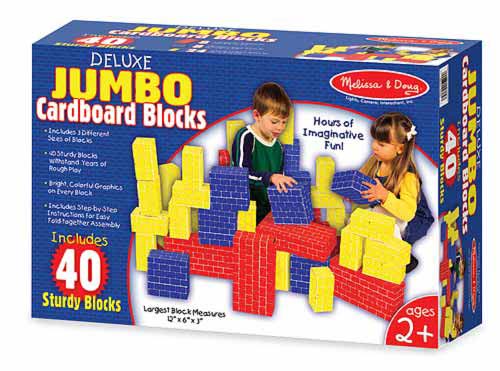 A 40-piece block set that'll have your child happily losing him or herself in construction and creative play.
This brightly colored set consists of 24 yellow 6″x3″x3″ bricks (small), 8 blue 6″x6″x3″ bricks (medium) and 8 red 12″x6″x3″ (large bricks), which are made from toughened cardboard. They'll cope extremely well with any rough and tumble play your child wishes to bestow.
Your kids can sit or stand on them, in fact the large red bricks will safely withstand weight up to 150lbs.
The blocks in this set come flat packed so you'll have to assemble them yourself, but they're really quick and easy to put together.
There are also different sized sets available too. The 24-pc basic cardboard block set is just as much much fun, but if you have a small play area, this pack may be a better option for you.
If space is no object, then I'd recommend going for the Melissa & Doug Deluxe 60-pc Jumbo Block Set, as the extra pieces represent greater value for money as well as bigger builds for the kids.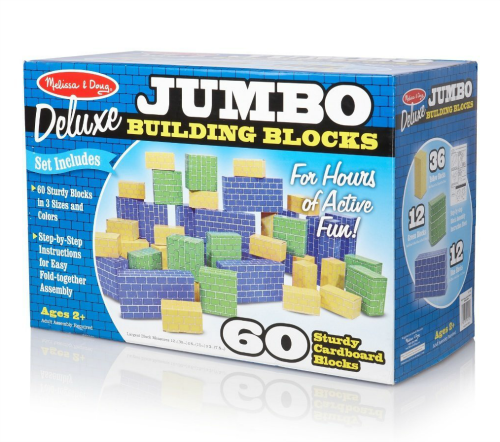 The colors of the bricks in this set are different, but they're still made from the same heavy grade premium cardboard and include: 36 yellow 6″x3″x3″ bricks (small), 12 green 6″x6″x3″(medium) and 12 purple 12″x6″x3″ bricks (large).
Melissa & Doug Deluxe 10-pc Alphabet Nesting and Stacking Blocks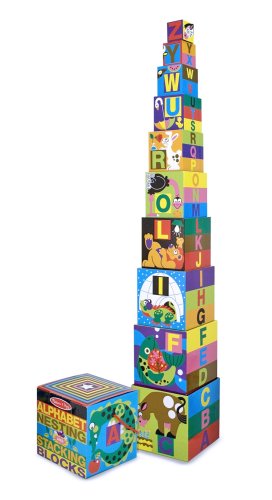 Each of the 10 heavy grade cardboard blocks in this set are decorated with brightly colored pictures of animals and other objects that will be familiar to your child and illustrate each of the letters of the alphabet. When stacked the blocks form a vibrant tower, just under 3ft tall!
The set comes with its own storage case and, like all the other blocks on this page, is suitable for children aged 2 years and up.
A great set for block play as well as learning about ABCs, counting, colors and animal recognition.
OK, over to you now. Do you own any of these Melissa and Doug cardboard blocks? What's the most creative thing your child has built during block play?