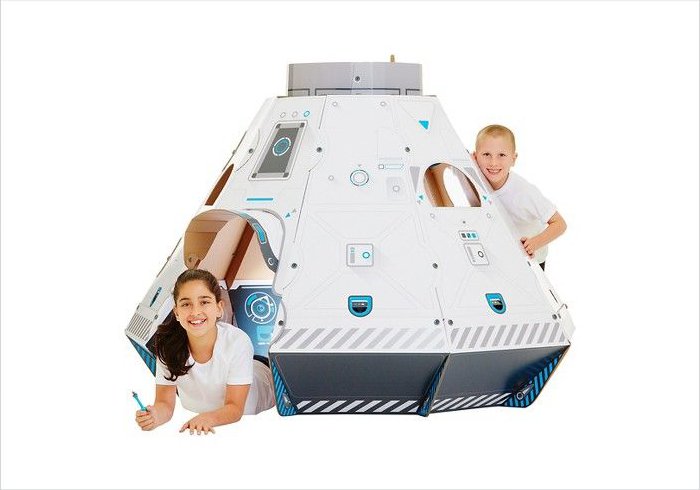 Ever thought how cool it would be to build a spaceship for the kiddos? Out of cardboard? Well, you could get busy by rounding up a load of cardboard boxes and start DIYing from scratch.
Or you could take the easier route and 'cheat' with a spacecraft themed Makedo Kit.
Makedo's Cardboard Space Pod Kit
What does this kit give you over just taking the regular DIY route? In word, convenience. No having to horde random cardboard cast offs or mess around with tape, scissors or even paint for that matter. You get everything you need to make the coolest, baddest spaceship ever, in one over-sized package.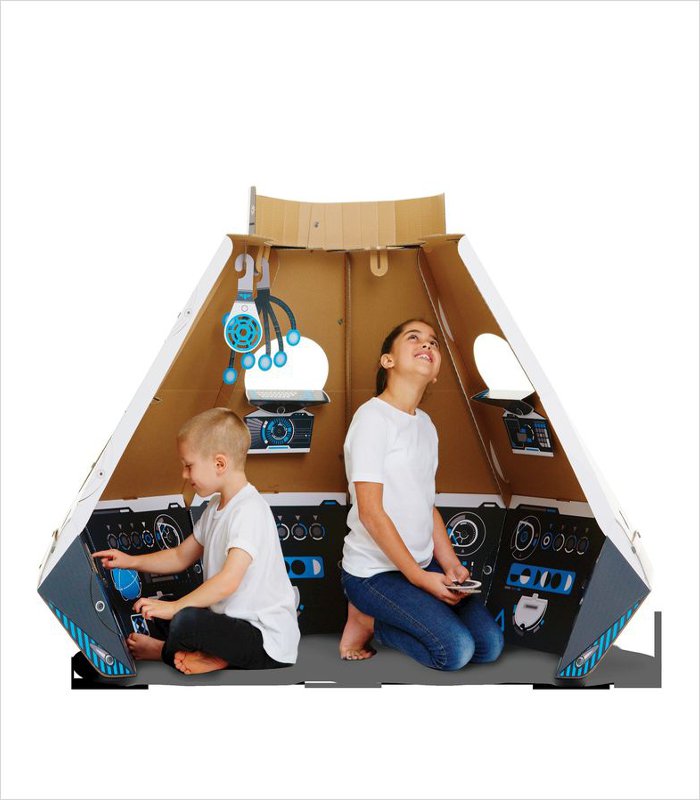 Open up the box and you'll find 55 pre-cut cardboard panels with printed graphics that capture the look and feel of a real spacecraft. Both inside and out. The cockpit has moving dials and removable accessories, as well as an assortment of printed buttons and sliders.
Really, the detail on this thing is immense, further adding to the enjoyment for your mini astronaut as they propel the pretend ship into unknown galaxies.
The space pod is 4ft tall, which doesn't leave a lot of standing room, but the kids should be happy enough sat cross legged while they man the controls. And besides, squeezing into such a small space will help them develop awareness of their surroundings and boundaries. So all in all, a good thing.
If you're wondering about how assembling this thing works, it's pretty straightforward. You connect the cardboard panels with plastic screws that are provided in the pack. There's 73 of them. Plus you get two special screwdrivers as part of the kit.
Expect around an hour or so to finish the build, then sit back and marvel as the kids prepare to blast off into space.
Look. Here's one that was made earlier:

Video: How to build a the Makedo Space Pod
Now here's what's really cool about this Makedo kit. The building fun doesn't stop with this space pod.
The special tool pack (the one you get in the box) can be used to construct different creations with everyday items found in the home. These tools will work with materials of different thicknesses from a flimsy piece of aluminum foil to something as tough as plastic.
Junk that was once only fit for the trash can becomes fair game for the creation of yet another imaginative building project. The kids get to learn about the importance recycling and the environment in the process.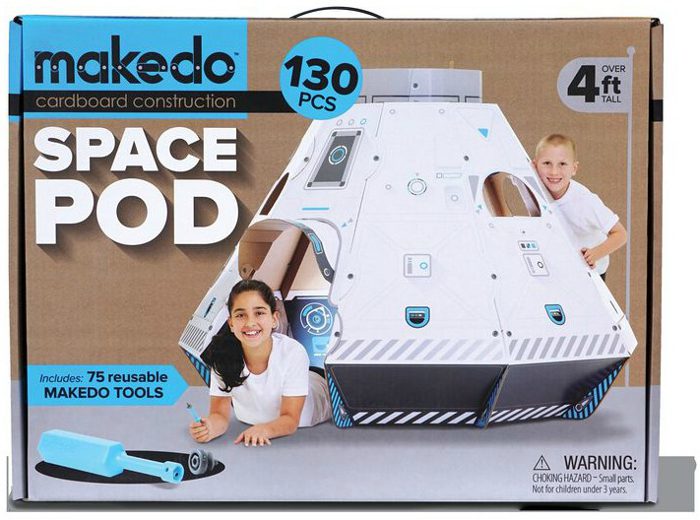 The Makedo Space Pod is a fun construction kit which gets kids collaborating, solving problems and indulging in imaginative play. It's aimed at kids aged 6 and up and, as of now, is exclusively available at Target.