It's probably safe to say that most of us played with dollhouses when were little.
They felt so grand, so realistic, and although you could shift the furniture around, you never had much of a say over the fixed features like the walls, number of rooms or floors.
But imagine if you could've built, designed and then re-designed the structure of your dollhouse the way you wanted to. Over and over again.
The magnetic dollhouse kits by Build & Imagine make this possible in the coolest way.
Magnetic Dollhouse Kits
If you crossed a dollhouse with building blocks and dress-up dolls, you'd have a Build & Imagine kit.
These unique kits were created by Laurie Peterson, an award-winning toy designer and dedicated mom who wanted to design a construction toy for girls that wasn't all pink packaging and girlie fluff. What Laurie ended up with was a toy that not only appealed to the 'builder' in girls, but a plaything for creative boys too.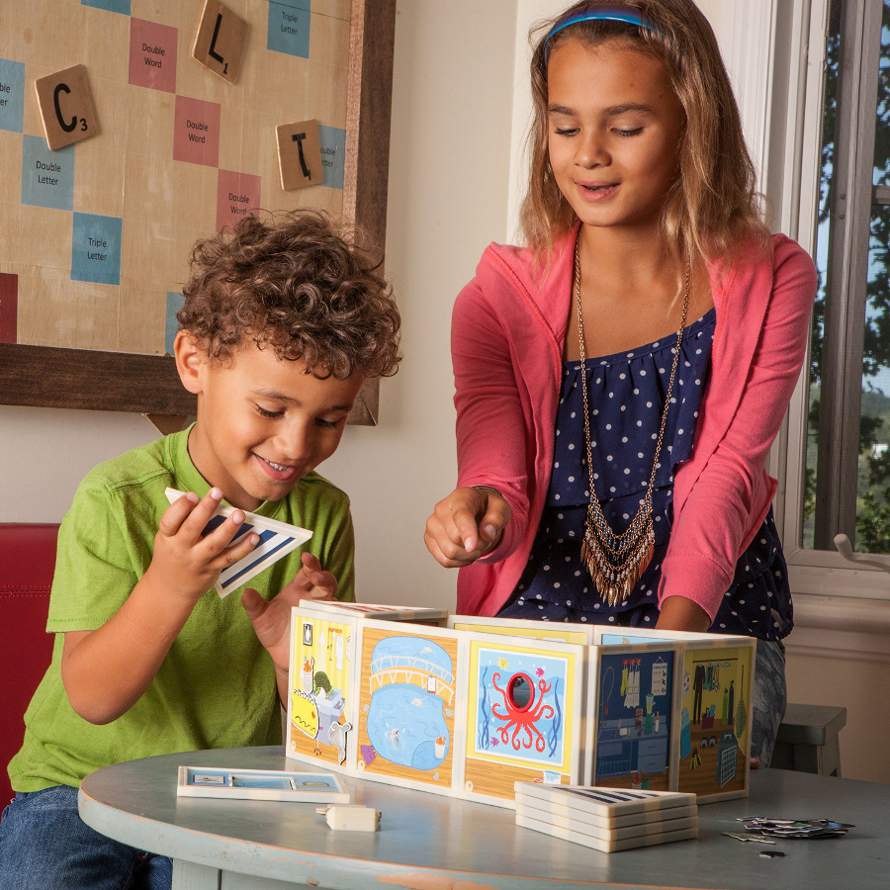 Unlike other popular construction kits such as Lego, these magnetic dollhouse kits have illustrated scenes that snap together to create the backdrop for imaginative play. With this, little ones can build and decorate their own scenes or StoryWalls; creating and re-creating different scenarios with great gusto. They can even combine multiple play sets to extend their stories.
The cool thing is, they're not just playing with a dollhouse. They're getting an early lesson in basic engineering and architecture, as well as developing problem-solving skills as they build.
Designed for kids aged 4 to 8 years old, the sets include the cutest little character dolls and dozens of accessories to help bring each play scene to life. It's like a miniature Hollywood movie set.
There are currently 4 magnetic dollhouse kits in the collection, all of which are available at Amazon.com.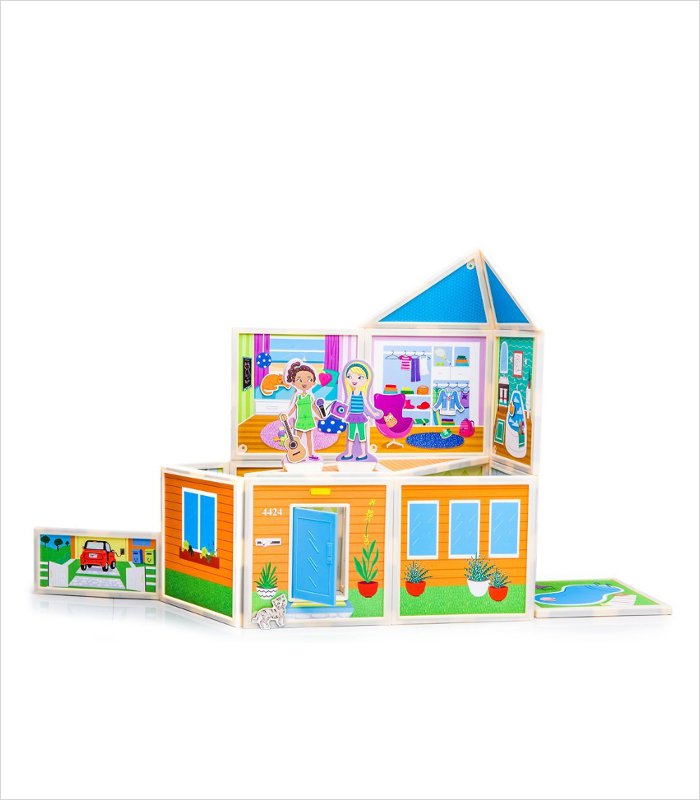 1. Malia's Beach House Dollhouse Kit: Fun at the beach with Malia and Skyler. These guys are all set to make their doll neighbors green with envy, with a swimming pool in the backyard and a stunning garden to lounge in. This set has over 40 magnetic accessories.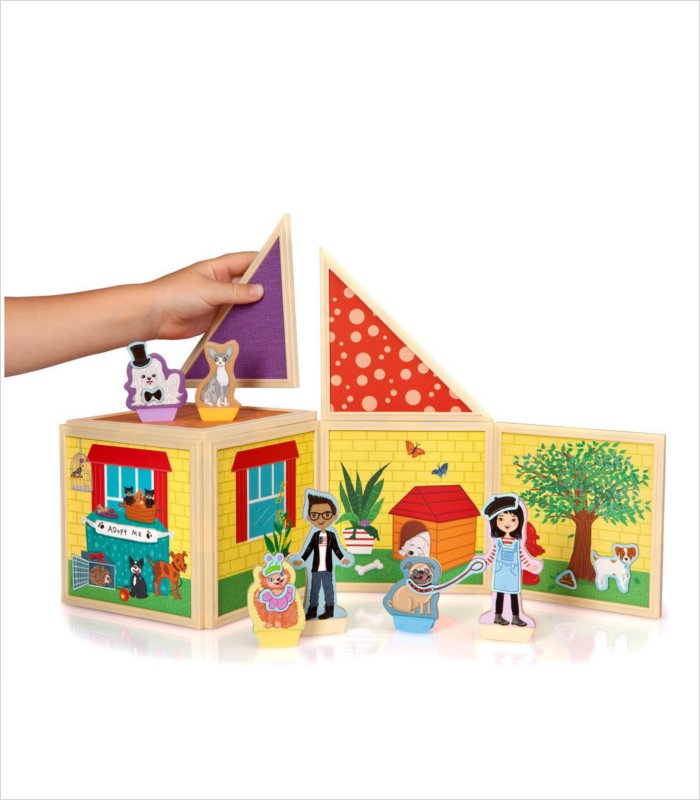 2. Pet Portrait Studio Dollhouse: Keep Anna and Ethan busy by dressing up their pets with clothes and other accessories for their photo shoot. This set includes a painter's studio, photo lab as well as a grooming station.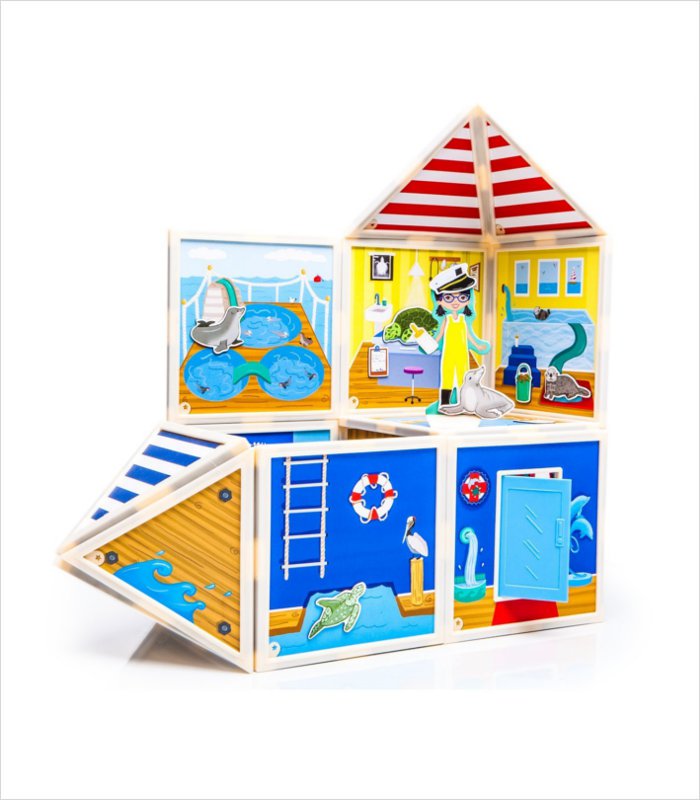 3. Marine Rescue Center Magnetic Kit: Help Thea rescue dolphins in distress. She's got a jet ski and all the latest rescue gear. Then nurse the marine animals back to health in the operating room and dolphin pool. As a bonus, the entire rescue center transforms into a cool rescue ship for whales and other large sea creatures.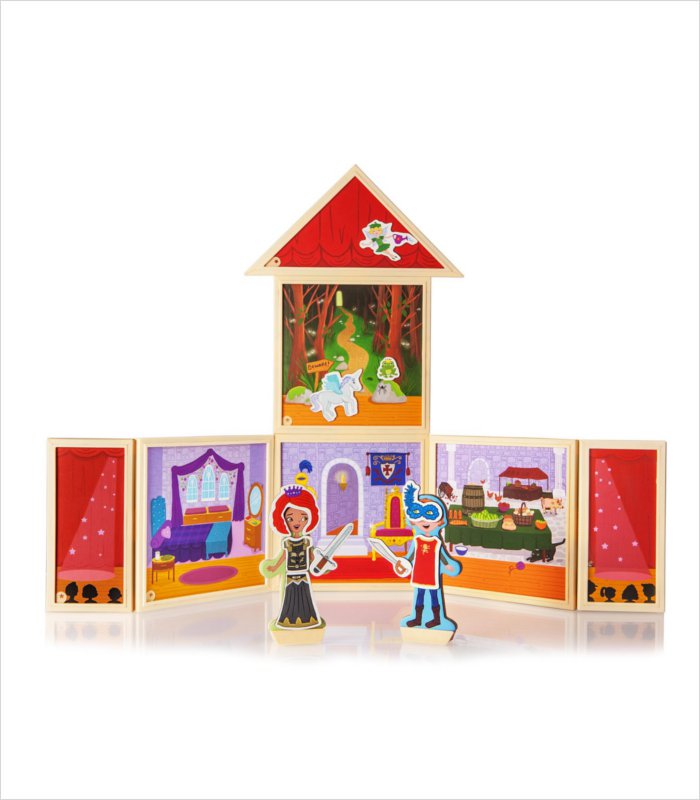 4. Fairytale Theater Dollhouse Kit: Hang out with a prince and princess as they hunt for lost treasure in a spooky forest or travel to a pirate cove. Act out classic fairy tales or create your own adventure with 50 magnetic accessories including swords and other armory. There's even a sorcerer's wand.
These Build & Imagine dollhouse sets have won the The National Parenting Seal of Approval and the Dr. Toys 'Best Classics' Award along with a few other accolades. And it's easy to understand why.
The kits were built to make playtime not only fun, but easier too. The illustrated scenes are collapsible and can be stacked flat. They're a cinch to move from room to room or even take on a road trip. Try doing that with one of those bulky traditional dollhouses.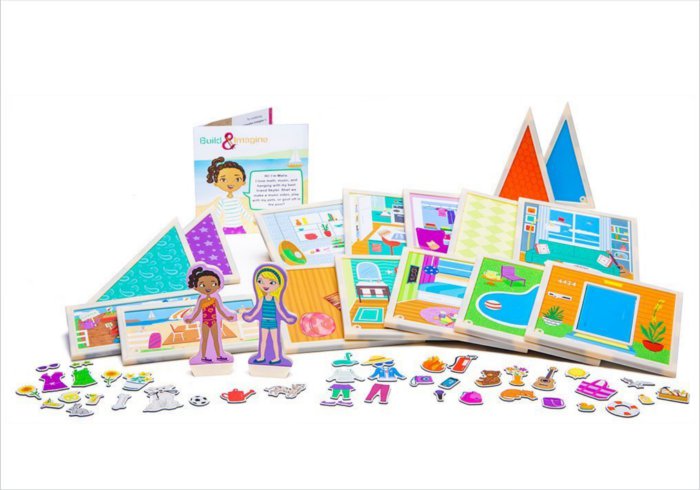 The dolls and accessories that come with each kit are sturdy. The StoryWalls are made from wood with magnets encased in the plastic frame, making it simple for kids to quickly and easily rebuild the structure into whatever design they want.
The colorful illustrations are gorgeous. And you may be thinking that there's absolutely no way these pretty kits will withstand the assault of jello-stained fingers and blackcurrant juice spills (which you know will most certainly happen).
But, the panels are coated with a protective layer. Even if your littles do have a few accidents while they play, you can wipe everything clean.
And that's the beauty of these magnetic dollhouse kits. They're low maintenance. Got to love that! Well, that and the fact the kiddos will get hours and hours of open ended play value as they build and invent their own stories.