Hey avid toy fans, I recently received news of a new electronic learning toy heading our way from LeapFrog. It's called the LeapReader, it's designed for children between the ages of 4 to 8 and is a revolutionary educational toy that will put the fun into teaching your child to read and write.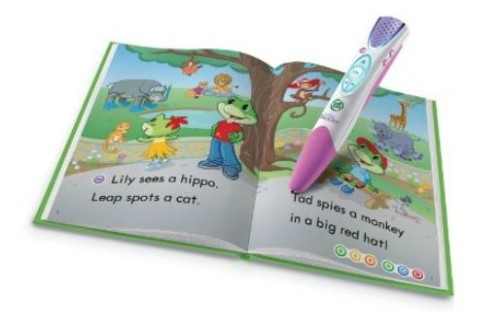 The LeapReader pretty much looks like an oversized pen, but it's actually an electronic stylus. Children touch the stylus to letters, words or sentences in the accompanying audio book and the device phonetically reads them out loud.
LeapFrog do already have a similar product, the LeapFrog Tag Reading System, but this is soon to be retired and replaced by the LeapReader. This upgraded model has a really cool interactive writing feature which takes the LeapReader to the next level in terms of developing literacy skills in kids.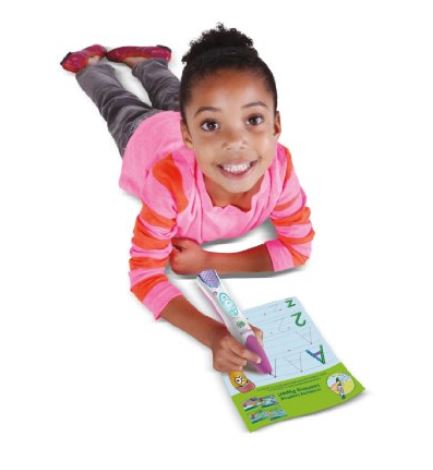 The reader guides children through the process of writing out the letters of the alphabet. Kids will learn how to produce the correct stroke for each letter as well as how to write in both upper and lower cases; greatly speeding up their letter recognition and writing ability. And if you're concerned that your kids will use the pen for re-decorating your home, don't be. The pen will only work with the interactive writing pad which comes with the reader.
This new LeapFrog device is totally compatible with the audio books from the Leapfrog Tag Reading System. So If you've already purchased the original device, you can simply upgrade to the LeapReader without having to replace the existing books, music, games or apps.
Here's the LeapFrog LeapReader in action:
So far, the LeapReader looks like a great addition to the LeapFrog family. It's a smart multimedia device with built in speakers, a headphone jack (very important for parental sanity) and a USB port to allow for the easy downloading of up to 150 learning tools such as flashcards and maps. With a memory capacity of 256MB, there's loads of room to store your child's favorite games and songs, as the reader will hold either 40 audio books or 175 songs.
The LeapFrog LeapReader is currently available for sale at Amazon.com, so be sure to head on over there to check it out.
Do you think the LeapFrog LeapReader will make teaching your child to read more fun? Do leave a note in the comments box below to let me know. And don't forget to share this article with friends and family!