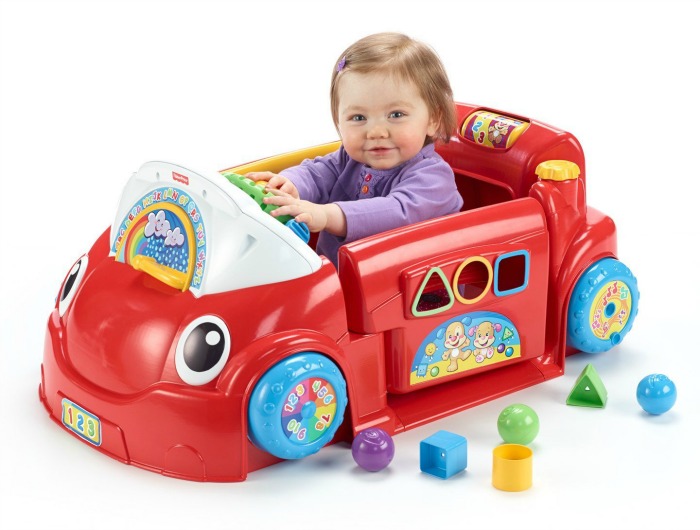 The Laugh & Learn Crawl Around Car: Fun for Babies and Toddlers
Now isn't this bright red kiddies car about the cutest, dinkiest thing you've ever seen?
The Laugh & Learn Crawl Around Car offers three modes of entertainment: pretend play, traditional learning and music.
Small children love to imitate and this toy allows your little ones to experience what it's like to be behind the wheel of car, without the dangers associated with being in a real car.
Babies and toddlers can easily open and close doors, turn the key in the ignition, steer the wheel, shift the gears, work the windscreen wipers and toot the horn from an interactive dashboard that lights up.
With over 75 sing along songs and tunes, you've practically got a built in entertainment center that will hold the attention of your baby or toddler whilst they play.
The traditional learning mode is where your kids have fun pushing different shaped objects through the integrated shape sorter, learning different colors, numbers, words, phrases and common greetings.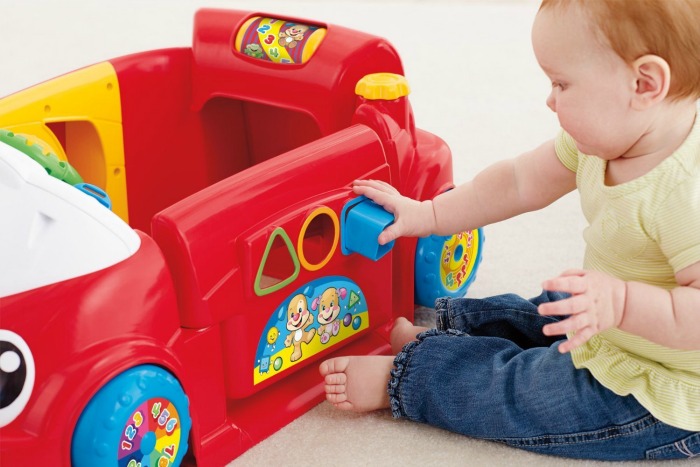 What's Cool About The Laugh & Learn Crawl Around Car?
Apart from the fact that it's actually a full on activity center for kids, the Laugh and Learn Crawl Around Car is highly educational and encourages the development of;
gross motor skills
hand eye coordination
color and shape recognition
imaginative play
language development
This toy car is versatile enough to keep a 6 month old amused whilst appealing to toddlers up to the age of 36 months old.
Whether you're buying for a boy or girl, they'll get a real kick out of this.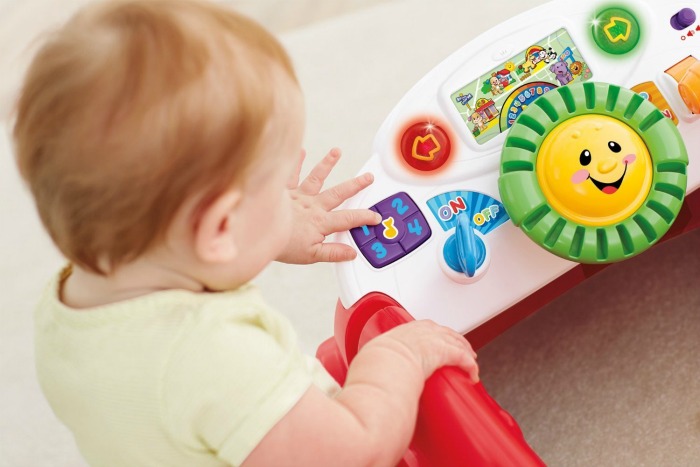 Things to Consider Before You Buy
As with most electronic toys for kids, there's no off button. Unless you take the batteries out of course.
But you wouldn't really want to do that now… would you?
Speaking of which you'll need 3 AA batteries. Unfortunately Fisher Price don't supply these with the toy car so you'll need to remember to buy those separately.
Take heed – this Learn and Crawl Car WILL get used a lot, so you may want to consider investing in a set of batteries you can recharge. Amazon sell rechargeable batteries at pretty reasonable prices.
A responsible adult will need to assemble the car but it takes on average 20 to 30 minutes to put it together.
What you might want to do, especially if you have impatient kids (who doesn't?) is assemble this BEFORE they feast their eyes on it. Then it's happy days for everyone.
Oh and one last thing, there is no 'bottom' to this car. Meaning that your baby or toddler is actually sat on the floor whilst 'riding' the car. There's no seating or internal support so be sure your little one can sit up unattended before you make your purchase.