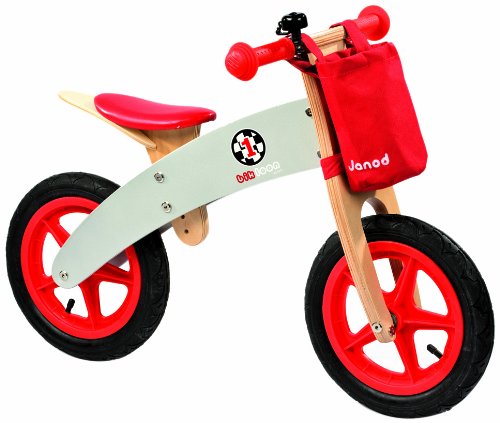 Balance bikes for toddlers make learning how to ride a bike a whole lot easier.
With a starter bike like this, your toddler gets to focus on the most important thing… how NOT to fall off a bike.
Once they've mastered the balancing bit, learning to how to peddle and steer… well, that's a cinch!
So if you're looking for a gift for a child who's about ready to take to the handle bars, then this Janod Balance Bike is something that would be well appreciated.
What's Cool About the Janod Balance Bike?
This solid wood balance bike is not only very well made and sturdy, it looks pretty stylish too.
With it's bold red and black color scheme, it appeals to boys and girls alike.
If you're thinking that your little one will need a certain degree of lower body strength to work this bike, think again.
This is one toddler balance bike that is extremely lightweight, making it easy for a little riders to use with confidence.
The rubber handles of the bike make it easy to grip and the cushioned seat is height adjustable (adjusts from 44cm to 56cm) for a more comfortable ride.
The tyres inflate just like the tyres on a regular bike, giving it a consistent overall look and feel.
And let's not forget the accessories that come with this bike. There's a bell and a detachable bag which is handy for carrying toys, snacks or other bits and pieces.
As far as balance bikes for toddlers go, I'd say this Janod Bike looks like a pretty good gift choice.
Things to Consider Before You Buy
Alas, no matter how cool this bike is, it has it's limits. It'll only ever be a learning tool.
So, unlike bikes with training wheels and peddles, you won't have the option to transform it into a regular bike later down the line.
Still, this Janod bike is a good investment if you want your toddler to develop speed and confidence quickly and safely.
Suitable for ages 2 years old and up.