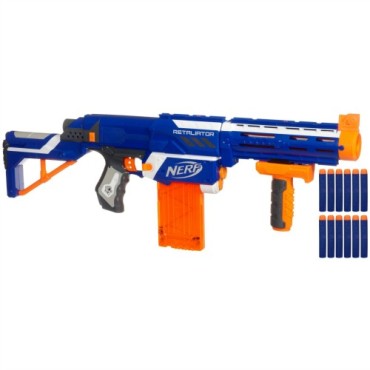 Every now and then I get people asking me about whether Nerf toys really do make good kids gifts, so I've rustled up a quick beginners guide to all nerf guns and toys… as well as a few accessories too.
Nerf guns first came on to the scene in the late 1960s and since then have grown in popularity, with each year seeing something new emerge from Hasbro, the makers of the Nerf toy range.
In the 21st century we saw the release of Nerf iPhone apps, music videos and wireless game controllers.
The love of all things Nerf continues to go from strength to strength.
They really are super cool toys that also encourage pretend play which is important for developing social skills and communication. Above all else, Nerf toys are just a whole lot of fun!
Kids love them and so do adults, but if you're new to the range and not sure where to start when it comes to picking out a Nerf toy, then this guide is for you.
Silly video of adults having fun with Nerf guns:
All Nerf Guns and Toys
With Nerf guns you're getting a toy which is safe to play with both indoors as well as outdoors.
The darts, arrows and balls that come with the Nerfs are all made from polyurethane foam, so there's no risk injury to anyone playing with them.
Nerf  Gun and Toys for Older Kids
Super Soakers:
These aren't just squirt guns that shoot a drizzle of water, these really do get you super soaked!
Super Soakers started out as water guns with a large reservoir and hand pump action that made the stream come out faster and reach longer distances.
Now, these battery powered Nerf guns come with separate water clips, so you never have to worry about pumping or losing pressure.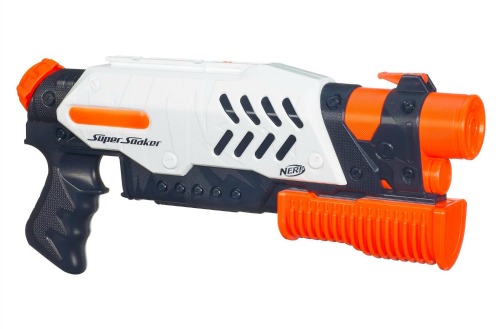 NERF Guns/Bows and Arrows:
The Nerf gun collection has something for everyone. They have pistol sized guns that shoot foam darts, discs or balls, bazooka-sized guns and every size in between.
You can also buy extra ammo and ammo holders in the form of vests, clips, slings bags and boxes. For more accuracy, targets are also sold separately.
Nerf also has a small line of archery sets, which include the newly released Rebelle Heartbreaker Bow, designed specifically for girls which is expected to be hugely popular for Christmas 2013.
Mods:
Although NERF does not recommend this, their guns can be modified to shoot faster and longer than models right off the shelf.
In order to modify them, kids can follow youtube videos and use simple tools such as springs, tape, epoxy, a Phillips head screwdriver, PVC pipe and silicone grease.
Modifications can be anything from re-barreling the gun to increasing spring tension for longer shots.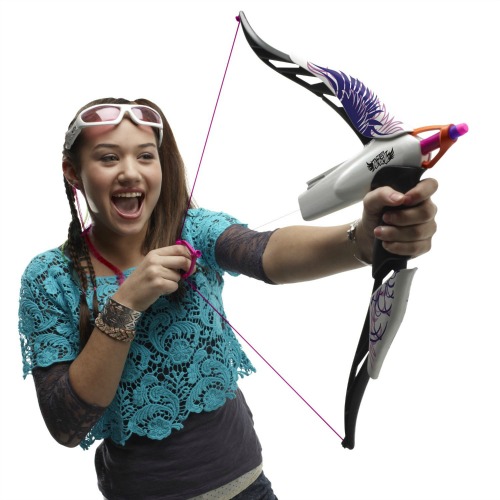 Nerf Toys for Younger Kids

NERF Sports:
Younger children always want to join the "big kids" when playing sports.
Fortunately, Nerf footballs and basketballs are made of a softer material that is easier to catch and a lot less painful when receiving a throw to the face.

Little Warriors:
Even babies get a kick out of Nerf toys. They have small foam mallets, hatches, axes, swords and shields that can make hand to hand combat a little less violent.
The weapons are all lightweight and perfect for small-sized gladiator hands.
Cool Nerf Accessories
Nerf Clothing:
To complete the NERF look, the company also offers shirts and sunglasses in a wide variety of sizes to fit the most avid NERF fanatic.
Training shirts have targeted zones where darts will stick and "official" shirts have those same areas more defined.
Nerf Game Controls:
These wireless controls for Playstation game consoles can absorb damage if dropped during game play.
And there you have it, a quick fire guide to all Nerf guns and toys. All you need to do now is decide which one will make the best gift option for the girl or boy you're buying for.