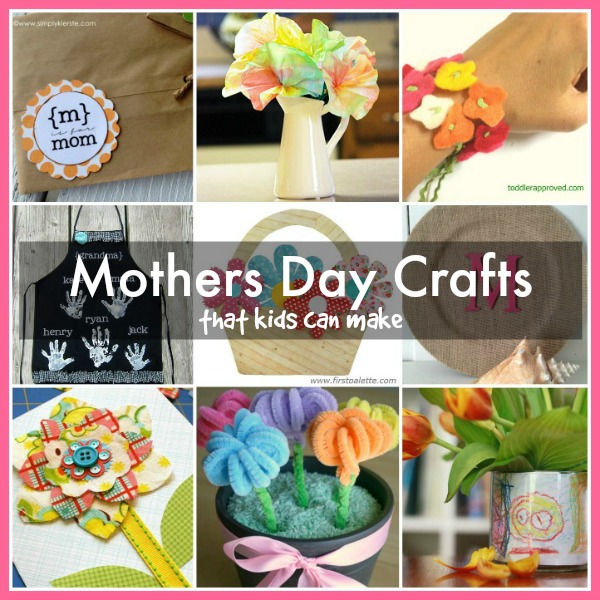 Out of all the Mothers Day gifts I've lavished on my mom over the years, guess which ones she appreciated the most?
Hands down she'd tell you that her favorite gifts were the handmade variety.
It didn't matter that most of the time it was hard for mom to work out what I'd actually created (I wasn't very artsy as a child).
What mattered was that I'd created with love. Just like this little selection of Mothers Day crafts for kids (except these are way better than my feeble attempts at crafting).
Enjoy 'em! Share them with your kids.
Paper Sack Mothers Day Card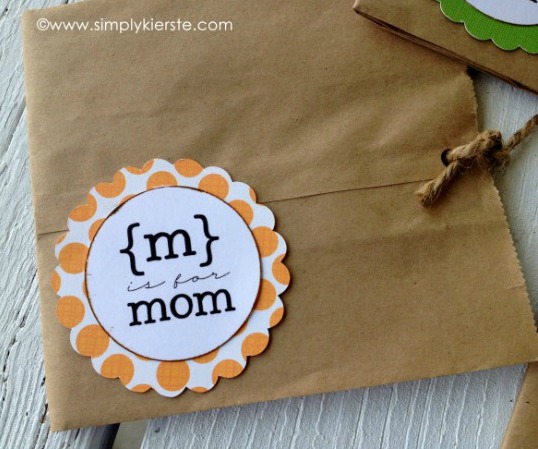 Here's a unique take on the classic Mothers Day Card brought to you by Simply Kierste. I love how stylish this paper sack looks. The fact that it's so easy make is an added bonus.
 Coffee Filter Flowers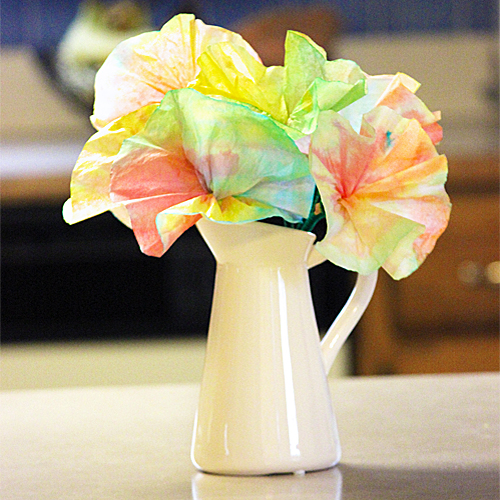 Instead of throwing out those old coffee filters why not have your kids transform them into colorful flowers for mothers day.
We Made That shows you just how easy it is to create something pretty out of everyday household items.
Mothers Day Pipe Cleaner Flower Bouquet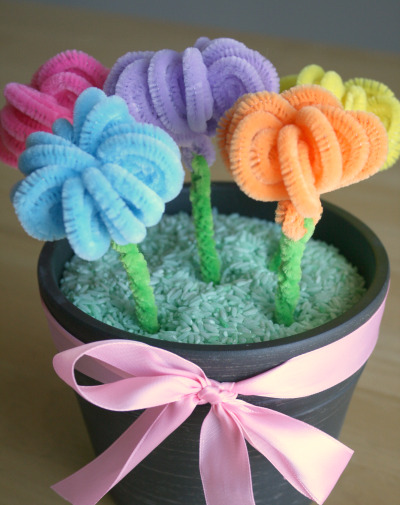 The things you can do with a few pipe cleaners, a decorative flower pot and a little bit of ribbon. Loving the simple elegance of this creation.
It's a super easy Mothers Day craft for the kids. Make and Takes has a great tutorial on how to make your own little flower bouquet.
Mothers Day Handprint Apron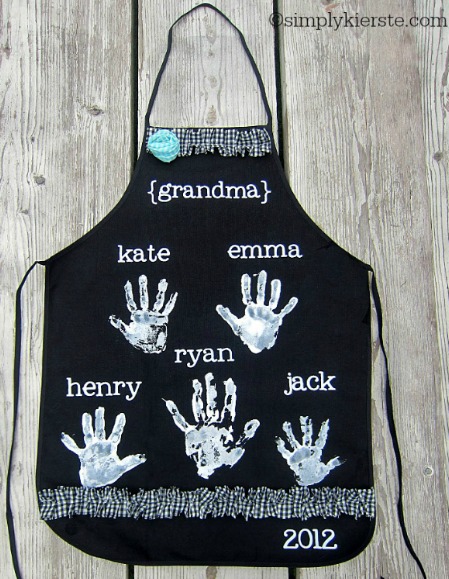 Yep, I snuck in another Mothers Day craft from Simply Kierste. This handprint apron is so cute I couldn't resist. A real keepsake that will have mom smiling every time she wears it.
Basket of Flowers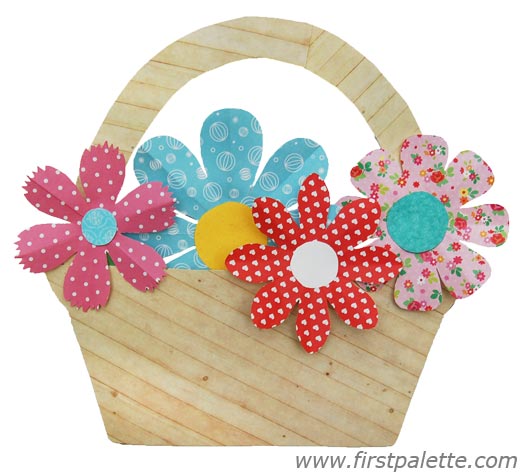 Mothers Day simply isn't Mothers Day without a big bunch of flowers. And this craft idea doesn't fail to disappoint.
You'll find a detailed step-by-step on this special Mothers Day craft idea over at First Palette.
Flowers on a String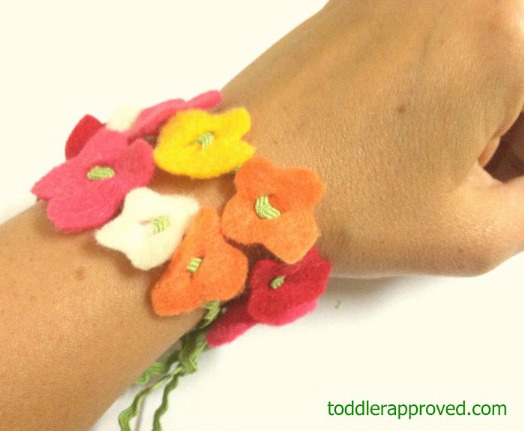 What a great way to use up those old bits of felt you have lying around the home. Make a bracelet or make a necklace; they're really simple to create.
Head on over to Toddler Approved to get all the details on how to make this.
 Monogram Plate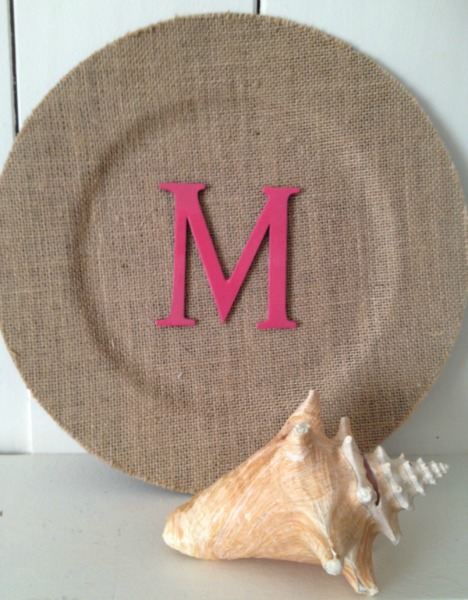 M is for mom. A Simple Mothers Day craft for kids by The Divine Miss Mommy that makes a real impact. This child friendly craft would look awesome in mom's display cabinet, don't you think?
Flower Card for Mom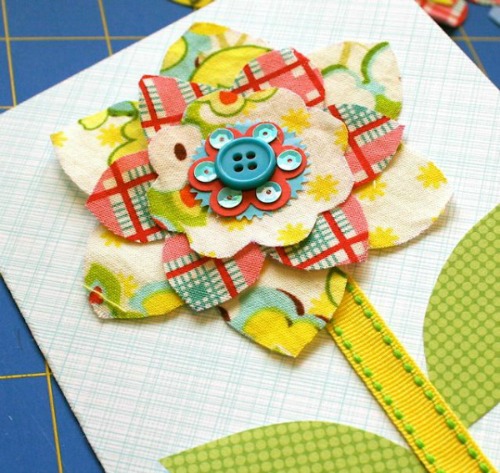 How striking is this handmade Mothers Day card?  Kids will love making this. It's a mad mix of brightly colored strips of textured fabric, making it truly distinctive so mom will love it too.
Mmm Crafts breaks down the steps beautifully in a great tutorial.
Children's Art Vase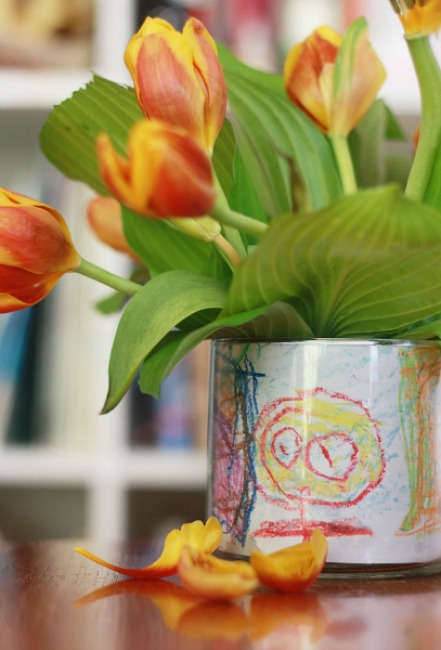 This is such a cute way to preserve those special paintings and drawings lovingly created by your kids – just turn them into a vase!
It's really not as difficult as you might think. Aunt Peaches shows you how.
Over to you
Do you have a favorite Mothers Day craft for kids? If so I'd love you to share it with me. Leave a comment below.