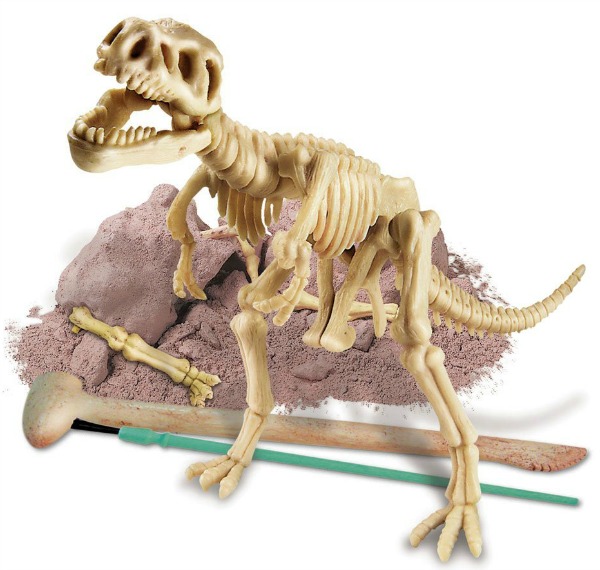 Not feeling this Tyrannosaurus Rex excavation kit?
Well there are other dinosaur skeleton kits to choose from like the woolly Mammoth skeleton or the Geosafari Triceratops.
They're such good value for money, that you may be tempted to collect them all.
Suitable for kids 8 years old and up but you could buy this for a younger child (over the age of 3) as long as they were supervised by an adult.
Think a child you know will dig (pun most definitely intended) this dinosaur skeleton toy?
Is your child curious about dinosaurs?
Do you want to get him or her something a little more mentally stimulating than the typical dino toys you've seen in the stores?
Then this, dig a dino T-Rex, is something you'll want to check out.
This dinosaur kit is, in essence, a box of bones and a chunk of dirt (a plaster block).
But the fun factor of 'unearthing' a pre-historic creature that lived over 65 million years ago, goes way beyond what's in the box.
T-Rex Excavation Kit: Fun Dinosaur Skeleton Toy for Kids
It's not just another model building kit.
It's an educational discovery toy which doubles as a fun science project.
It teaches children all about the wonders of palaeontology, offering them the chance to experience what it's like to do a 'real' archaeological dig.
Once all the bones have been successfully excavated from the plaster block, your child goes on to assemble the skeleton into of one of the greatest dinosaurs that ever lived… the Tyrannosaurus Rex.
Putting this T-Rex kit together is a fairly easy job.  There are twelve pieces in all and they pretty much snap into place, creating a sturdy and life like dinosaur skeleton.