According to my 7 year old nephew, this will be the first Halloween that he's actually going to be celebrating. He's dead excited.
You see, here in the UK, we don't do the Halloween thing the way our US buddies do. We're still playing catch up around these parts.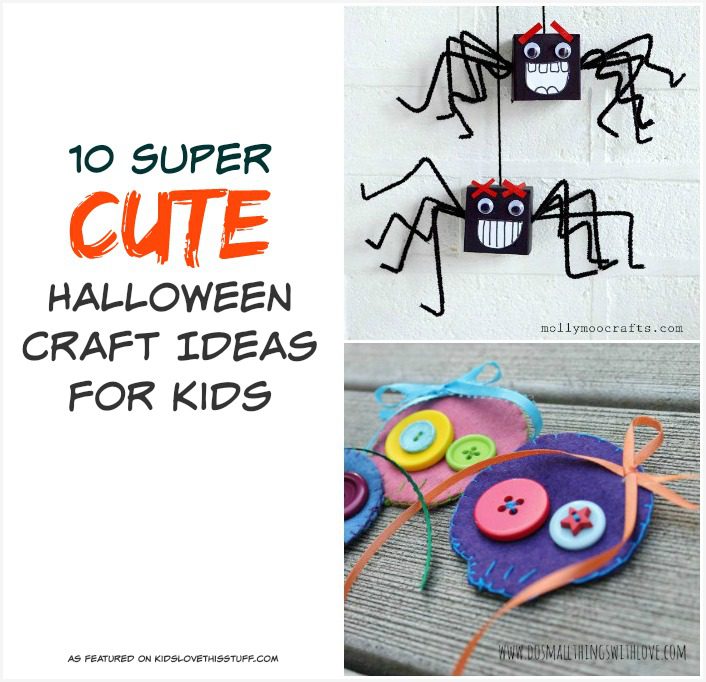 So to mark the up coming seasonal holiday, I've gathered some of the cutest Halloween craft ideas for kids (includes a few creepy spider crafts).
Not really a crafty person? Don't worry, I've gone for simplicity.
Ready to take a gander at my cool finds? Of course you are.
10 Totally Cute Halloween Craft Ideas for Kids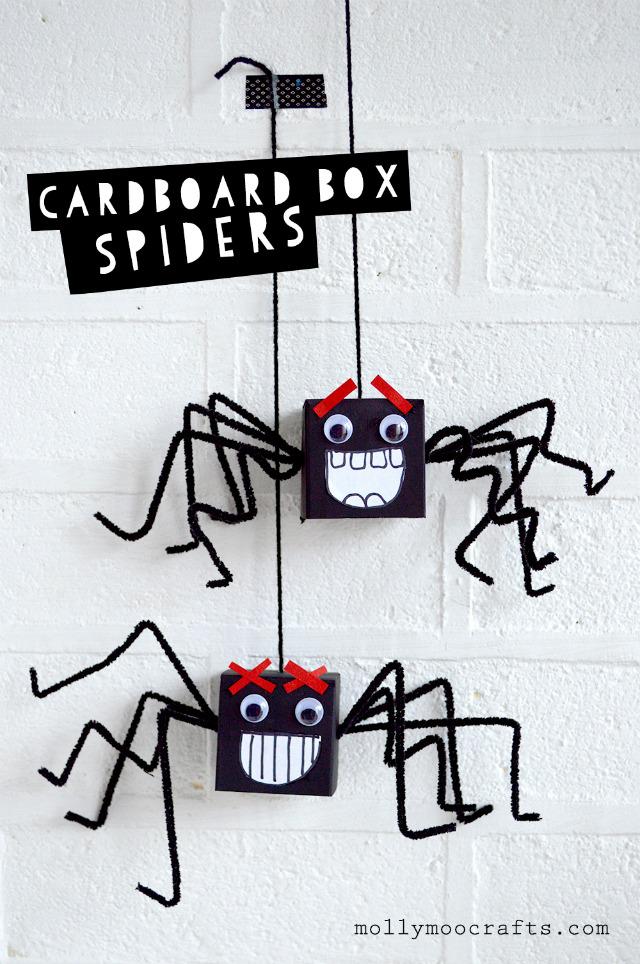 These little cardboard critters are cuuute, that's for sure. They're also an insanely easy Halloween craft for kids to make. The kiddos will have a whale of a time creating different facial expressions to go with their eight-legged friends. Want to give this a whirl? Grab the how-to over at Mollymoo Crafts.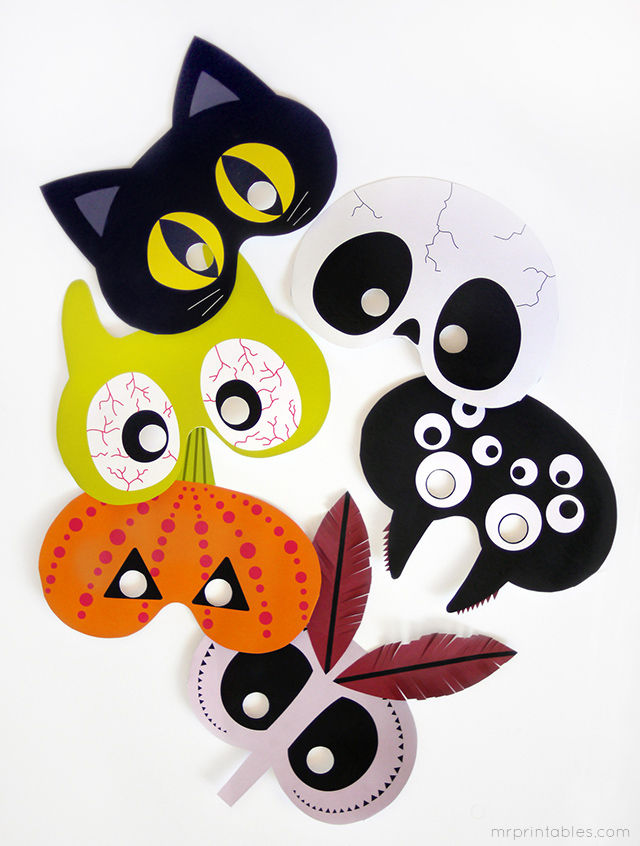 Aren't these just the most adorable DIY Halloween masks? The best bit – they're printables! As a nice little touch Mr Printables offers you a couple of options. You can either download the masks as is, or download plain versions of the masks and have the kids color them in.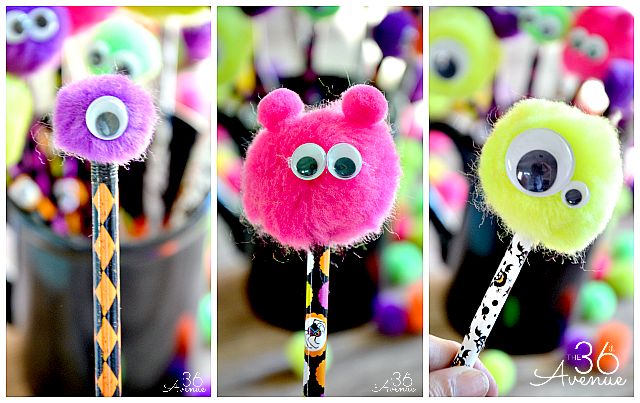 These googly-eyed monster pencil toppers are so sweet and so easy to make. Catch the tutorial over at The 36th Avenue.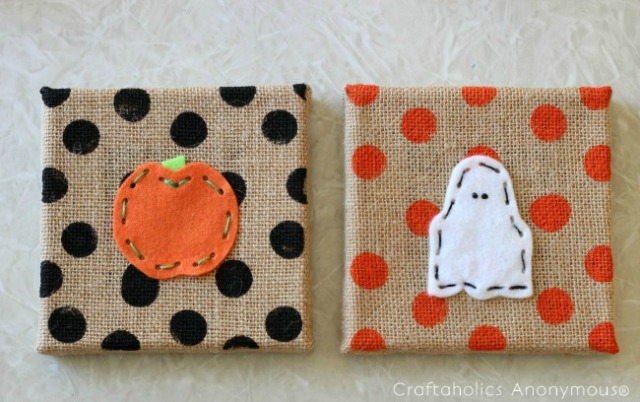 This Halloween lacing craft idea is a great way to introduce the little ones to the wonders of needlecraft. Linda over at Craftaholics Anonymous (love that name) breaks down all the steps  for you.
In need of a cute party game to keep the kids entertained at your Halloween shindig? With this cornhole Halloween party game, the fun starts with the making. Have the kids team together to create their own cornhole game. They'll get a kick out of it. You'll find the all the details of how to craft this over at the Tried and True Blog.
As far as cute Halloween craft ideas for kids go, these colorful skull brooches are pretty neat. Make them as a Halloween gift for the little ones, or get crafty with the older children. Take a stroll over to Do Small Things With Love for the step-by-step.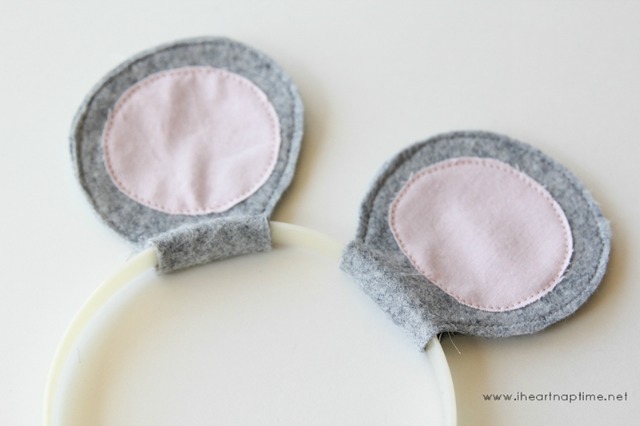 You don't need to go to the trouble of buying a Halloween headpiece, when you can just as easily make one for the kiddos… or get them to 'help' you make one.  I Heart Naptime has a great tutorial that will show you how to make a whole set of cute animal inspired headbands for Halloween.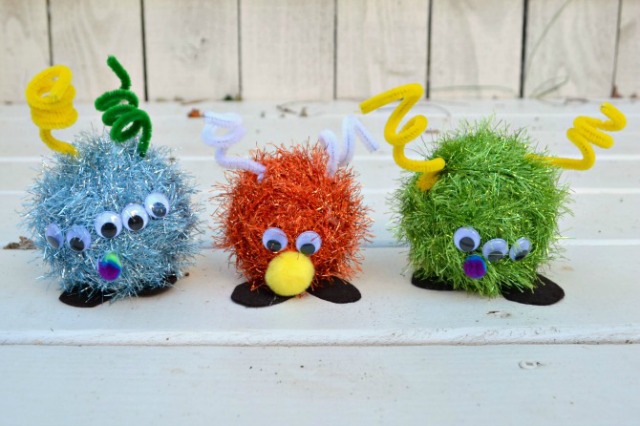 I don't know about you, but I have a bit of an impatient streak. That's why any Halloween craft idea that can be done in 15 minutes or less, is right up my street. Just like these crazy fuzzy monsters by One Artsy Mama. Love 'em!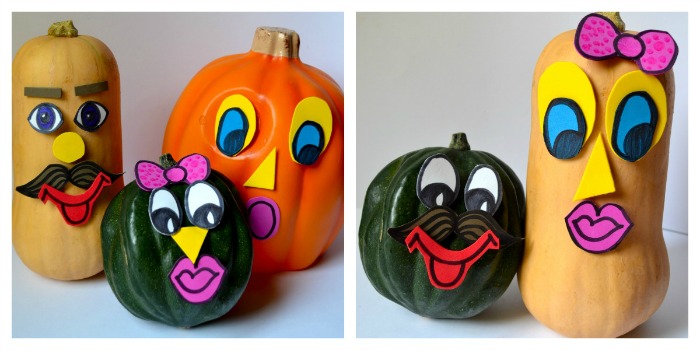 Have the kiddos make their very own Mr Pumpkin-Head (and family) in five very easy steps. Head (excuse the pun) on over to Hand Make Kids Art for the step-by-step on this darling Halloween craft for kids.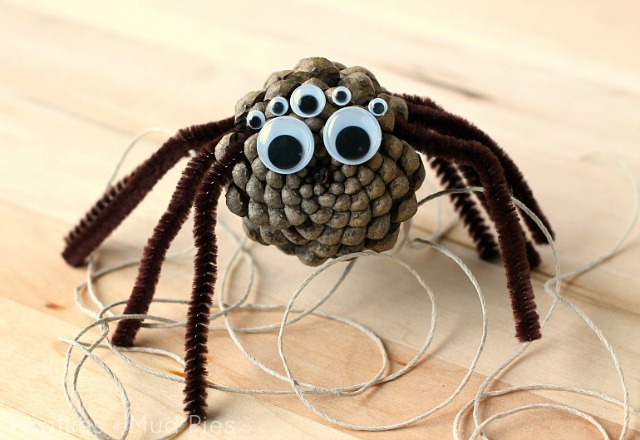 This is probably about the creepiest Halloween craft idea on the list, but at the same time, this fellow is one sweet-looking arachnoid. I love the suggestion made by Melissa at Firefiles and Mudpies, about using this craft as an opportunity to teach the kidlets about the greater outdoors. Be sure to check out her tutorial.
Did you like my selection of cute Halloween craft ideas for kids? Great, be a doll and share them with all your friends. Just click on the buttons below.