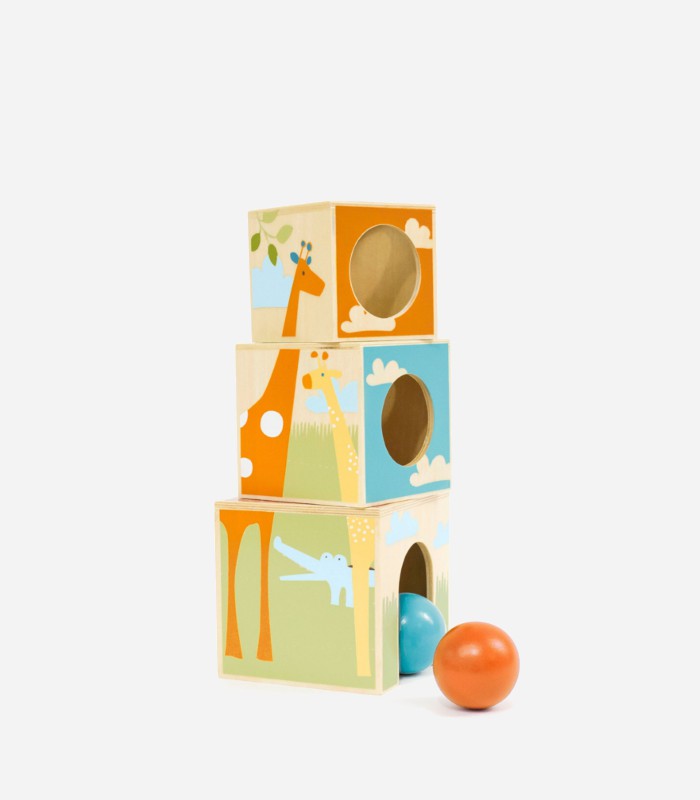 Wooden toys for 1 year olds simply rock! What other types of toys have the same wholesome, earthly feel to them? No batteries required. Just an inquisitive child with a magical imagination.
And let's not forget the durability factor. Quality wooden toys can take a damn good thrashing from a heavy handed tot, yet still look great in years to come. These bad boys make the best hand-me-down toys for kiddo number two. Or three. Or four.
You can't say that about plastic toys now, can you? Ok, ok, I'm not going to hate on plastic toys. They have their place. But today is all about wooden toys that educate and entertain. Here are my top picks.
The Best Wooden Toys for 1 Year Olds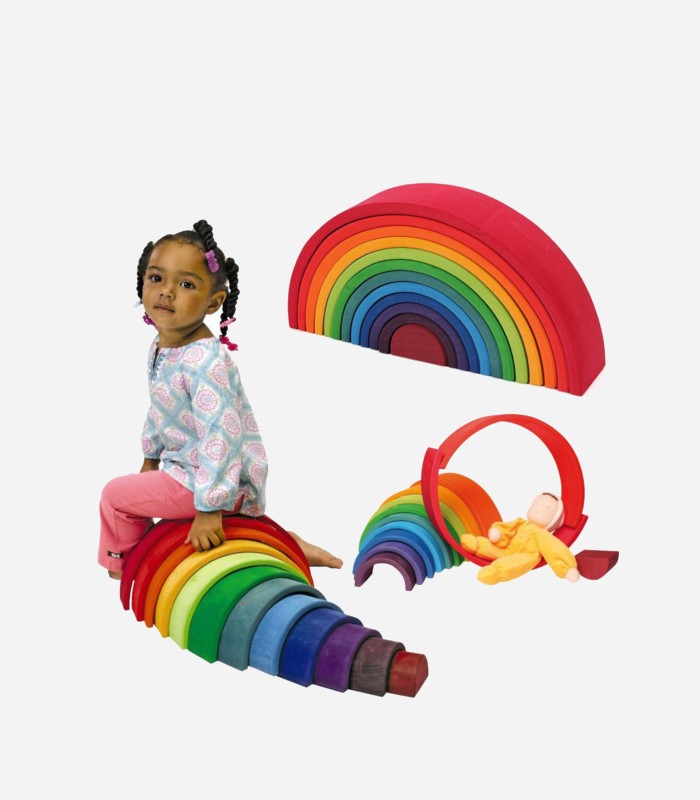 1. Extra Large Rainbow Stacker: Hours and hours of open ended play opportunities. That's what they'll get with this giant rainbow stacker by Grimms. At just over 14 inches long, 7 inches tall and 3 inches deep, this isn't the sort of toy that will go unnoticed in the playroom. Toddlers can stack them and make towers, caves and bridges with the help of an adult. Handmade from natural wood and colored with non-toxic paint, this rainbow stacker is a top toy gift for children aged 1.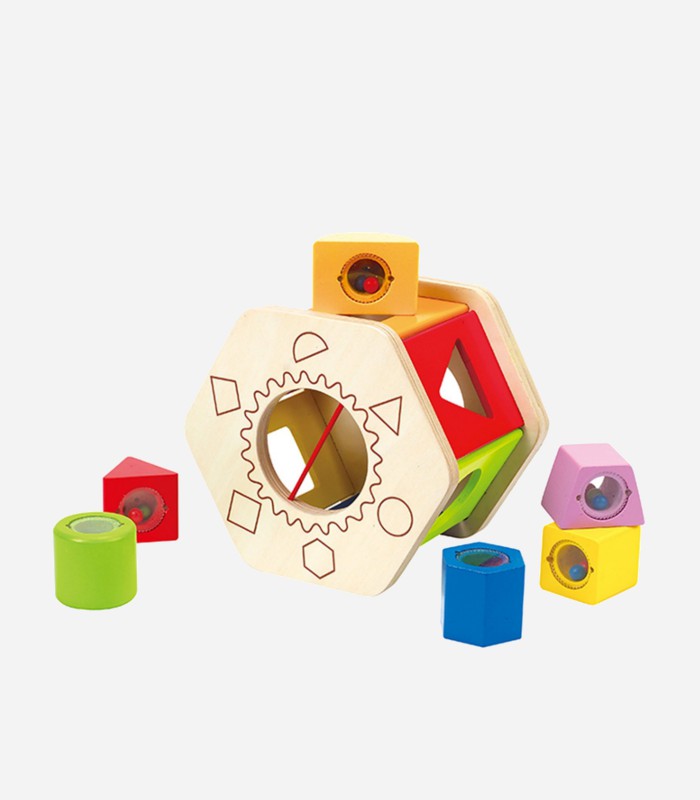 2. Shake and Match Shape Sorter: An interesting twist on the classic wooden shape sorter. The little beads inside each of the brightly colored shapes is a clever touch. The kiddos can see, touch, shake and listen to sound as they play. A fun wooden toy for a 1 year old who's curious about shapes, sound and color.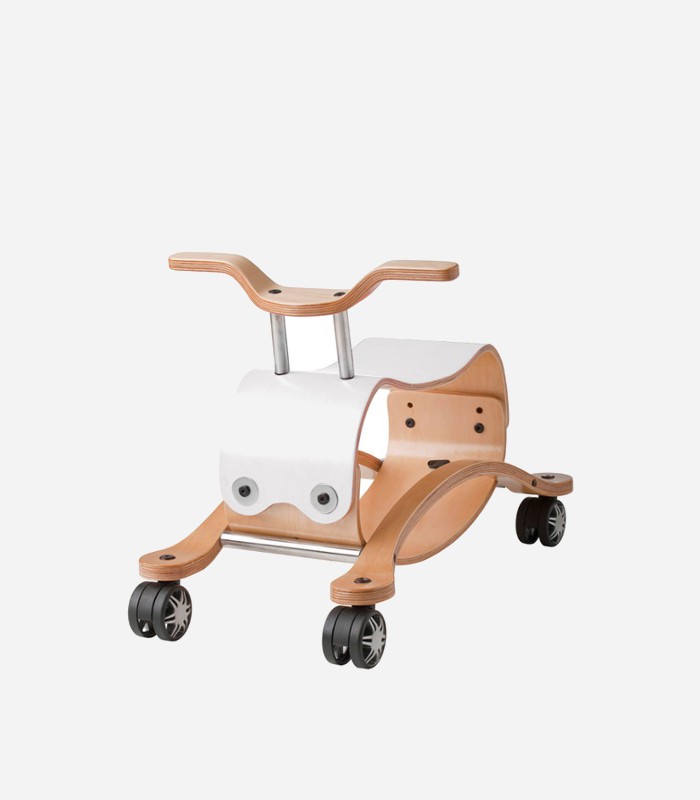 3. Flip Ride on Toy: One year olds love toys that they can sit on and move about with their body-weight, so my next pick is this ecologically sourced wooden ride on by Wishbone. Apart from the obvious fact that stylistically, it's a stunner, it also offers three-in-one fun. Not only is it a ride on and a push along toy, it's a rocker too – just flip the wheels up and rock on!  Also comes in a nice shade of fire engine red.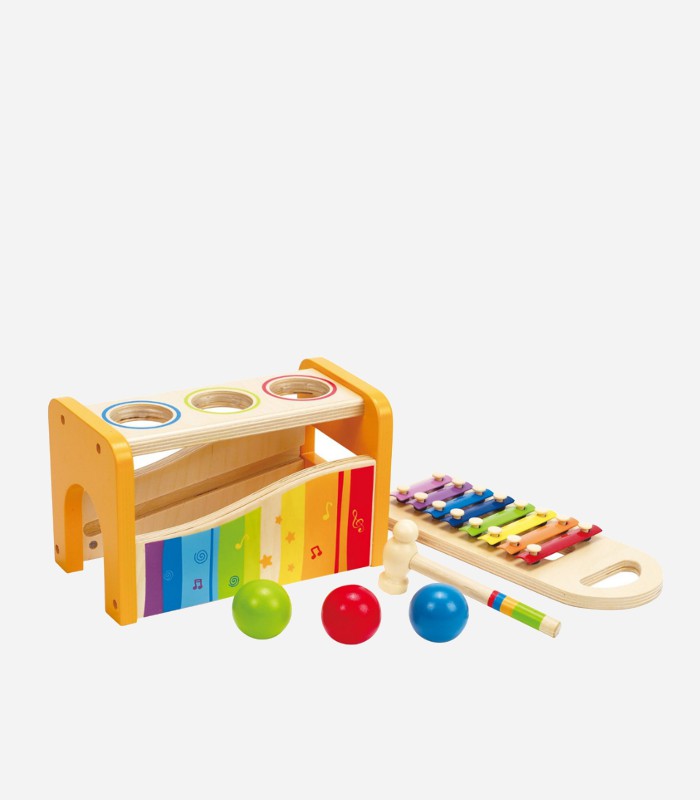 4. Pound & Tap Bench with Slide out Xylophone: If you have a tot with musical aspirations and a love of bashing things, check out this eye catching two-piece set. Ok, so the xylophone isn't exactly tuned to perfection, but it is a wooden toy for a 1 year old. As long as they can tinker away and play with a hammer (toy hammer of course), they'll be golden.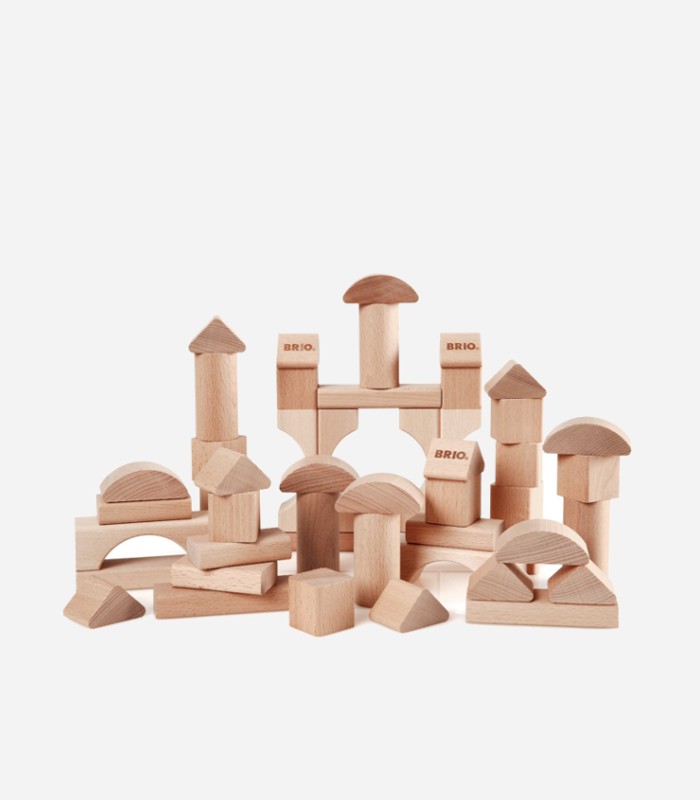 5. Wooden Block Set: Ahh, building blocks are the best wooden toys for 1 year olds. If you're looking for a good quality set of blocks for the littles, take a look at these natural beauties. This Brio set comes with an assortment of shapes and sizes that can be grasped with ease, stacked, dropped and knocked down. Besides, some parents just prefer non-painted toys for their littles. These blocks will be a big hit with them too.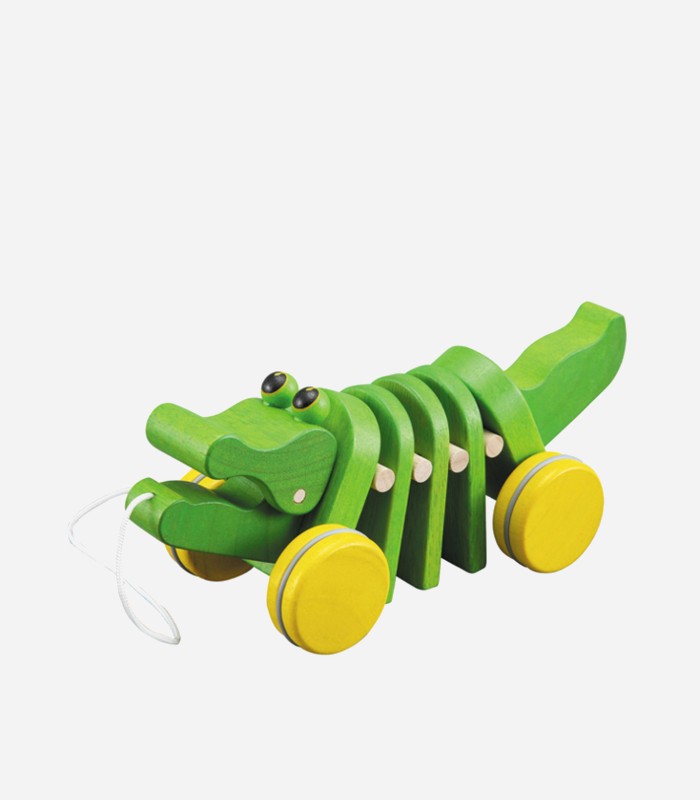 6. Dancing Alligator: A pull along alligator that wiggles while it walks. This gator makes a funny click-clack sound when tugged along which only intensifies the quicker it's pulled. Definitely the sort of wooden toy that will have a one year old in fits of giggles. Dancing Ali is made from Eco-friendly rubberwood and painted with non-toxic paints, making it a fabulously kid-friendly toy.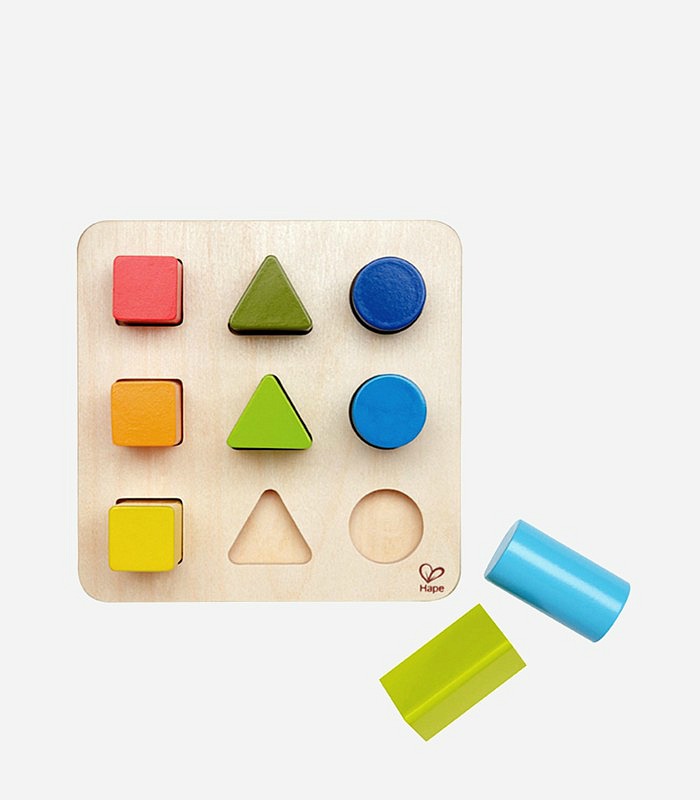 7. Color and Shape Sorter: It's not often you come across wooden learning toys that allow kids to explore different shades of color. This toy is a good introduction to shade differentiation and a simple, yet attractive shape sorter for a toddler.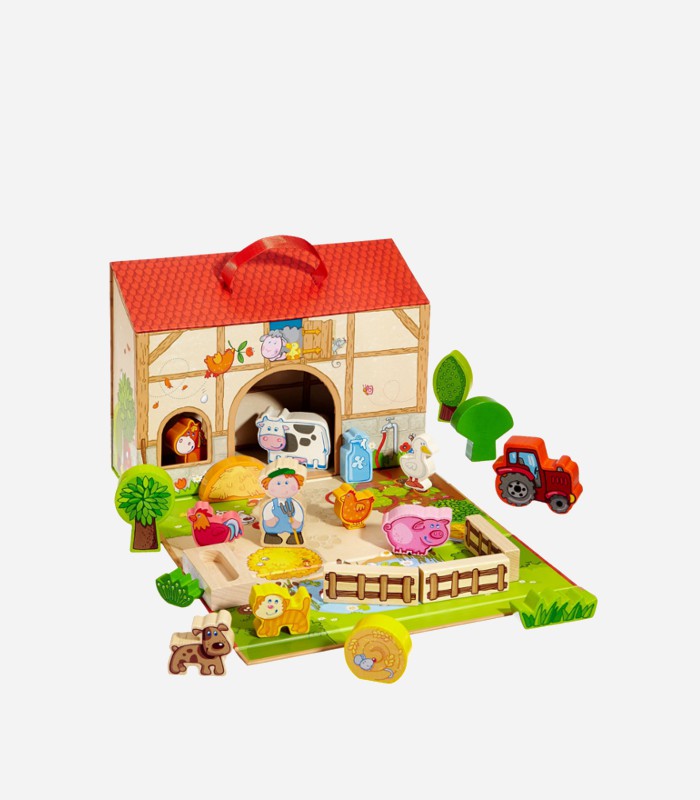 8. My First Play World Take n Go Set: Cuteness in a box. That's what this farm set is, but not just that. It's a bright and beautifully illustrated set, with chunky wooden farm pieces that are easy for the littles to grasp, chew on, bash and toss around.  As with all good wooden toys for 1 year olds, there's tons of scope for learning and imaginative play as they get older, from animal and object recognition to playing a game of 'what sound does a cow make?' Comes with it's own self contained carry box too, making it easy to tidy away after play.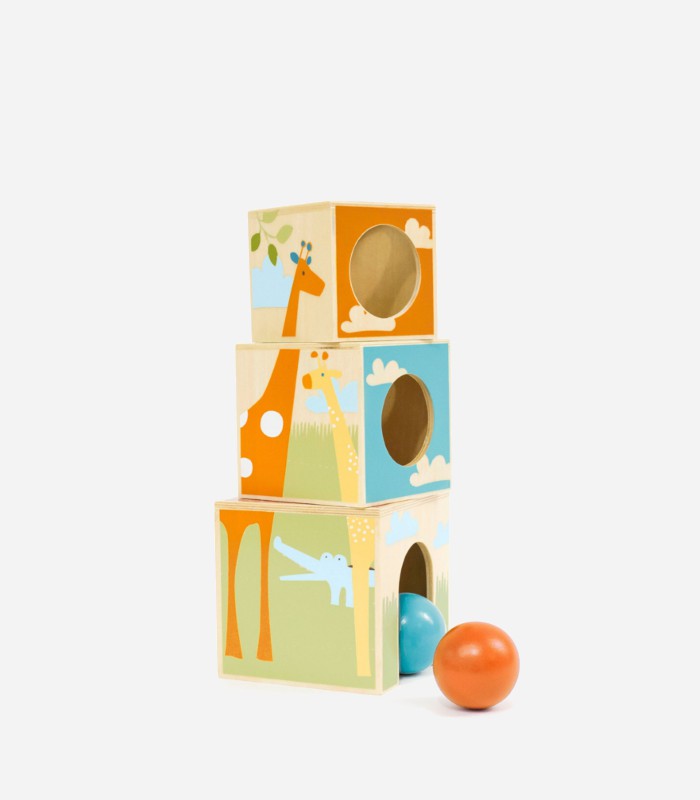 9. Giraffe Safari Nest and Play Blocks: Nesting toys are great for helping young children understand spacial awareness, but this set offers another play dimension. Each side to these adorable blocks features images of various animals. One year olds will love stacking them up and seeing if they can get the sides to match. They'll also get a kick out of dropping the balls through the holes and seeing where they end up.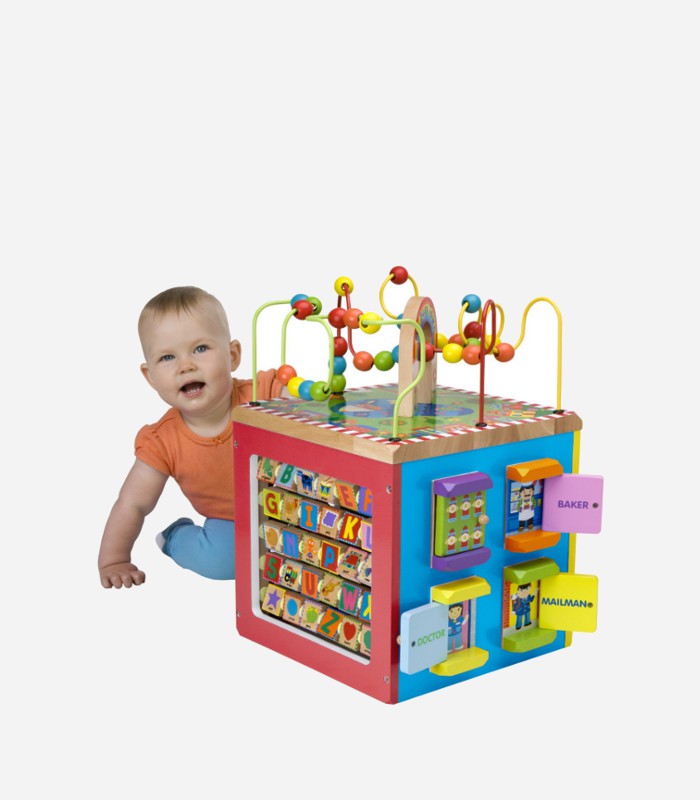 10. Giant Wooden Activity Cube: This brightly colored activity cube looks kind of busy, but that's a good thing. It's 16 inches tall with five sides of pure fun. Activities include peek-a-boo doors, a crazy maze and a matching game. This is one wooden toy that will hold the attention of a curious tot.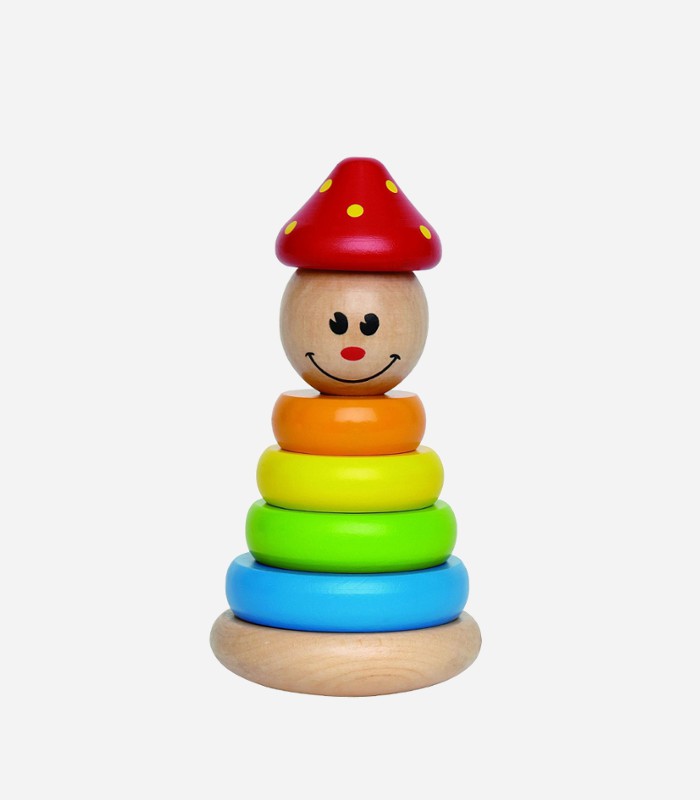 11. Clown Stacker: What little one's toy box could ever be complete without the addition of an upright stacker? It's a classic! I love this friendly clown stacker. The colored wooden pieces have a lovely finish and freshness to them, which will appeal to tiny tots. As will the happy smiley face. Because we all know, little children love gazing at faces.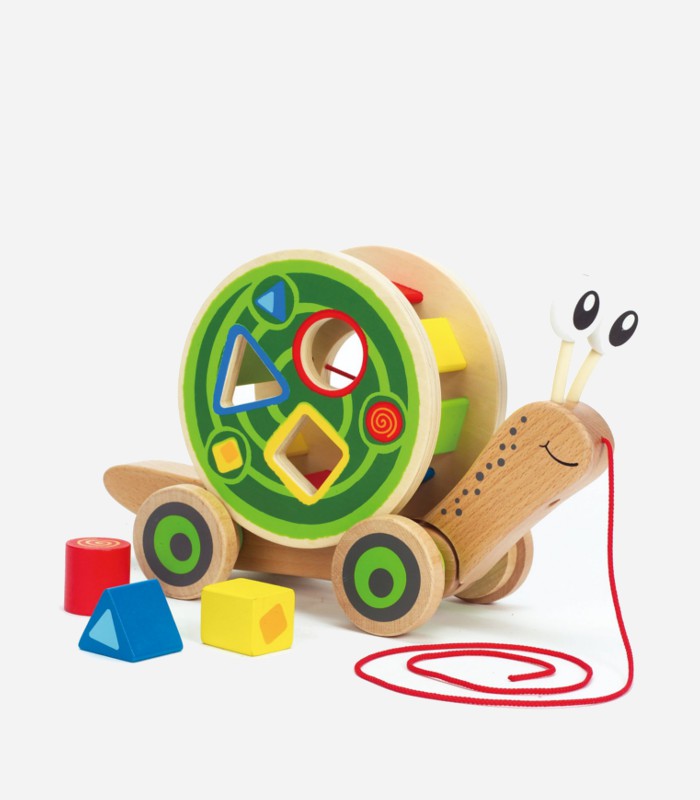 12. Walk-A-Long Snail Toy: A pull along snail with big googly eyes and a shape sorter for it's home. Toddlers get to drag this funny looking toy around with them wherever they roam. What a fun wooden toy for a 1 year old!
Like these picks? Feel free to pin, like and tweet them out.